Completely Obsessed ~ The Pieces I Cannot Stop Thinking About (#6)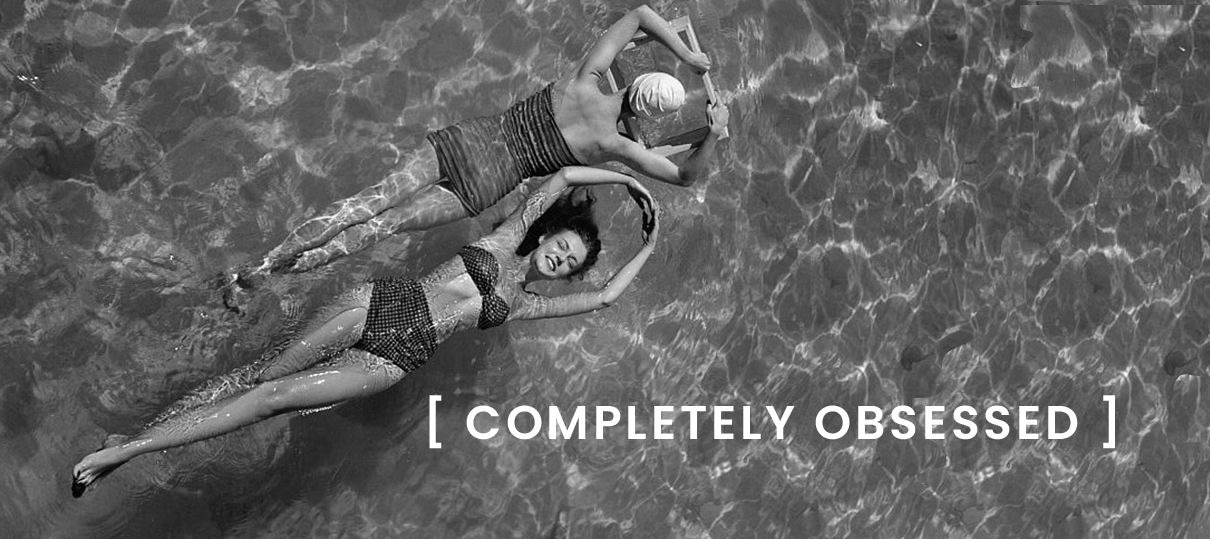 Hello, I hope you are doing well,
It feels like the world is speeding up again. The return of the rush is intimidating. I was on a call yesterday when this topic came up, and I had a realization: there are a lot of people doing hard work to make the world better. I know a lot of them. This is important because it means that this sense of community that we all crave, it's already there, or the potential for it is.
The more people I meet, the more people who I talk to about why apparel design and its history matter, or why those things matter to them personally, the more community I feel. And I like that a lot.
Seeing other people do good work well is inspiring to me. The pieces below are all designers who are from about the same generation, but who all approached the concept of haute couture, bespoke, or other forms of high-end design from entirely different directions.
But if you look at the pieces together, there's some kind of cohesion there. Not that they look the same. But they feel similar. I think that's similar to what I tried to say above; it is a type of inherent community.
The world is a lot different than it was three years ago. I feel different, and I'm willing to bet you feel different too. I hope that you are open to the idea of being excited about what we can achieve as a community. Because we ARE a community. I needed to remind myself of that.


Maybe it will help you too. I hope it does.
Rachel Elspeth Gross


---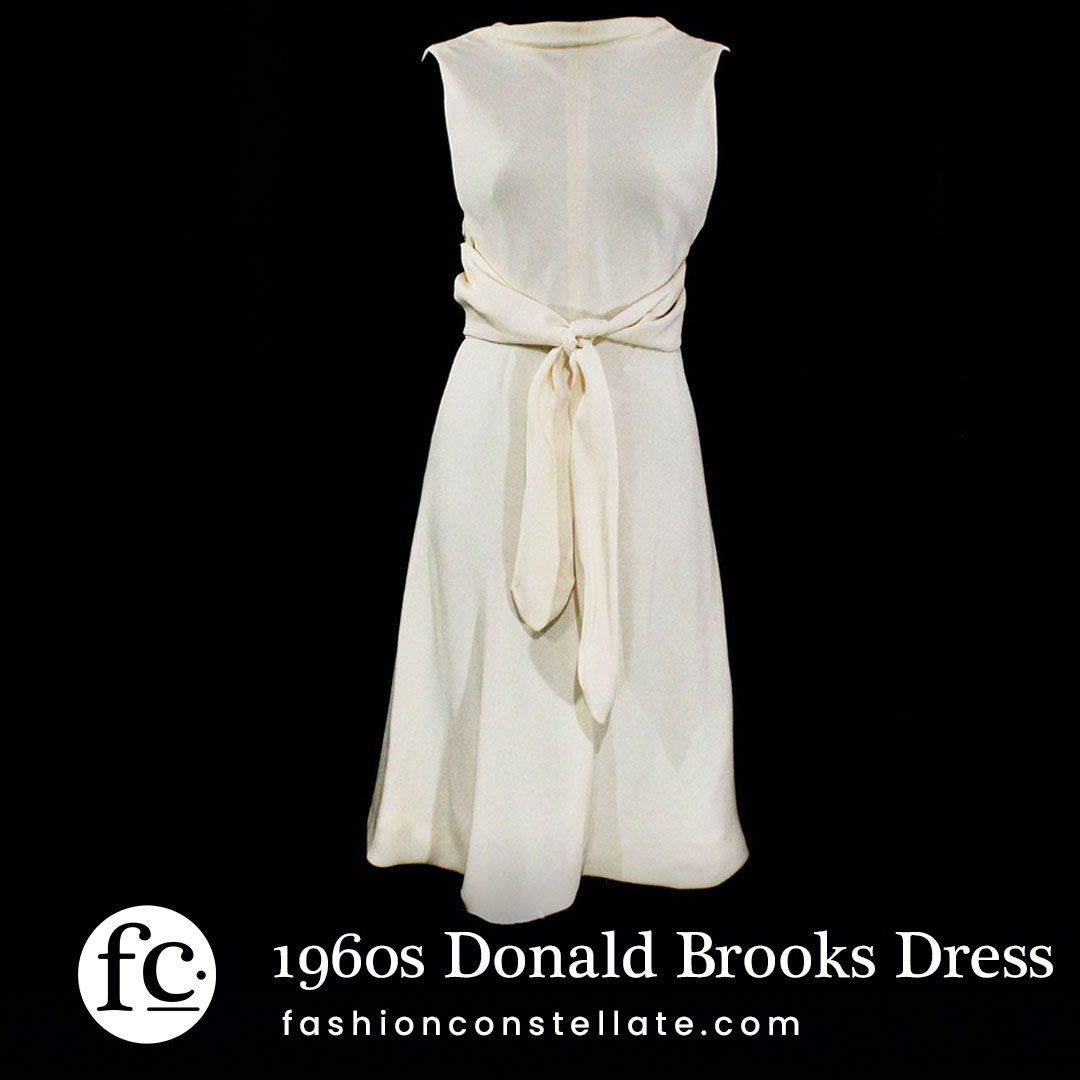 Unlike the career trajectory of most designers who work in costume design, Donald Brooks went from fashion and worked his way into the stage and screen. On November 28, 1966, at the Plaza Hotel, Truman Capote held his infamous Black & White Ball. Brooks designed more dresses worn to that party than any other designer. By the mid 1960s, he was one of the few American designers to have financial control of his business. In 1962 he became one of the founders of the CFDA (Council of Fashion Designers of America.) Brooks opened his own shop in 1965, the same year he began to design for theater and Hollywood.
This dress is from that transitional period, before Brooks completely left fashion, and went on to design more than 3500 costumes. He would win an Emmy, be nominated for a Tony, and 3 Oscars for his work. This dress is a kind of minimalist type of Mod, and the color blocking and A-line silhouette make for an incredibly flattering fit. It is fully lined, and is finished by hand. No wonder the New York Times declared that in the 1960s, that there were three B's in fashion- Blass, Beene, and Donald Brooks.
---
James Galanos was known for having ridiculously high standards for the garments he produced. He collected craftspeople of the highest caliber to work for him. Galanos never launched a mass-market brand and he only ever allowed for two licenses of his name to be sold. He had been born in Philadelphia, to a Greek immigrant family in 1924, and claimed that there was no fashionable influence in his early life.
This dress is from the 1980s, when Galanos was dressing Nancy Regan, as he did for her husband's two Presidential inaugurations. It's a figure-flattering, cream and black piece with a fitted version of a dropped waist that makes the silhouette look more hour-glass that seems possible. But for a designer whose 1997 retrospective of his work was attended by art critics, anything could be achieved.
---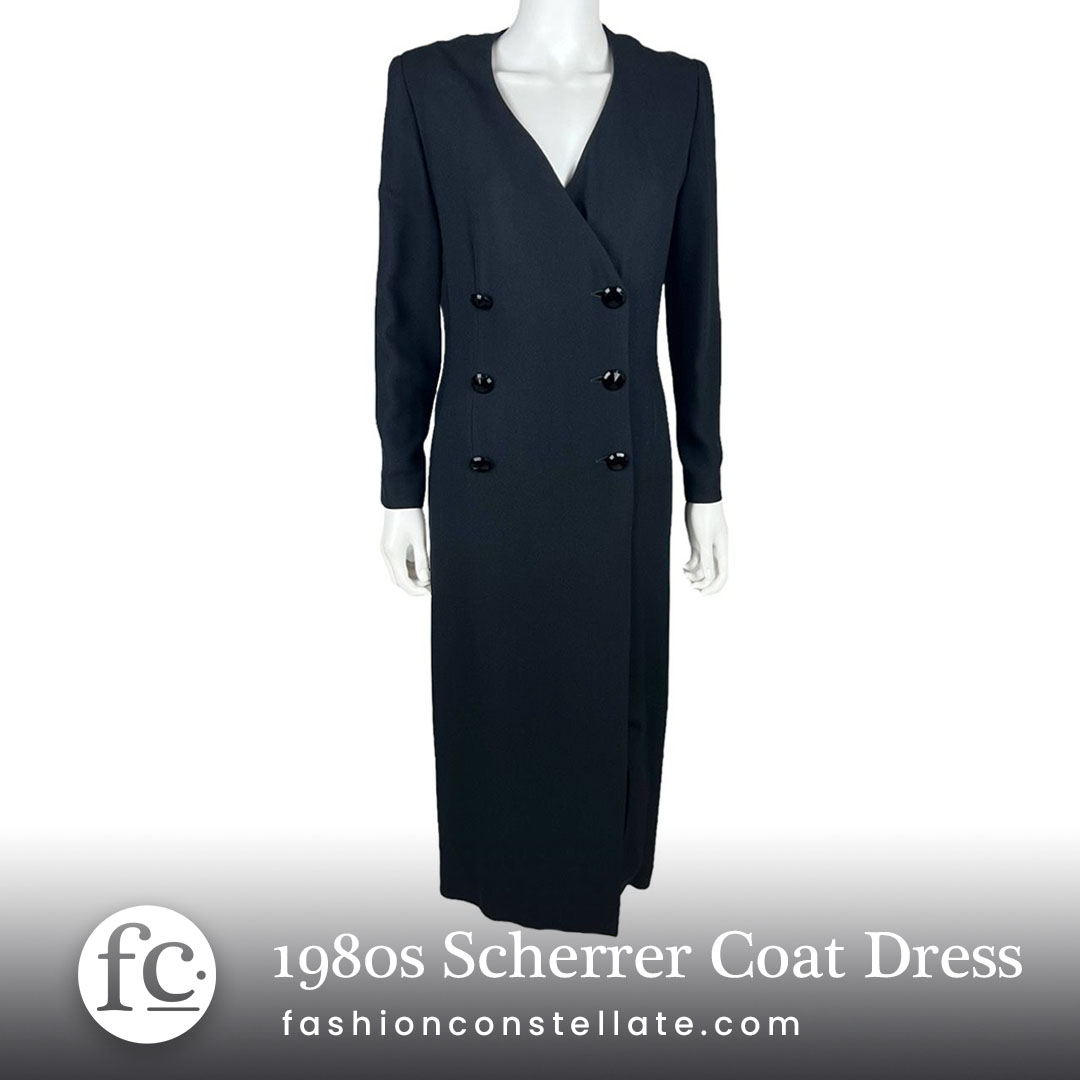 Born in Paris in 1935, Jean-Louis Scherrer intended to be a ballet dancer and studied at the Conservatoire de Paris. After an injury made a dance career impossible, he studied couture design at the Chambre Syndicale de la Couture. In 1956 he was hired by Dior, continuing under Saint Laurent when the Master died in 1957. He worked briefly for Louis Féraud before launching his own house in 1962, on the Rue du Faubourg Saint-Honoré.
Scherrer dressed Jacqueline Kennedy, Sophia Loren, and Bianca Jagger. His name is said to be synonymous with the 1980s, when this coat dress was made. Though it has strong shoulders and a double breasted front, it does not feel dated. It is a classic and timeless look from a genius of haute couture, though Scherrer was the first such designer to be fired from his own brand. He never had a long term business partner, if he had, perhaps everything would have gone differently.


---
Louis Estévez studied architecture and then attended the Traphagen school to study costume design. He designed window displays for Lord & Taylor for a summer, worked briefly for Lilly Daché, designed her first dress collection, before he went to Paris and made friends with Hubert de Givenchy and Jacques Fath, even found an apprenticeship at Patou. Estévez, 'The One Year Wonder' became the youngest designer to ever win the Coty in 1956. He was one of the 20 founding members of the CFDA. Eva Gabor convinced Estévez to design a label with her in 1974. It was another smash success.
This 1980s red silk cocktail dress is an excellent example of Estévez's devotion to precision, cut, and line. It has a sweetheart neckline, a high collar that rises in the back, and it's beautifully lined. Estévez's clients included Lana Turner, Rosalind Russell, Grace Kelly and Merle Oberon; he was used to creating pieces that ooze glamor. He retired in 199, and died a week before his 80th birthday in 2014.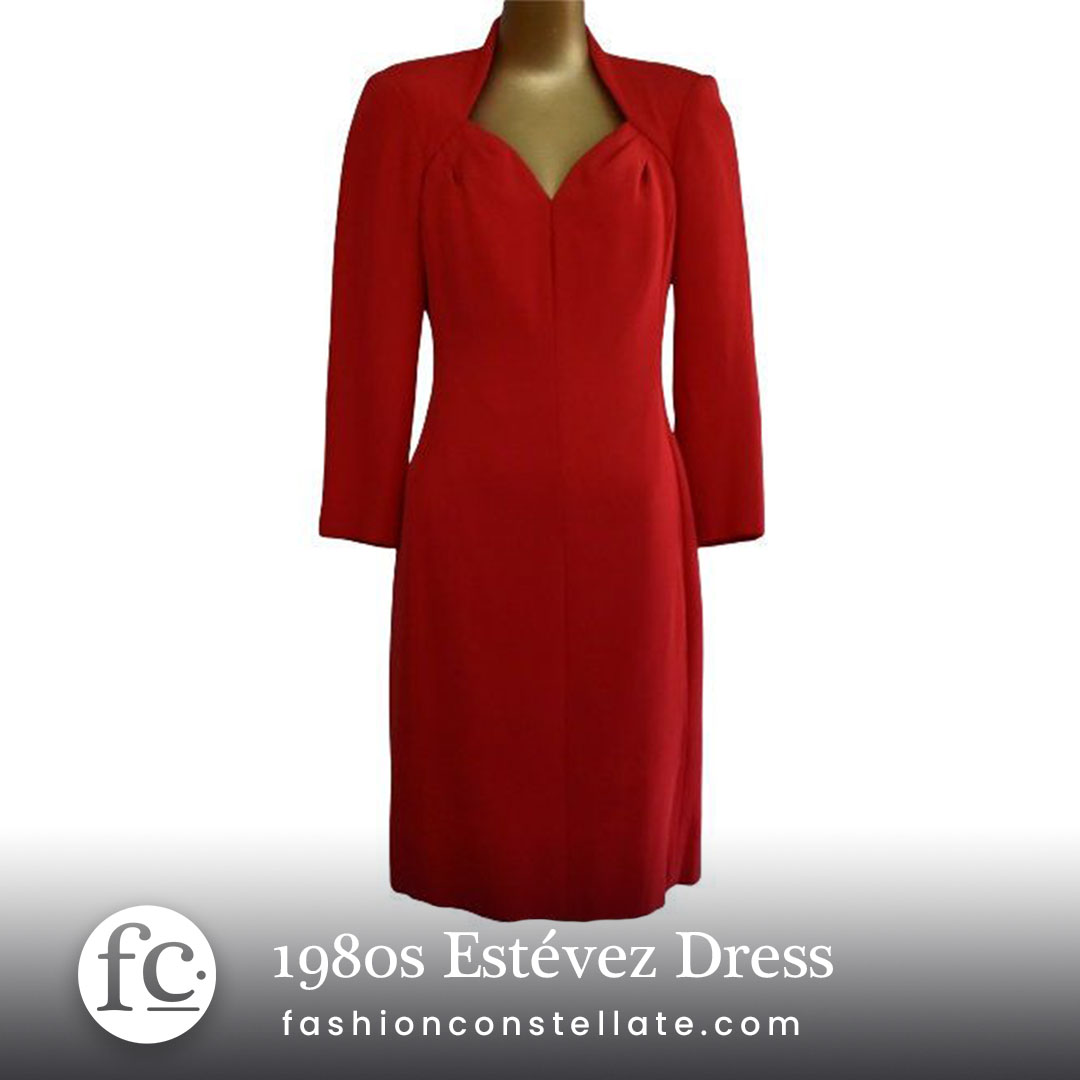 ---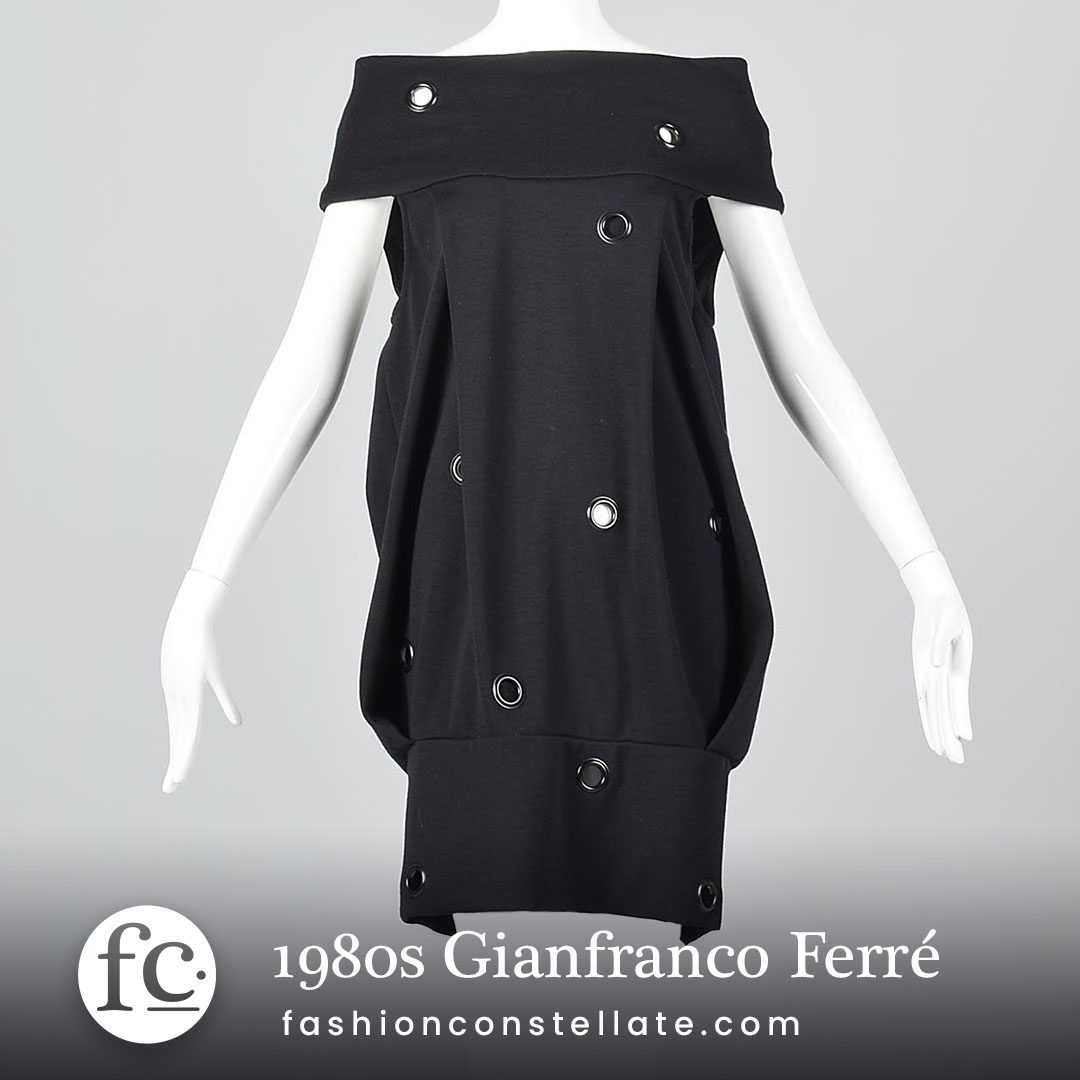 Women's Wear Daily called Gianfranco Ferré "the Frank Lloyd Wright of fashion;" his staff addressed him as 'the Architect.' Soon after his label launched, Balià in 1974, he was approached by Trifurs, an Italian house looking for a designer to breathe life into a heritage brand. He honed his skills there, and in 1978 Ferré founded his Italian couture house, Gianfranco Ferré Spa. Ferré never had a drivers license, but he had a private jet. He was known as a very evenly-keeled person, immaculately dressed always, and an eye for style like no other. In their obituary, the NYT credited Ferré with making haute couture dreams possible to international designers.
This bubble dress is from the 1980s; the body is cut wide, and the fit is more snug where it meets the thighs. It's made of black knit, and is dotted with large grommets that peek through all the way to the skin. In 1989, Ferré became artistic director for Dior's women's couture, following Marc Bohan.