Albert Nipon Does Time
A great number of the world's problems arise from the inability to resist temptation, and the fashion industry certainly isn't immune to this larger truth. Consider the case of fashion magnate Albert Nipon, who rose to fame and fortune through his ultrafeminine designs and chic, smart dresses. He seemed to have it all - a spotless reputation, effortless success, and a wildly prosperous company. And then he lost it all.​​​​​​​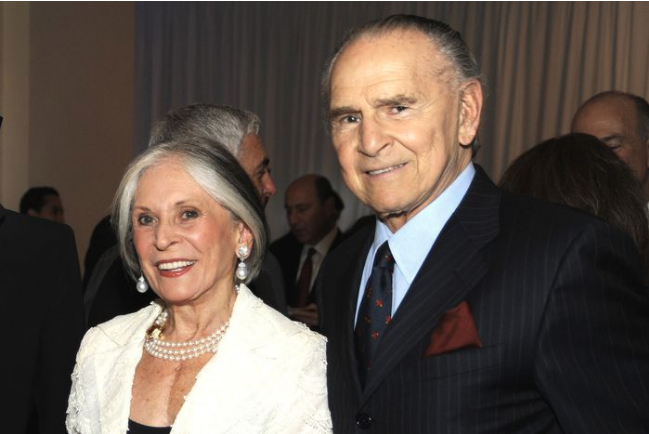 Just like Al Capone in the 1930's, Nipon's downfall came after a clash with the Internal Revenue Service. Starting in the early 1980's, the IRS Internal Security Service had been conducting an investigation into its Philadelphia branch in what at the time became one of the department's largest bribery cases ever uncovered.
Their investigations into Philadelphia-based agents Meyer Weiss and Edmond Costantini led to the exposure of their involvement with Nipon. Nipon paid over $200K in bribes to Weiss and Costantini. Nipon claimed a personal taxable income of a little over $32K and paid tax of $19K on the 1978 returns of himself and his wife Pearl. The indictment alleged his actual taxable income that year was almost $900K, and the taxes he owed closer to $510K. Additionally, while he claimed a little less than $1.7M taxable income and paid $744K in taxes for his business, the indictment claimed his company's actual income was $2.5M and his taxes should have been $1M.
​​​​​​​
Nipon initially tried to claim a misinterpretation of the tax law involved in the case and deposited $1M into a fund with the IRS to defray any further tax liability, but the damage had already been done. Nipon was indicted in October 1984 and his trial began that next February. He made an agreement with the U.S. Attorney's office, pled guilty, and was sentenced to three years in prison for conspiracy and tax evasion but was out in two. He was released from prison in January 1987 and served out a release program in a halfway house near his offices until that May.
​​​​​​​At the outset, the effect Nipon's indictment and incarceration had on his company's fashion empire was questionable. The initial impression the company gave was not much - at least that's what the Nipon family contended. But it wasn't long before their real troubles began.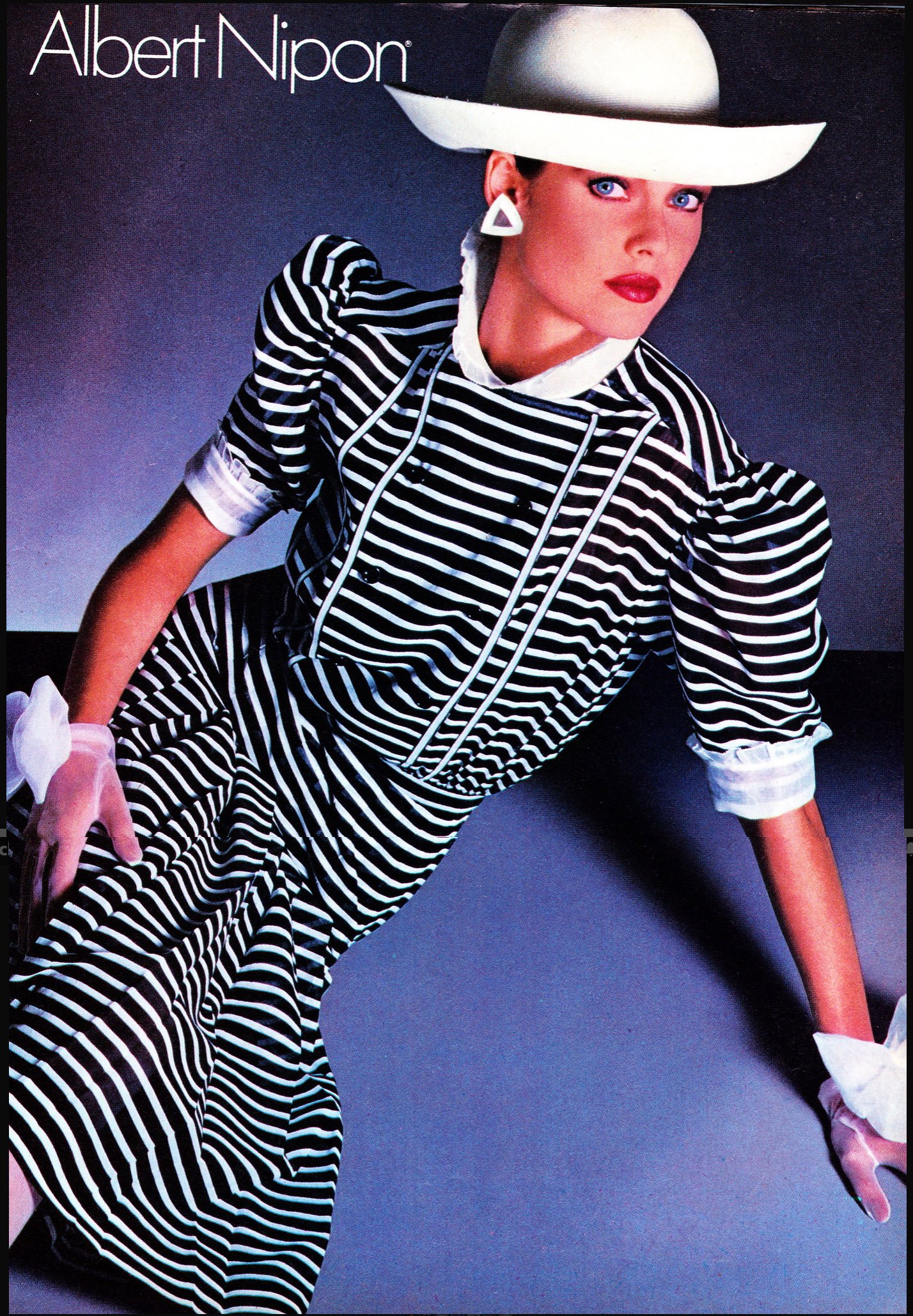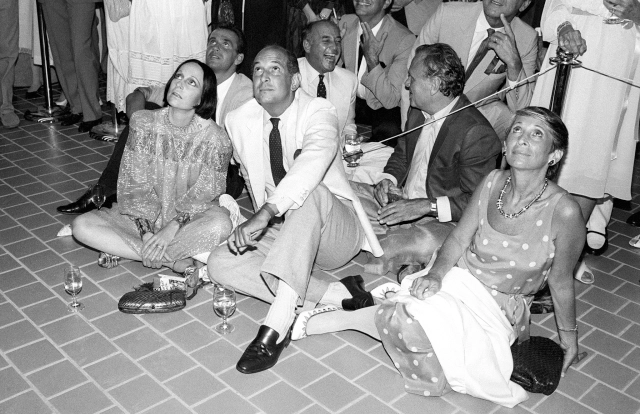 Left to Right: Mary McFadden, Oscar de la Renta & Pearl Nipon
Left under the helm of Nipon's wife and three sons during his time in prison, the company had to lay off hundreds of its employees. Nipon had to shutter his headquarters in Philadelphia (at the time his principal manufacturing plant) for a few days because of financial disputes with his bankers. Though that was quickly resolved, the company's issues with the government weren't; in 1988, the IRS filed a jeopardy assessment claiming the company owed over $3.5M in back taxes.
In the face of these continuing issues Albert Nipon filed Chapter 11 bankruptcy and Leslie Fay purchased the company, restructuring Albert Nipon Inc. into one of their divisions. Albert Nipon and his wife stayed on with the label for a few years but by 2000, Nipon was serving as an HSN (Home Shopping Network) consultant.
What's that saying? "The bigger they are, the harder they fall?"​​​​​​​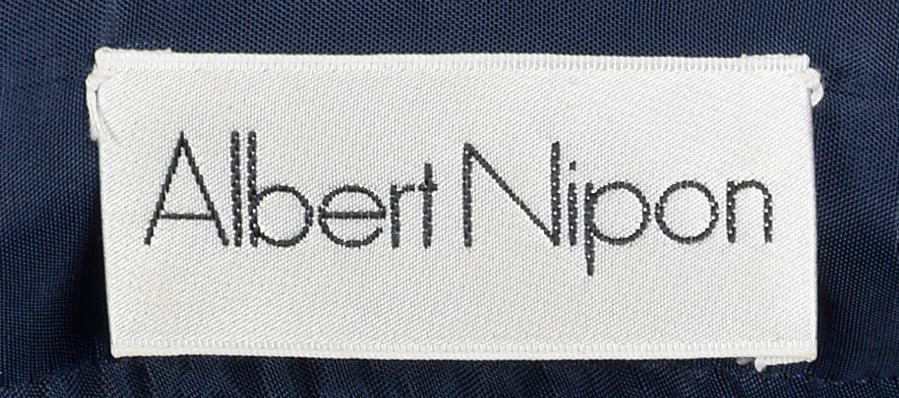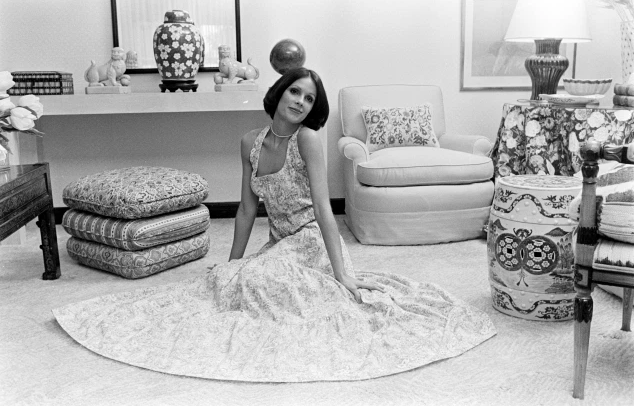 Albert Nipon, Spring 1975

​​​​​​​References:
Staff Writer. "Albert Nipon: Fashion Fraud, A dress designer's tax woes." (5 November 1984). Time. USA. Retrieved 1 Jun 2021.
Salmans, Sandra. "In The Year of the Dress, They're No. 1." (22 February 1981). New York Times [New York, NY], Sec. A., p. 6. Retrieved 1 Jun 2021 via Proquest.
Staff. "Fashion Designer Nipon Indicted for Tax Bribery." (23 October 1984.) The Los Angeles Times [Los Angeles, CA], p. 5. Retrieved 2 Jun 2021 via Newspapers.com.
DiGennaro, Ralph. "Return to Seventh Avenue." (5 October 1987). Newsday (Suffolk Edition) [Melville, NY], p. 155. Retrieved 3 Jun 2021 via Newspapers.com.
Binzen, Peter. "Albert Nipon's new niche: Super Shopper."(14 February 2000). The Philadelphia Inquirer [Philadelphia, PA], p. C1. Retrieved 1 Jun 2021 via Newspapers.com.




​​​​​​​Below, you will see a slideshow of fashions from Albert Nipon.

Looking for more examples
​​​​​​​of Albert Nipon's designs?
Shop Albert Nipon on Fashion Conservatory.