Nelly Don's Unexpected Legacy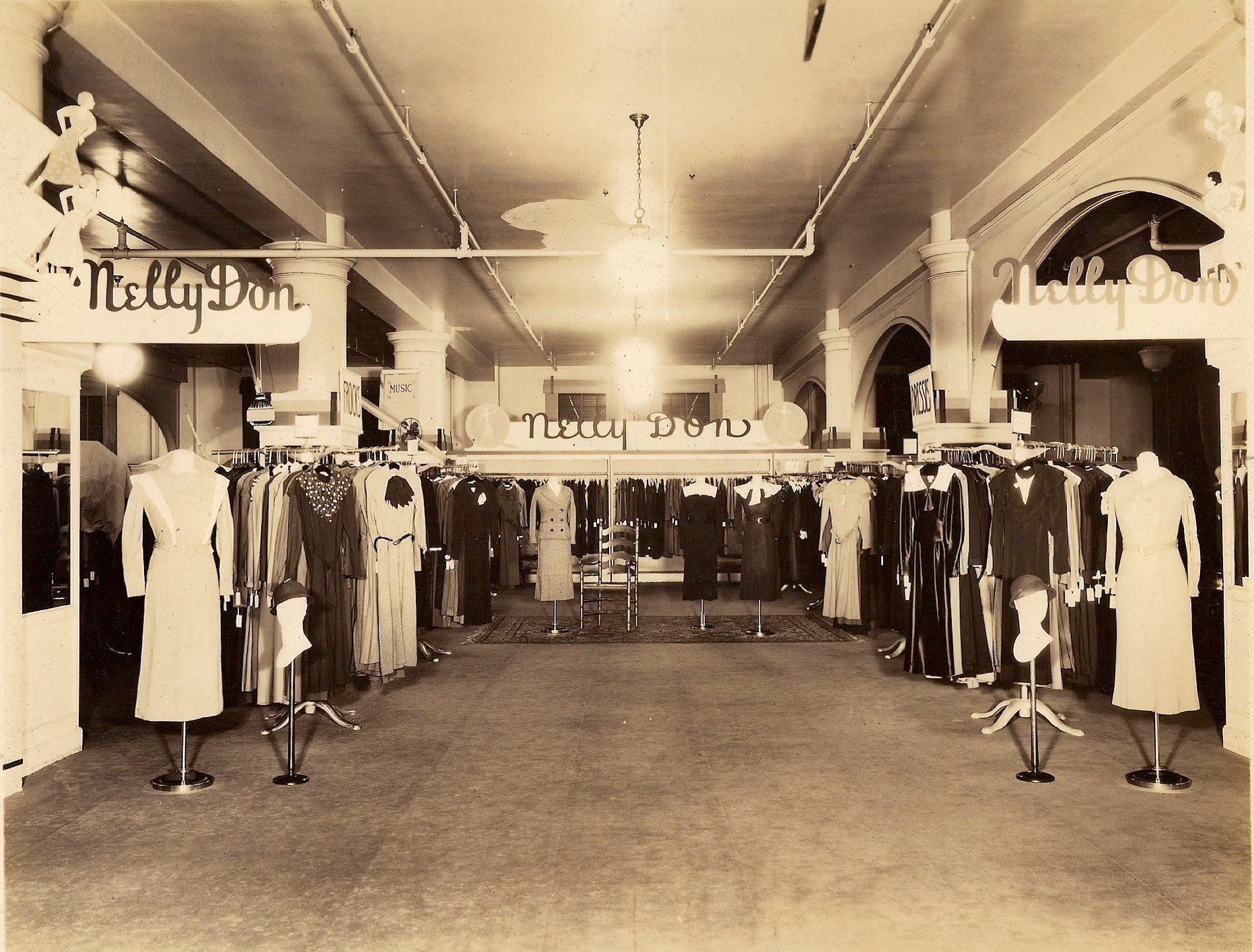 When Ellen "Nell" Quinlan - the woman behind the creations of the Handy Dandy Apron and subsequent Nelly Don fashion empire - married Paul Frances Donnelly in June of 1906 in Parsons, Kansas, the young couple had no idea what kind of drama awaited them.
But let me just say...it was definitely the kind of drama you'd scoff about as "simply too much to be believed" if you had watched it on TV!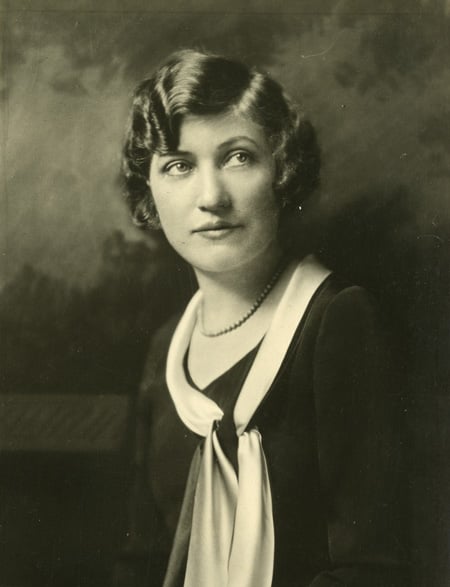 We'll start out with Nell, who had the archetypally famous rags-to-riches sort of life. She was born in 1889 in Parsons, Kansas and was the twelfth of thirteen children born to parents with roots in Ireland. Out of poverty and necessity, as her father was a boilermaker, she altered the clothes her four elder sisters had worn to fit her. By 1905 she and her family were living in Parsons, and in June of 1906, when she was seventeen, she and Paul got married there.
Nell's career began small; she began making house dresses for herself and friends and family around 1916. She took them to local department stores and finally convinced one to let her sell them on consignment. They sold like hotcakes and she took orders for another eighteen dozen on top of that! Paul put up some seed money for equipment, Nell hired some friends to help sew, and the Donnelly Garment Company - which became the Nelly Don empire - was born.​​​​​​​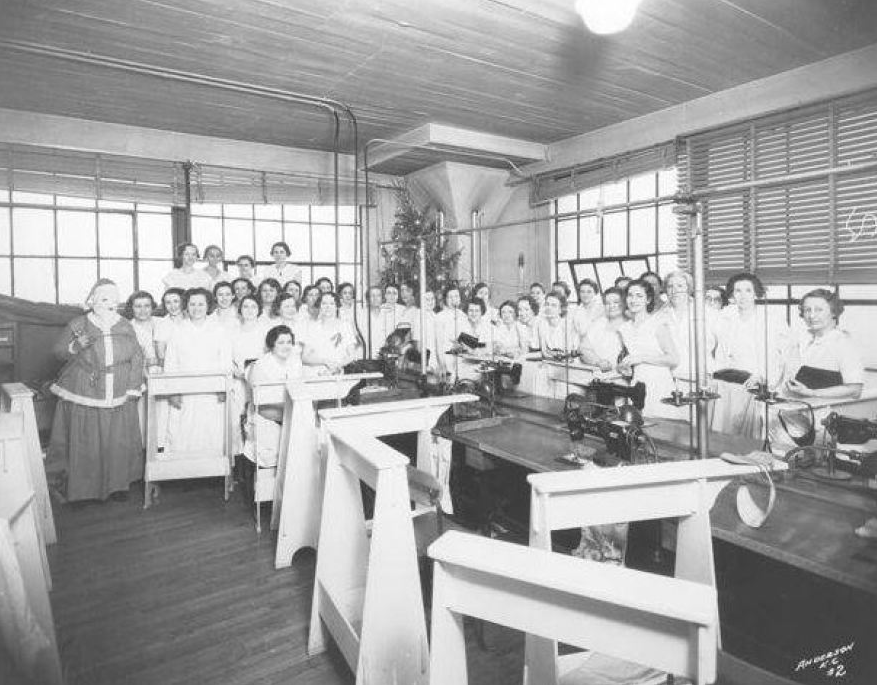 When Paul left in order to serve in World War I, Nell stayed behind to grow the business. By the late 1920's the Nelly Don brand was firmly established and the company was making over three million dollars in profits per year. Paul took over financial management of the business and Nell managed design; she was known for her support of her employees, providing medical and life insurance, pension plans, and tuition and scholarship funds for employees and their children, and for her innovations in the workplace (hers was one of the first buildings to provide air conditioning.) She was so popular and wealthy, in fact, that in December of 1931 she and her chauffeur were kidnapped from her driveway and held for ransom! She was made to write letters to Paul and to Donnelly friend, neighbor and lawyer James A. Reed demanding $75,000 in ransom money. Reed, a former Missouri senator, rushed to her aid and pressed Kansas City mob boss Johnny Lazia into finding her by threatening to expose his connections to political boss and ex-alderman Tom Pendergast, a man well-known for his criminal activities. Nell and her chauffeur were released without injury.
But Reed's motives for helping Nell weren't solely based in business; you see, a few months earlier Nell had given birth to a son in secret. Reed's son. Nell's marriage had soured and Nell used a "business trip to Europe" as an excuse to secretly go to Chicago to give birth to her son, David. When she returned, she explained him away by saying she had adopted him in Europe. And a few years after the kidnapping, after Nell was divorced and James Reed's wife had died, Nell married James A. Reed. They remained married until his death in 1944.​​​​​​​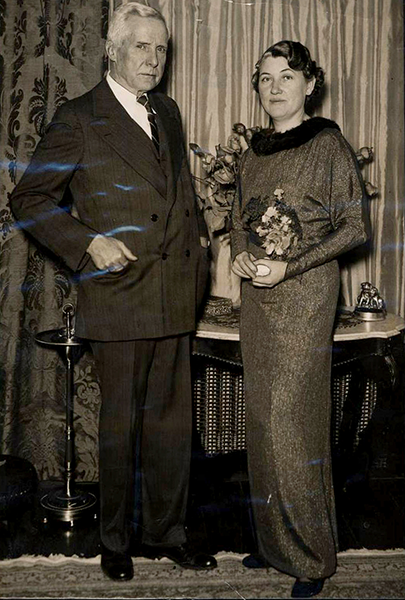 James A. Reed & Nell Donnelly Reed, from the Kansas City Star
But what about Paul Donnelly, the man caught in the undertow of his wife's notoriety? What little was left of his life would play out in another sort of drama.
​​​​​​​At the trial following the kidnapping, it was revealed Paul had been the original target. Ethel Depew, the wife of ringleader Martin Depew, had been employed by the Donnelly's the year previous as Paul's nurse during an earlier illness. When due to another illness Paul had not stepped outside when the kidnappers decided to make their move, they settled on Nell and her chauffeur when they attempted to leave the home.
Less than a year after the kidnapping, Paul and Nell divorced. Reasons cited were "indignities" - whether these were Nell's infidelity or Paul's depression, alcoholism and philandering, or all of the above - isn't really known. The property settlement required Paul to retire from the garment manufacturing business. He did so and the company reverted entirely to Nell. Paul was granted a generous settlement.
Four months later, in February of 1932, Paul was in a Kansas City hospital being treated for a nervous breakdown. After his discharge he flew to Miami and married young actress Virginia George. George, who was born in 1910 in Wichita, Kansas, was - according to reports at the time - a student whose dramatic education had been sponsored by the Donnelly's.​​​​​​​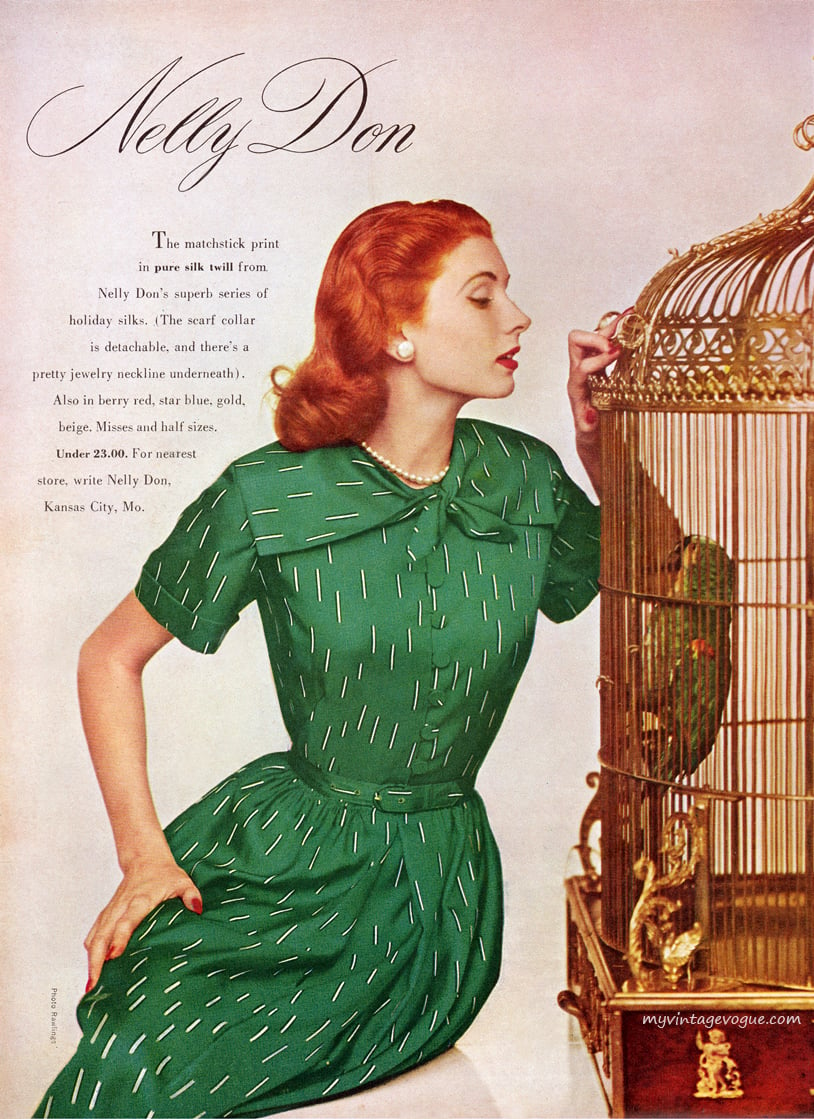 A Nelly Don advertisement from 1951
I've read Paul had told Nell throughout their marriage that should she ever get pregnant he would do harm to himself, as he was not capable of having a child. If this is actually true, perhaps when Virginia told him sometime in mid-1934 that she was pregnant, the news sent him spiraling. No one can be sure. What is sure is Paul had been in and out of hospitals specializing in what was termed "nervous ailments" for years, trying to find treatment for issues which were not understood nor handled with the empathy we expect today. And he had been a patient at another such hospital for about a month, when on September 7th, 1934, it was reported that he had collapsed and died.
Paul's death - which according to reports was determined was suicide - placed a burden on the legal system. At the probate hearings Virginia appeared and testified she was expecting an heir, so Paul's estate had to be placed in limbo until after the birth of his child since his will had no instructions for such a scenario. Needless to say, the press gleefully latched on and sensationalized the drama in the newspapers. And they also made much of it when Nell decided not to accept the widow's portion she was entitled to so Paul's extended family would also inherit.​​​​​​​
When Paul and Virginia's daughter was born in January of 1935, her birth made front-page news. The same thing happened when Virginia married French film producer Jean de Cavaignac two years later. After their marriage, Jean and Virginia lived the kind of lifestyle one would imagine given their wealth. They honeymooned in Miami, kept residences in both New York and Paris, and mingled with such luminaries as Helen Keller, Pierre Balmain, Lucien Lelong, and King George VI and Queen Elizabeth.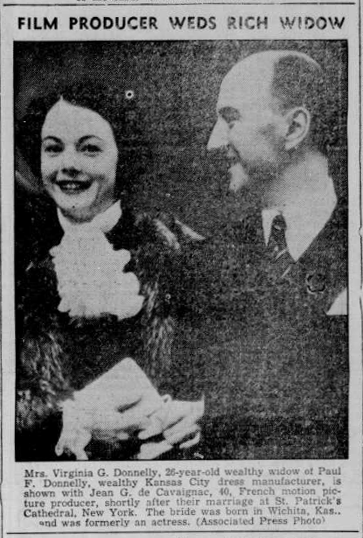 From the Bryan Weekly Eagle, January 20, 1937.
But lest you believe the newspaper reports that Virginia was just some fortune-seeking opportunist whose only goal was to live frivolously on the money from rich husbands, think again. Virginia and Jean were living in France at the dawn of World War II. France fell to the Nazis early on and suffered large-scale destruction of its cities and towns. Given her wealth and the fact she was a young mother of two (she had given birth to a son in 1942) Virginia could have done what many of her status did and ignored the war, but instead she became active in subverting the Nazi regime. She was arrested for bringing information on the German's Lorient submarine base to the US Army's office of Strategic Services in Bern, Switzerland. And after the close of the war, she made it her mission to solicit donations to restore destroyed villages and assist their citizens in rebuilding their lives. She used her wealth and influence to arrange for "adoptions" of villages like Maille in south-central France, and created a committee called Atlantique to encourage people to duplicate the Maille project with other martyred French sites.
Paul and Virginia's daughter attended Bryn Mawr, married, had a family, and died in 1987. Virginia herself died in 1989. While there is no doubt Paul Donnelly was a troubled man, his wife and daughter left a legacy of good deeds done with the money and influence he and Nell Donnelly had built on the idea that women wanted fancier aprons.​​​​​​​
From the Albuquerque Journal, November 18, 1934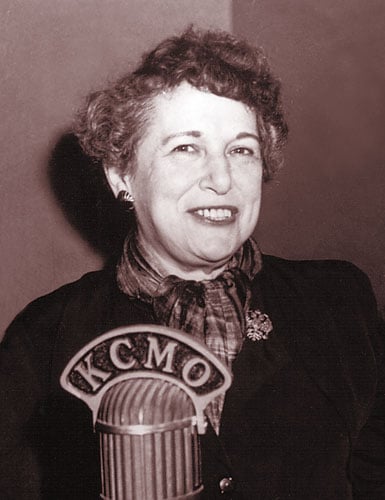 Nell 'Ellen' Quinlan Reed

​​​​​References:
Brown, Shirley Ayres. "A former Utahn and his wife play Santa Claus in the grand manner." (19 September 1948). The Salt Lake Tribune [Salt Lake City, UT], image 76. Retrieved 21 Jul 2021 via Newspapers.com.
"Do You Want To Adopt A Village, Children?" (26 December 1947). St. Petersburg Times [St. Petersburg, FL], p. 10, image 10. Retrieved 21 Jul 2021 via Newspapers.com.
"Donnelly Heiress Born."(21 January 1935). The Kansas City Times [Kansas City, MO], pp. 1-2, images 1-2. Retrieved 21 Jul 2021 via Newspapers.com.
Funeral Notice. "Virginia G. de Cavaignac." (3 January 1990). Palm Beach Post [West Palm Beach, FL], p. 5B, image 13. Retrieved 22 Jul 2021 via Newspapers.com.
Hanssen, Libby. "Concert to Come: 'Nelly Don: The Musical' at MTH Theater." (1 March 2019). KC Studio. Retrieved 22 Jul 2021 via kcstudio.org.
"James A. Reed Takes As Bride Mrs. Donnelly." (14 December 1933). Chicago Tribune [Chicago, IL], p. , image . Retrieved 22 Jul 2021 via Newspapers.com.
"Kansas State Census, 1905." Film #101902013, Labette County, v. 221-223, Oswego, and Parsons, 1905. Database, FamilySearch, p. 8, image 1524; Kansas Historical Society, Topeka.
"Kansas Marriages, 1840-1935." Film #143394. Paul Francis Donnelly and Nellie Quinlan, 1906. Database, FamilySearch.
"Kidnaping "Stunt," Prisoner Testifies." (17 July 1932). The Sunday Star [Washington, DC], p. 5, image 51. Retrieved via newspaperarchive.com.
"Nell Donnellys Ex-Mate to Wed Young Actress." (13 February 1933). Daily News [New York, NY], p. 13, image 169. Retrieved 22 Jul 2021 via Newspapers.com.
"Paul Donnelly Is Dead." (8 September 1934). The Kansas City Star [Kansas City, KS], pp. 1-2. Images 1-2. Retrieved 22 Jul 2021 via Newspapers.com.
"Rich Young Widow Weds Film Producer." (14 January 1937). Daily News [New York, NY], p. 39, image 38. Retrieved 21 Jul 2021 via Newspapers.com.

"Two Confess Parts in Kidnaping Plot: Abduction of 'Apron Queen' Laid To New Yorkers." (6 January 1932), The Nashua Reporter [Nashua, NH], p. 2. Retrieved 21 Jul 2021 via newspaperarchive.com.
​​​​​​​