One Size Fits All - The Loungewear of Georgie Keyloun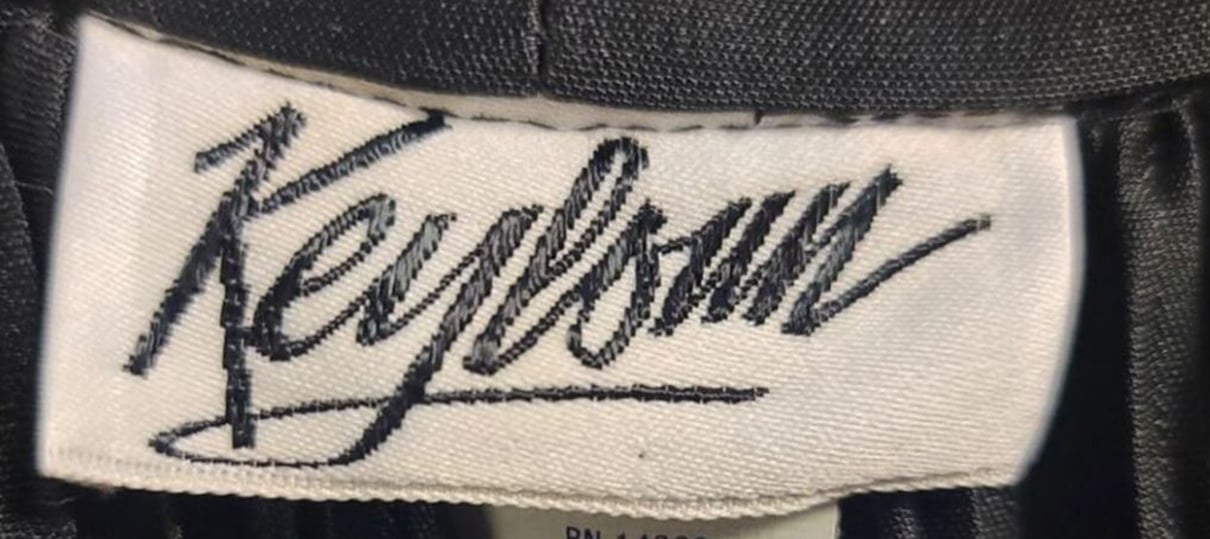 Keyloun - circa 1980s - photo credit to Matthew of FredAucCo.
Remember when we did You've Got A Keyloun? - Here's How To Tell Them Apart? If not you should pop over and take a look, because today we're going to spend a little bit more time with one of the Keyloun designers featured in that article, Georgie Keyloun, whose eponymous loungewear was universally acclaimed for its luxury and innovative design.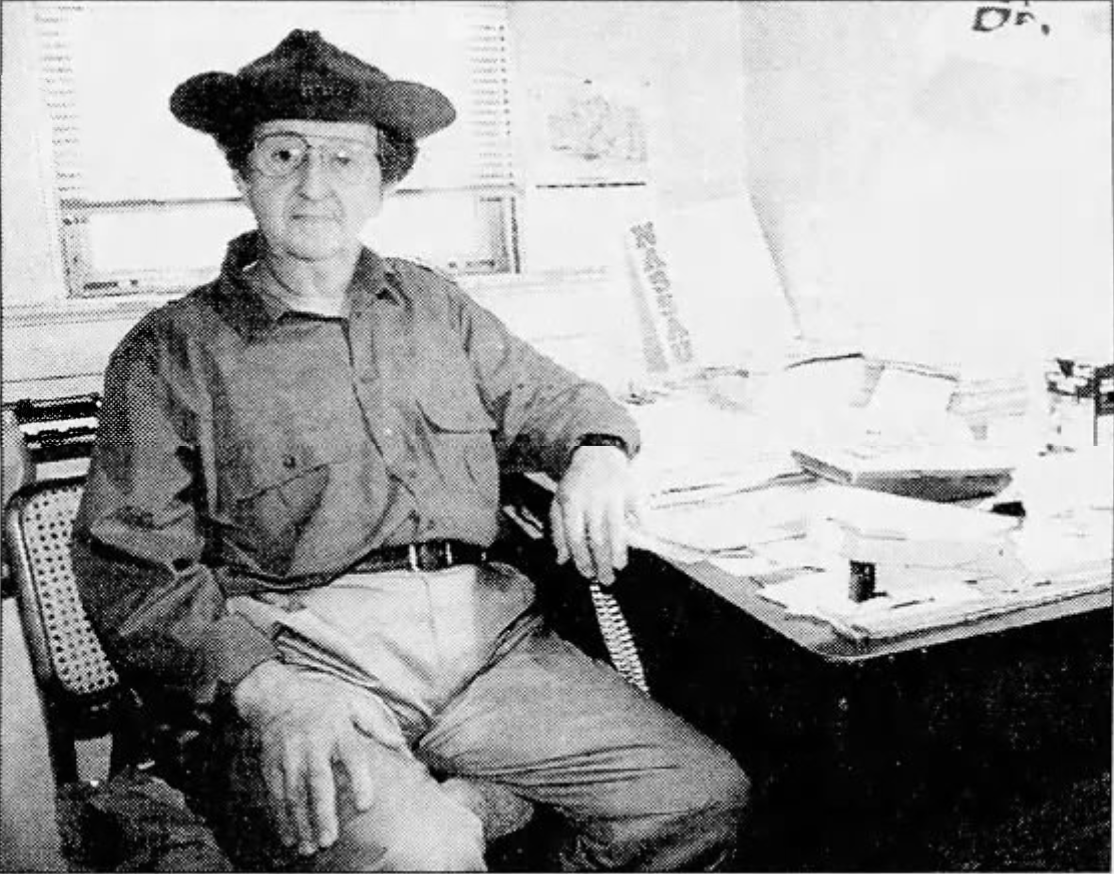 George P. Keyloun - from Newsday, September 4, 1994.
George P. Keyloun - and by the way, it's pronounced KAY-loon! - was born into a Syrian-born family steeped in the apparel business. His father Rizkalla founded the Keyloun Garment Company in 1939, which specialized in women's robes and dressing gowns. George began working at his fathers 5th Ave factory as soon as he was able, but during the latter years of World War II he became eligible for the draft and was called to serve his country. At war's end, he returned to Brooklyn and to his job on 5th Ave.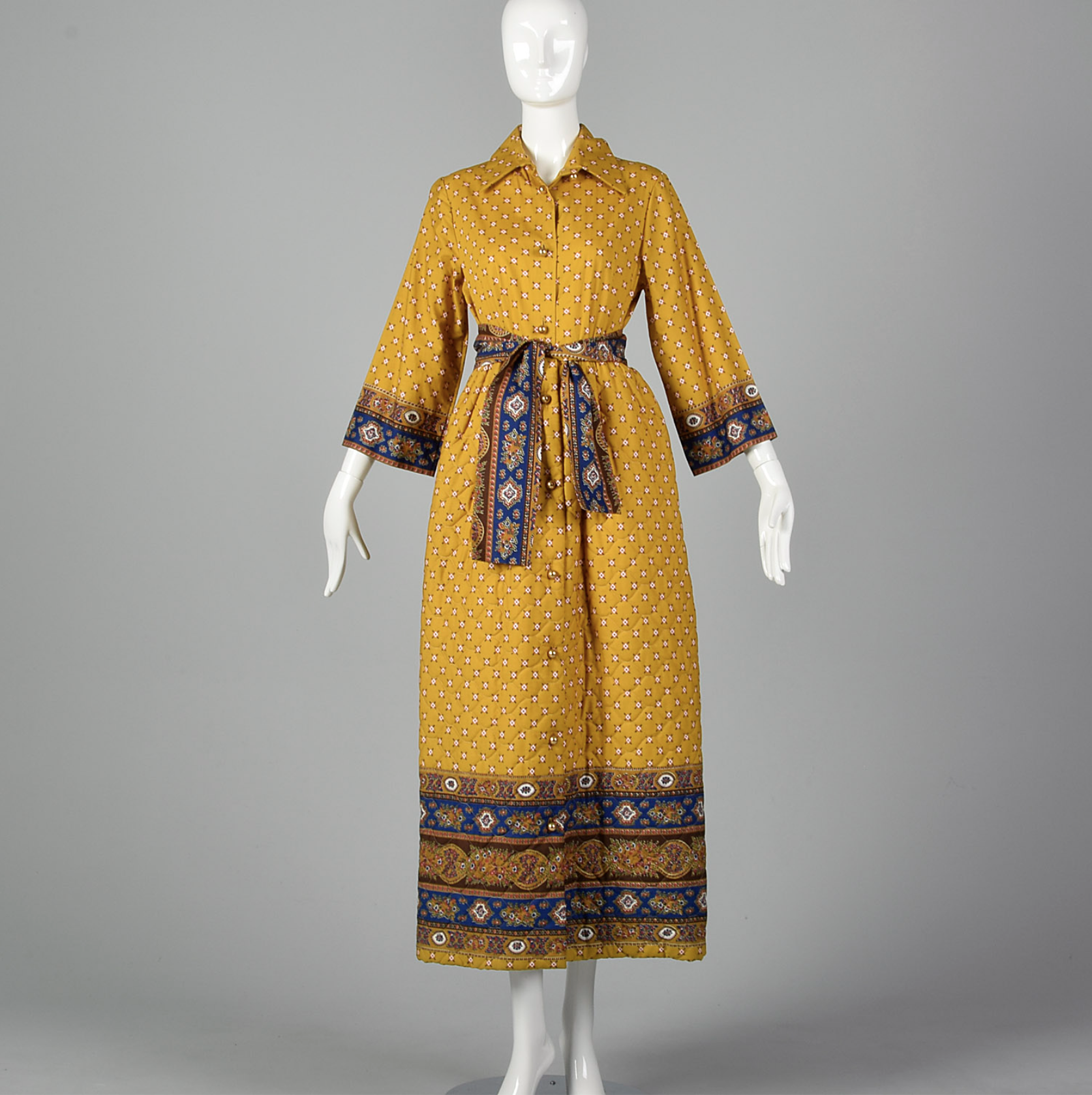 Keyloun long sleeved maxi dress - circa 1970s, Fashion Conservatory's Label Archive.
But the garment industry had its challenges. Soon after the Depression, a Roosevelt administration project had required American women be measured in order to devise a standardized set of average clothing sizes. This helped increase mass production for ready-to-wear clothing and patterns for cutting were developed for each size, but manufacturers like Keyloun soon discovered a downside. Buyers didn't order the same amounts for each size, and mechanized cutting meant it was difficult to cut different amounts for each size. Manufacturers often had to cut the same amount of each size and hope they were able to sell any remainders.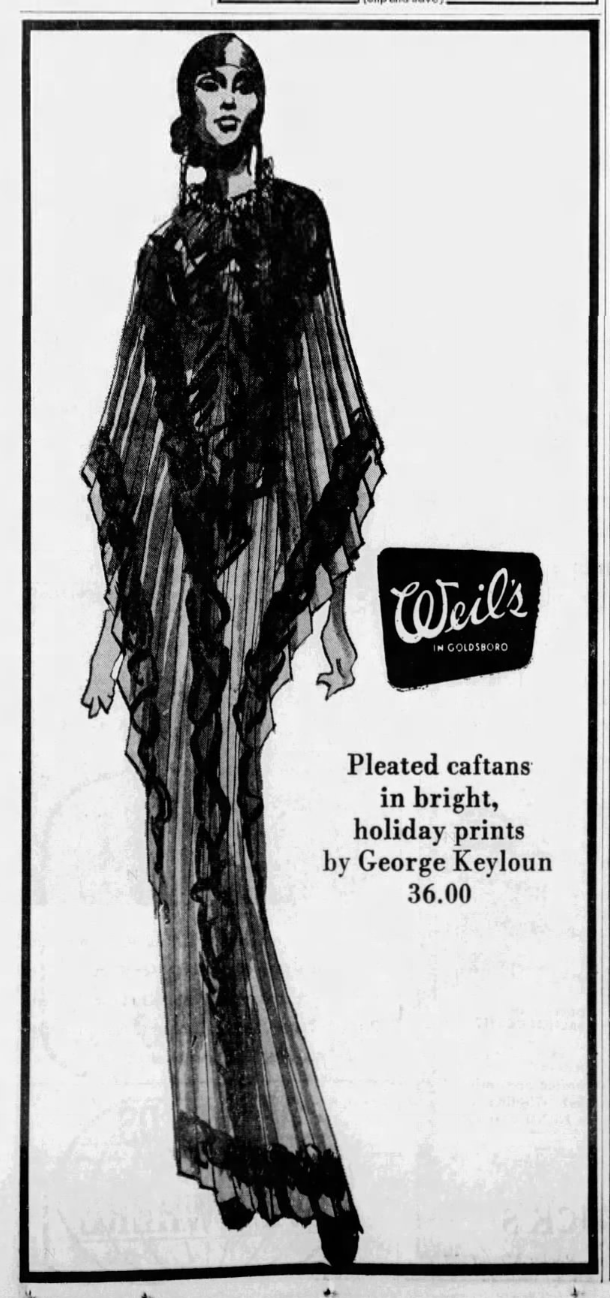 Pleated Caftans in bright holiday prints by George Keyloun.
The introduction of new fabrics presented another set of obstacles. Orlon, a machine washable and dryable synthetic acrylic fabric with a resistance to shrinkage and a soft, warm feel, had made its debut as a fabric for clothing but was still in its infancy with regards to its use in clothing. At Keyloun - as at most other places at the time - cotton was king, and no one really knew what to do with Orlon because it didn't drape like cotton did.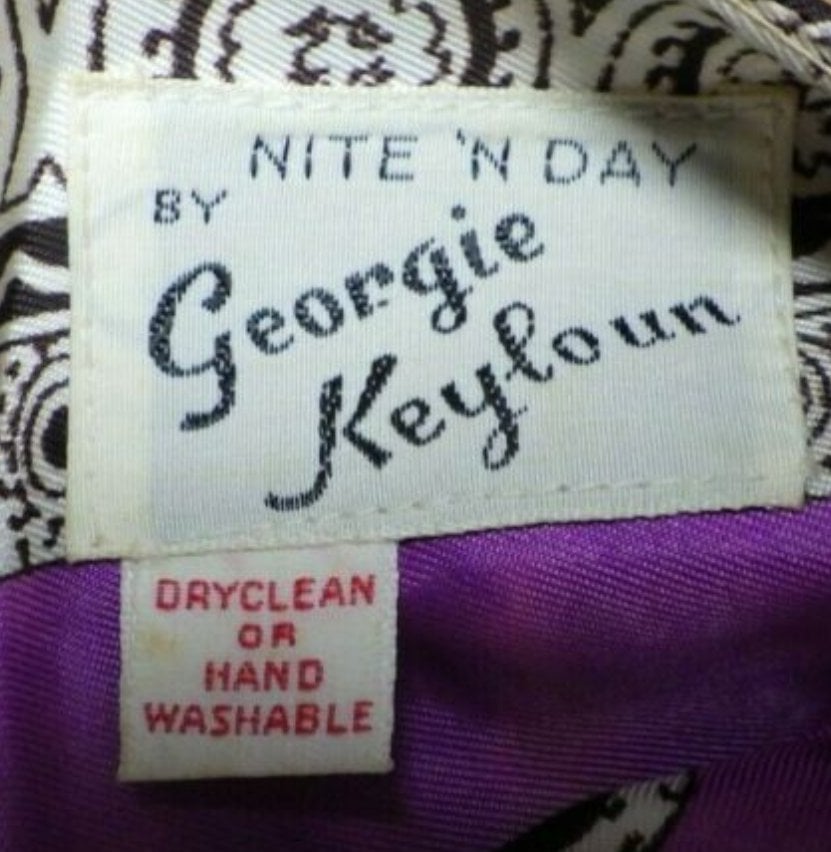 Georgie Keyloun Nite _N Day - c1970s - credit to theantiquebrokers.
But George Keyloun had an idea. Orlon didn't drape like cotton? Fine. If he made the robes and dressing gowns Keyloun sold one-size-fits-all, he thought, that would solve it. He then raised hems to just below the knee and capped sleeves instead of leaving them long. These changes not only saved fabric, but made the garments easier to sew. And they were a hit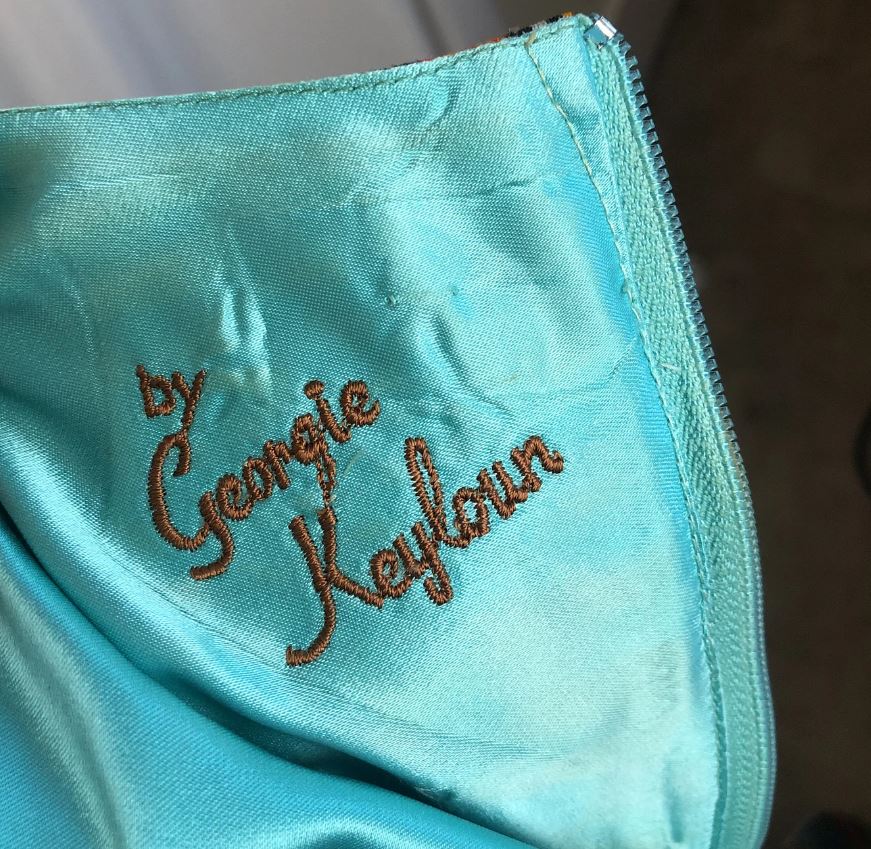 Georgie Keyloun - c1960s_1970s - credit to Amanda of RogueRetro.
While his solutions helped sell Keyloun's products and dramatically increase profit margins, they also had a more lasting effect on George: he realized he had a real knack for design, and he didn't want to get stuck laboring in the background. So he left Keyloun, and in 1956 moved to St. Petersburg, Florida, to join Mike Janji and Alfred Mogabab at Carousel Fashions, a ladies loungewear factory. He stayed there for a while before he took a position at Kayser-Roth as their loungewear director and then, finally, decided to go into business for himself.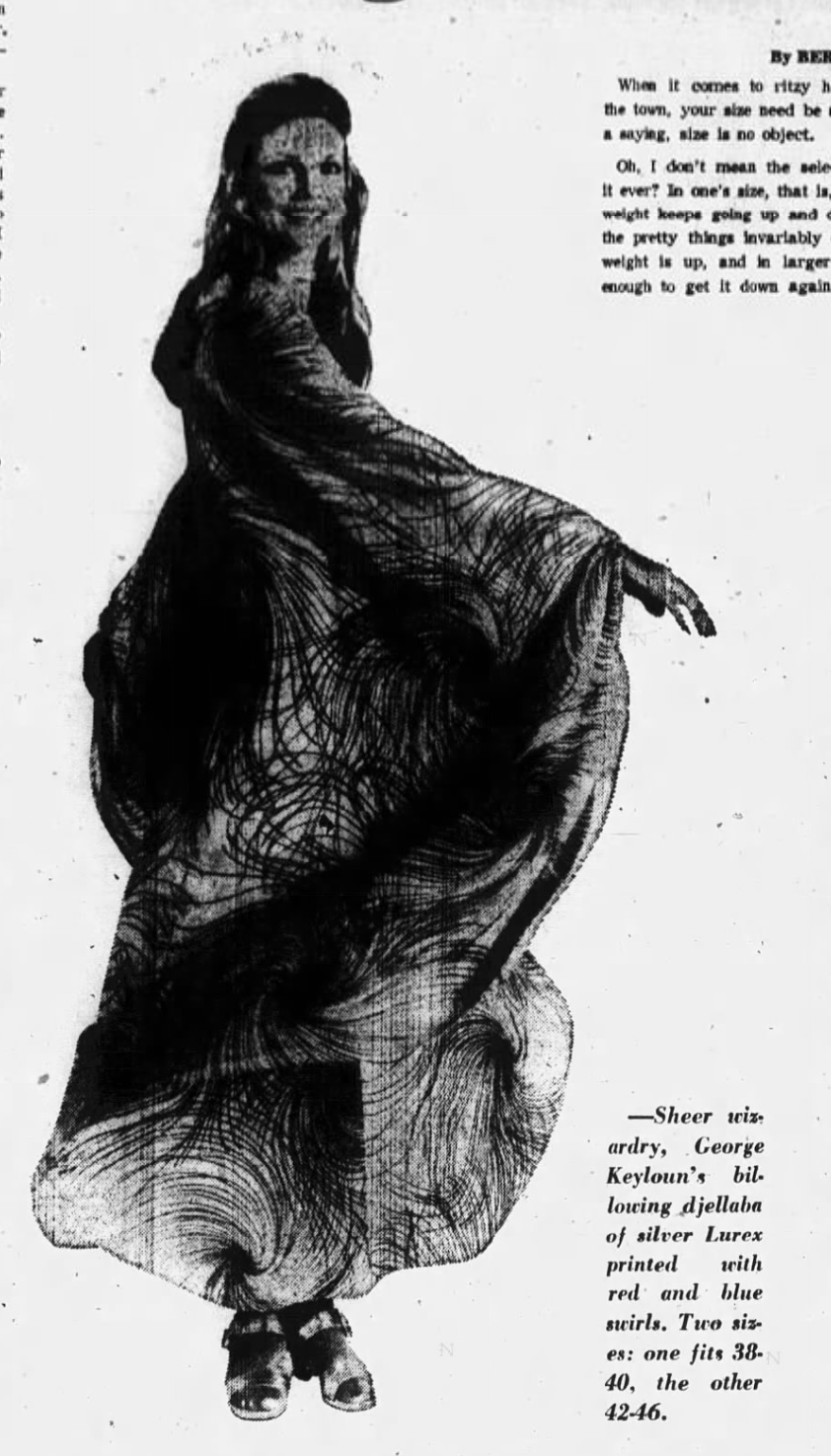 Keyloun Advertisment, The Daily Item, October 30, 1972.
So in 1968 George opened his own concern, Loungewear by Georgie Keyloun, Inc., which also included Nite'N'Day by Georgie Keyloun under its banner. He did what he knew best - loungewear - and he was in just the right time and place for it. Starting in the late 1950s there had been a slow rise in interest for at-home fashion, and many companies - including Keyloun, who by this time was headed by George's brother Elias - had catered to it. But by the mid-to-late 1960s and early 1970s, this interest had become a necessity. Women who entertained at home demanded stylish, glamorous and comfortable attire, and George Keyloun was just the man to give it to them.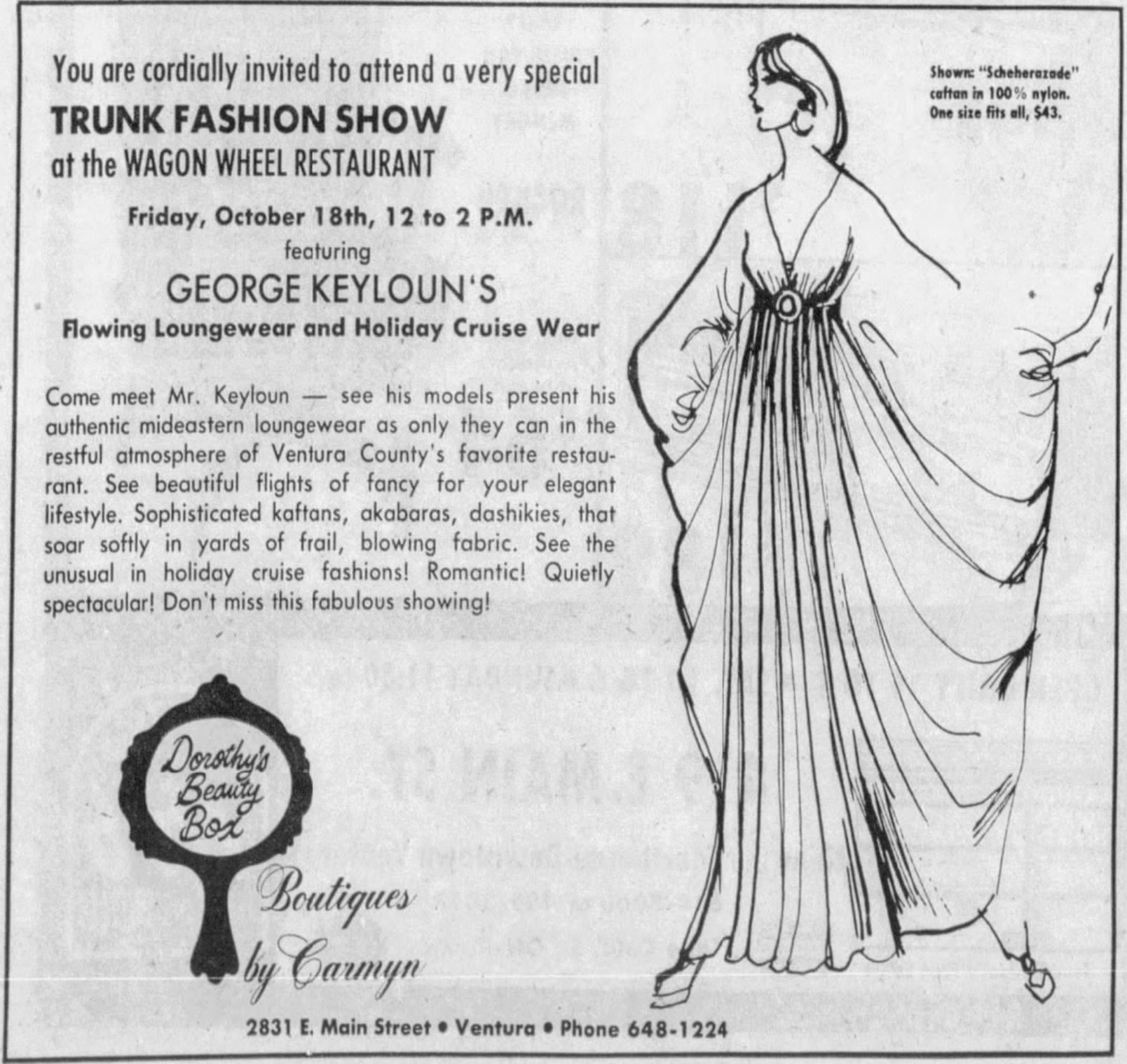 Keyloun Trunk Fashion Show Advertisment, 1970s.
From the get-go George was in a sort of competition with his brother, as the two companies were making arguably the same product. But George was innovative and original as well as technically gifted. He embroidered his label to give his garments a semblance of luxury. He took one-size-fits-all loungewear to the next level and tapped into his middle eastern origins to create dramatic, sophisticated kaftans, djellabas, akabaras, and dashikis.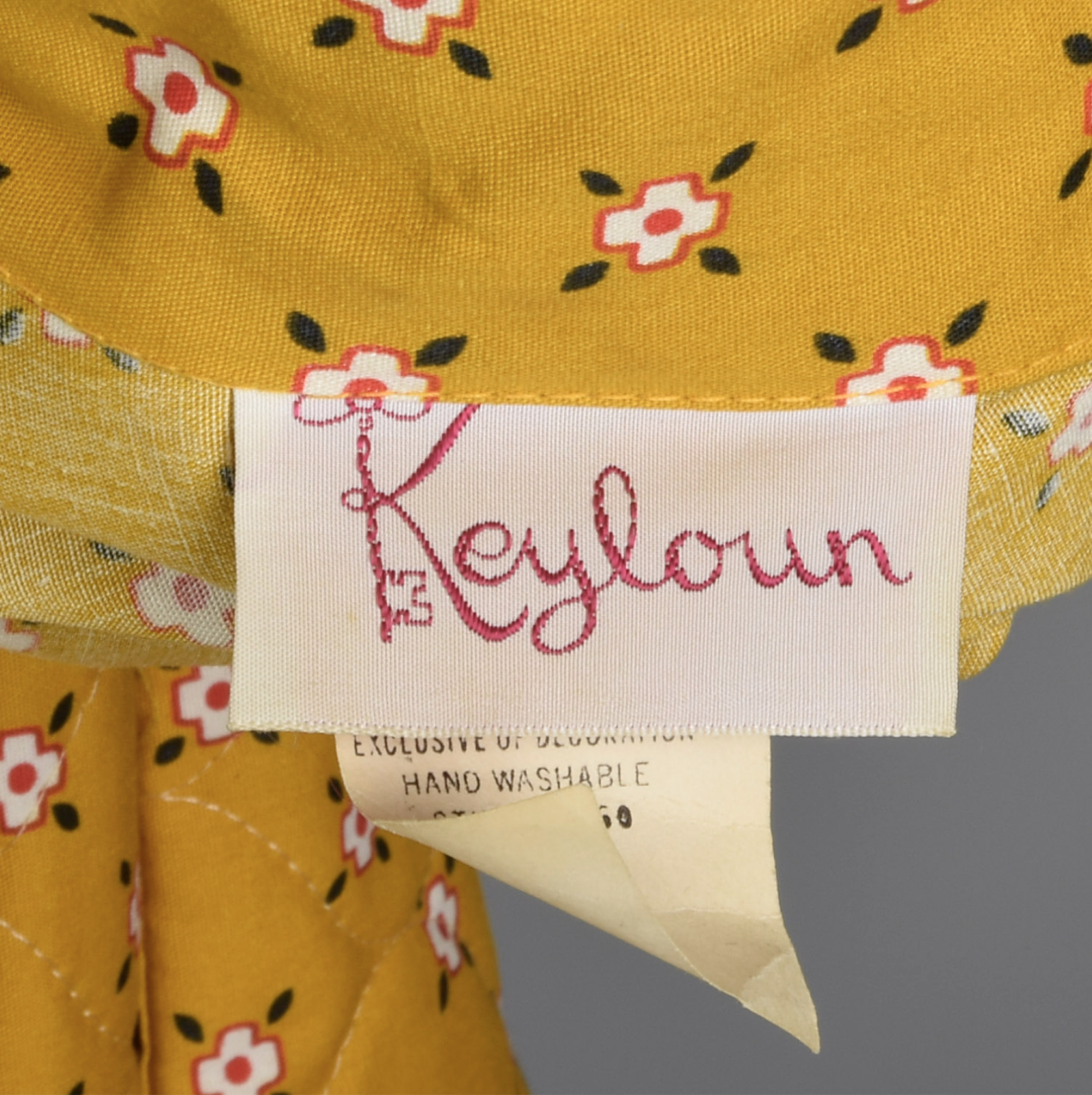 Label from a Keyloun long sleeved maxi dress - circa 1970s, Fashion Conservatory's Label Archive.
Flamboyant in his use of brilliant colors and yards and yards of fabric, he used this to his advantage by employing drawstrings or various tie effects to draw free-flowing fabric closer to the body. He even created a kaftan with total body pleating, so that when a woman wore it, it clung to every curve of her body. Women loved it, and his designs flew off the shelves. "Nothing Will Do But A Georgie Keyloun," the catchphrase said, and the catchphrase was right. Famous women like Ethel Merman, Lucille Ball, Jane Russell…they all wore Georgie Keyloun.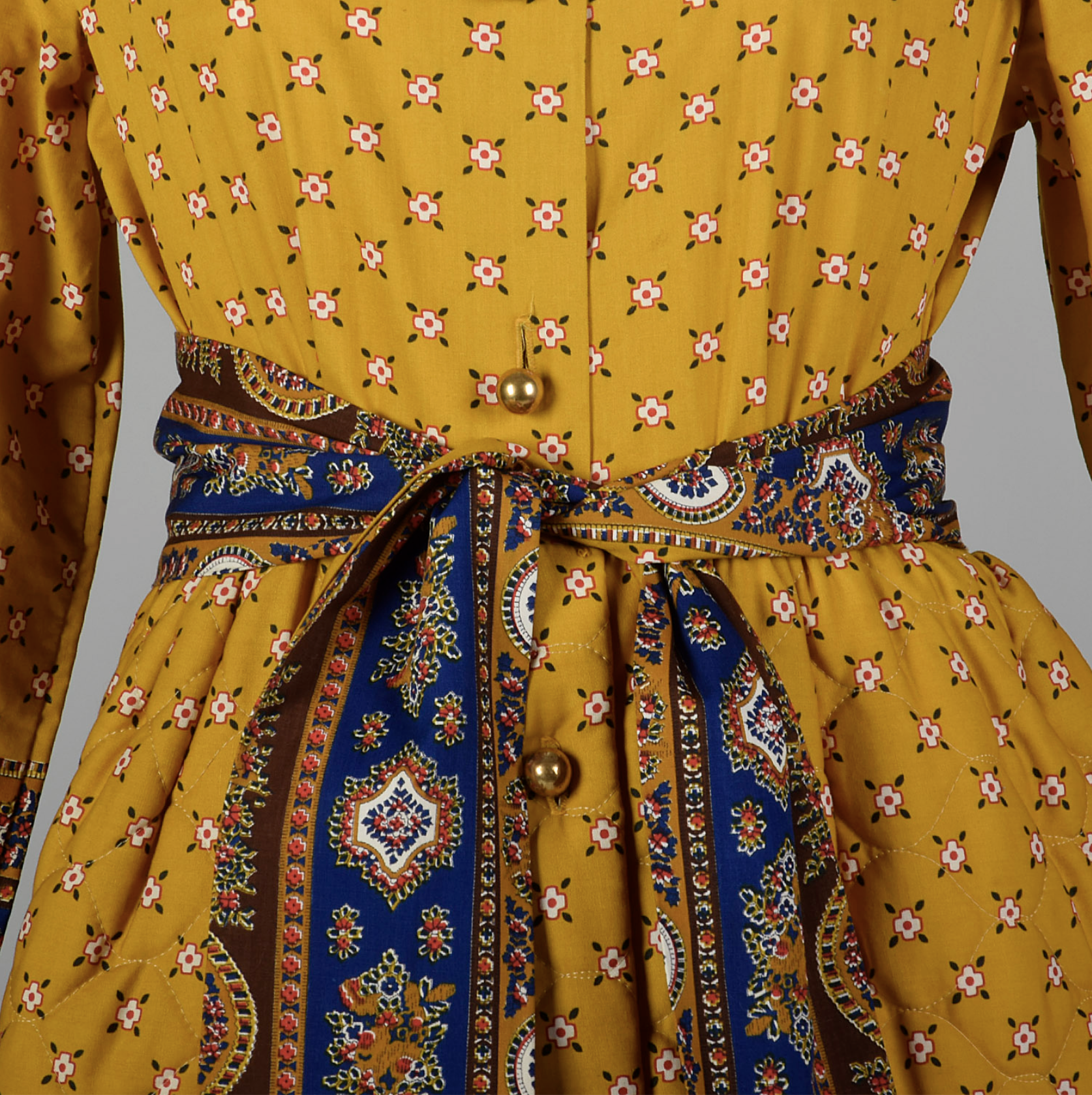 Detail from a Keyloun long sleeved maxi dress - circa 1970s, Fashion Conservatory's Label Archive.
But time, fashion trends, and the garment industry as a whole were fickle mistresses. In the mid-1960s over 90% of America's clothing was made in the US, but throughout the 1970s and 1980s rising globalization, economic downturns, and higher production and labor costs eventually saw that number spiral downwards. And fashion itself changed - women stopped wearing much of the loungewear George made popular and turned towards jeans and t-shirts. So after dealing with all of these economic punches on top of a robbery at his factory, George dissolved his company in 1991 and retired to Bellerose Village, NY. He died in 2009.
But nothing changes this fact: George Keyloun was one of a kind.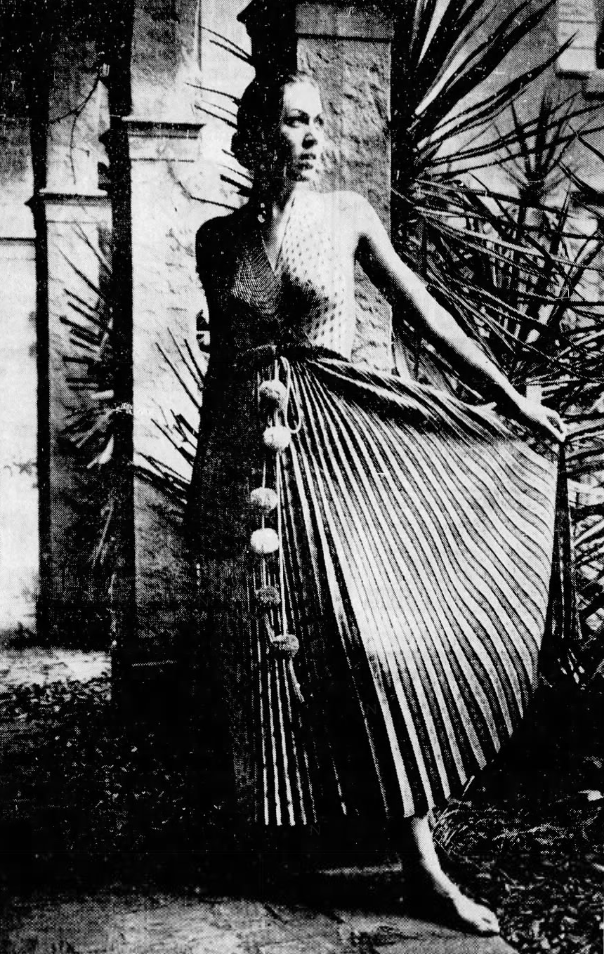 June Jamison wears a halter dress designed by Georgie Keyloun.
Patricia Browning received her archival postgraduate degree in Information Management & Preservation from the University of Glasgow. Her lifelong fascination with research saturates nearly every aspect of her life. These days - when she's not nose-deep researching vintage fashion labels - she can be found doing genealogy or developing a podcast about her pet project, David Tennant's early theatre career in Scotland.
SOURCES
Advertisement. "J.V. Smith's." (5 November 1970). Greeley Daily Tribune [Greeley, CO], image 18. Ancestry.com.

Advertisement. "Leon's." (20 December 1978). Austin American-Statesman [Austin, TX], image 27. Newspapers.com.

Aschmann, Ruth Emily. "Awe Of The Arabian Nights Shows Up In Loungewear." (23 May 1971). The Charlotte Observer [Charlotte, NC], image 90. Newspapers.com.

Aschmann, Ruth Emily. "Holiday Wear Drapes Softly." (15 September 1971). The Charlotte Observer [Charlotte, NC], image 17. Newspapers.com.

Helou, Mrs. Jumelia. "Out of Town News: St. Petersburg, Fla." (23 February 1956). Caravan [Brooklyn, NY], image 5. Newspapers.com.

Keyloun, Victor. A House by the Park. New York: VenVic Publishing, 2005. Nook.

Lam, Chau. "A Veteran Litigator." (8 September 1994). Newsday (Nassau Edition) [Hempstead, NY], image 25. Newspapers.com.

New York Department of State, Division of Corporations. "Loungewear by Georgie Keyloun, Inc." Entity #291885. Accessed September 14, 2022.

Victor Keyloun, phone interview by Patricia Browning, February 1, 2023. Transcript.
​​​​​​​

We want to profusely thank Dr. Victor Keyloun for giving us the opportunity to talk with him about his family's company and his brother, George. Dr. Keyloun was instrumental in the development of this article.