Spotlight on Black Designers: Kevan Hall
Designer Kevan Hall, iconiclife.com, September 30, 2020.
When couture designer Kevan Hall was a kid growing up in Detroit admiring the style of entertainers like the Supremes and Sonny and Cher on television, he didn't know the sketches he drew of the clothing he thought the entertainers should be wearing could be a real job. All he knew was he liked drawing, and he thought he could style their wardrobes better. Luckily for Hall, his parents didn't deter him; instead, they kept him furnished with art supplies and encouraged him to keep doing the thing he loved to do. And so he did.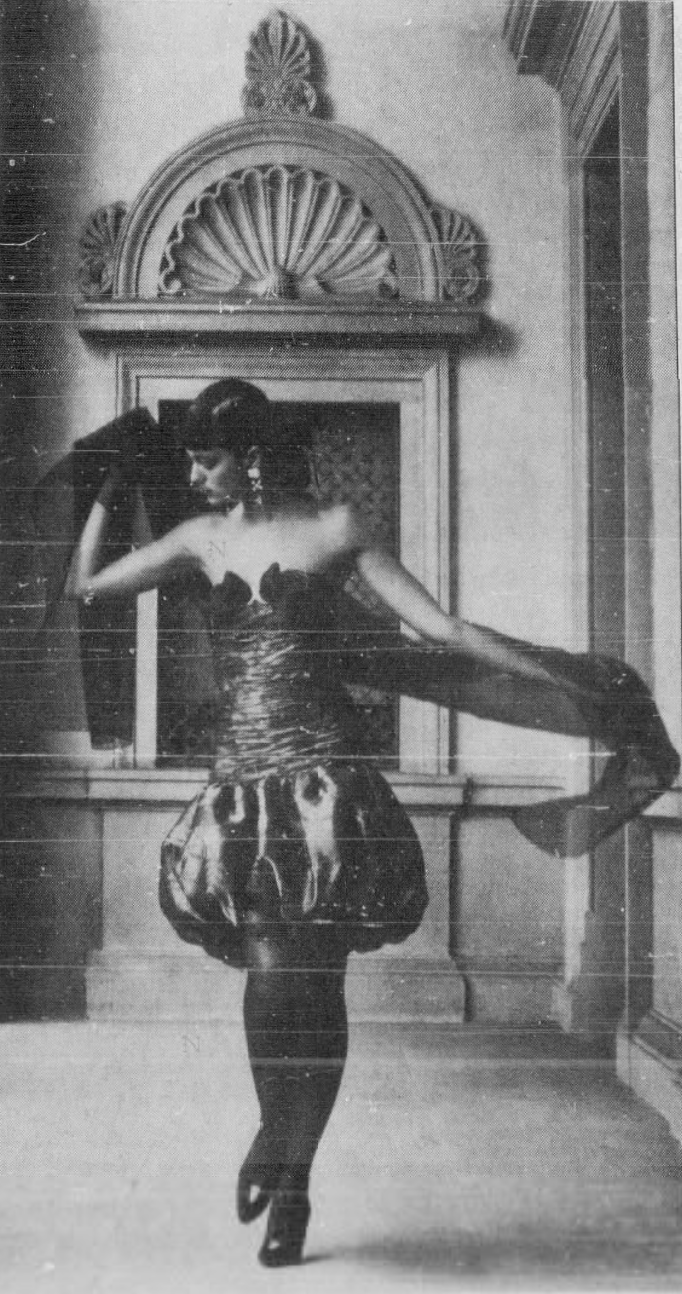 "'Couture Without The Stuffiness' For Californians." October 14,1987, The Signal.
By the time he began attending Cass Technical High School - Detroit's only magnet school in the 1970s - he'd figured out fashion design was a job, and it was one he wanted to do. In his senior year, he was awarded the "Designer of Tomorrow" scholarship sponsored by the Los Angeles-based Fashion Institute of Design and Merchandising, and in 1975, he moved to California to take up his studies.
His years at FIDM were inspirational for the burgeoning designer. He took a trip to Europe which altered his outlook and ignited a lifelong love of vintage glamor and haute couture. Upon his graduation, he received the Peacock Award for Outstanding Fashion Design for the gown which springboarded his career in the industry, an off-the-shoulder cocktail dress in face-powder pink and taupe silk.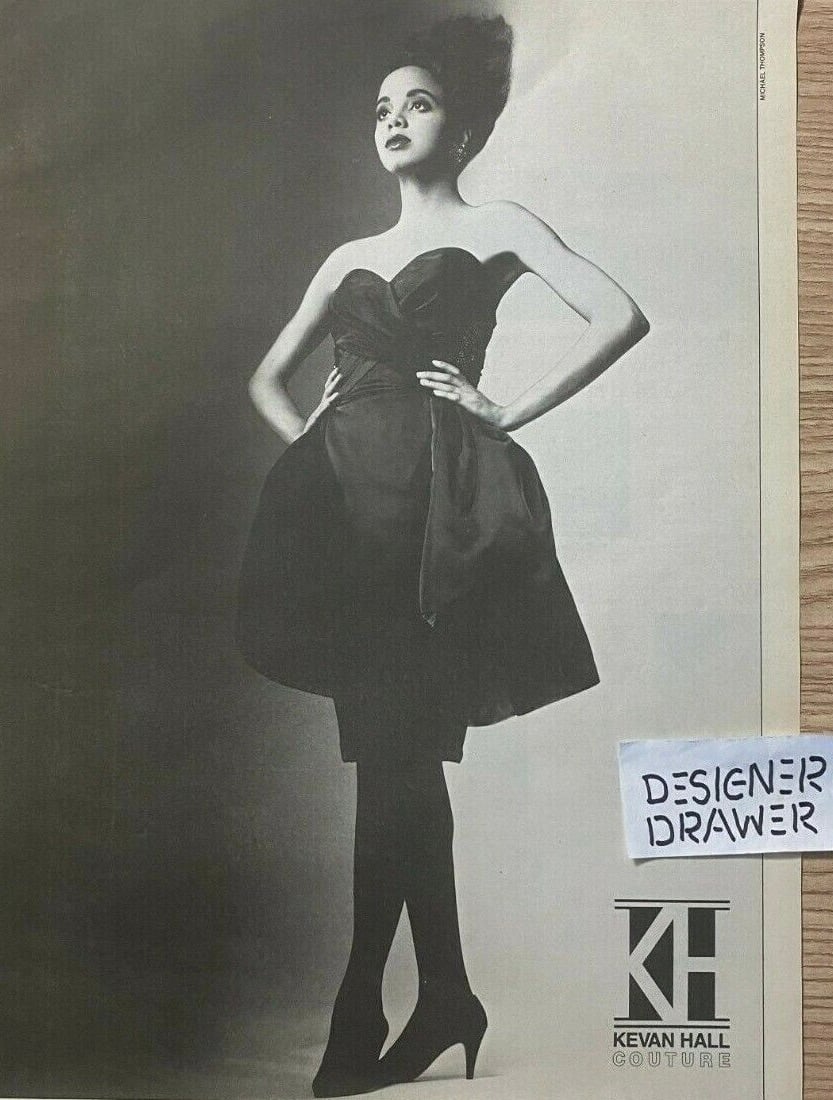 Kevan Hall Couture Los Angeles Fashions Stores Vintage 1987 Print Advertisement.
After his graduation in 1977, Hall paid his dues to the industry. He was an assistant with Harriet Selwyn's Fragments label, high-fashion sportswear famous for its interchangeable, one-sized dressing concept. He then took on the position of senior designer for the girls' junior sportswear brand On Top of California before he felt confident enough to first branch out as an independent freelance designer and then, in 1983, to launch Kevan Hall Couture with his wife and business partner, Deborah, in their tiny Los Angeles apartment.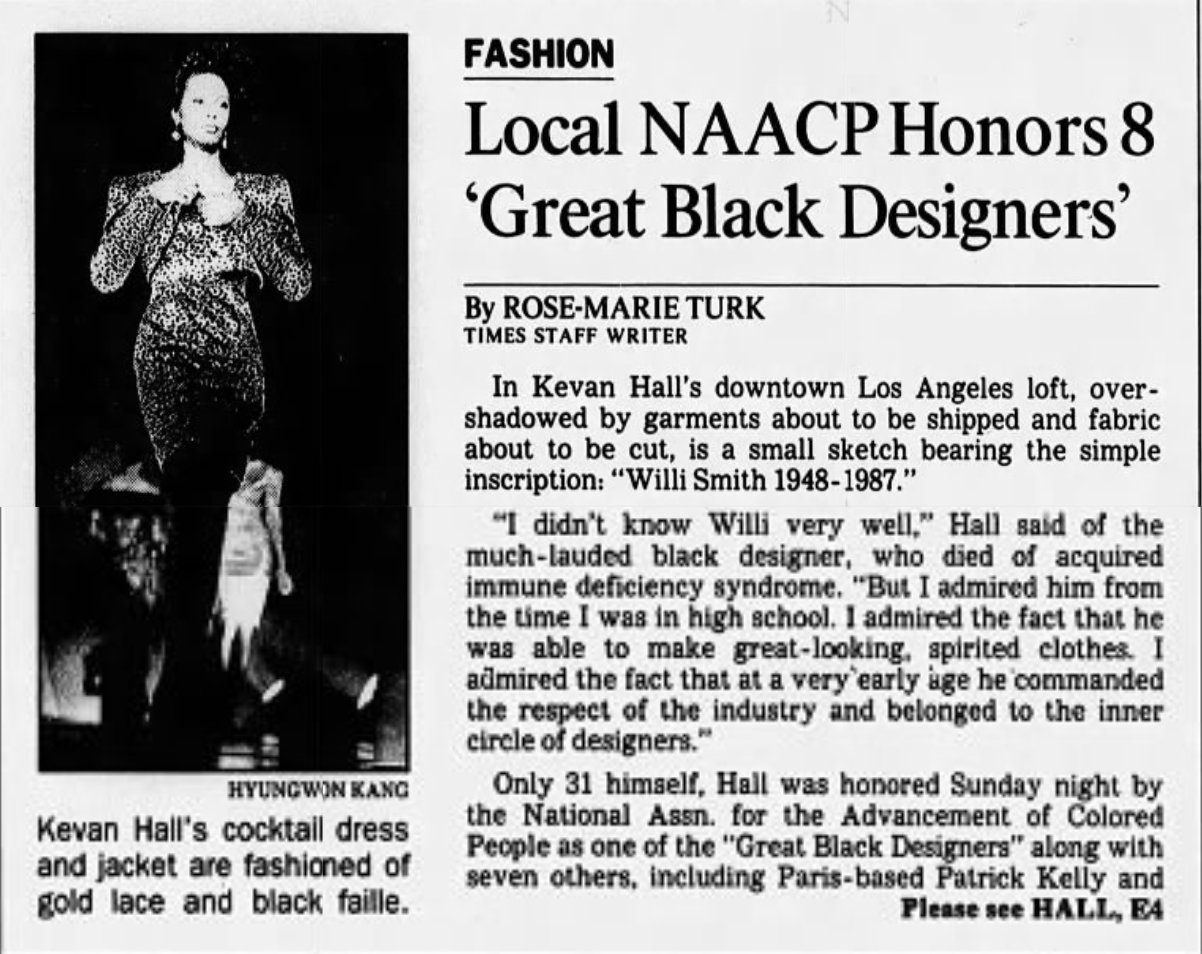 "Local NAACP Honors 8 'Great Black Designers'." November 22, 1989. The Los Angeles Times.
Hall, whose aesthetic had always eschewed fashion trends, quickly began to establish his own wheelhouse, where his sense of vintage Hollywood glamor could intermix with the luxe fabrics and unusual colors he loved to work with. His sense of style leaned toward classic silhouettes—full skirts, pleats, and drapes—and he had an unabashed delight in cutting to fit a woman's figure. Modern women with the confidence to buy what looked best on them, regardless of its popularity, swiftly snatched up his designs at luxury retailers like Saks Fifth Avenue, Neiman Marcus and Bergdorf Goodman.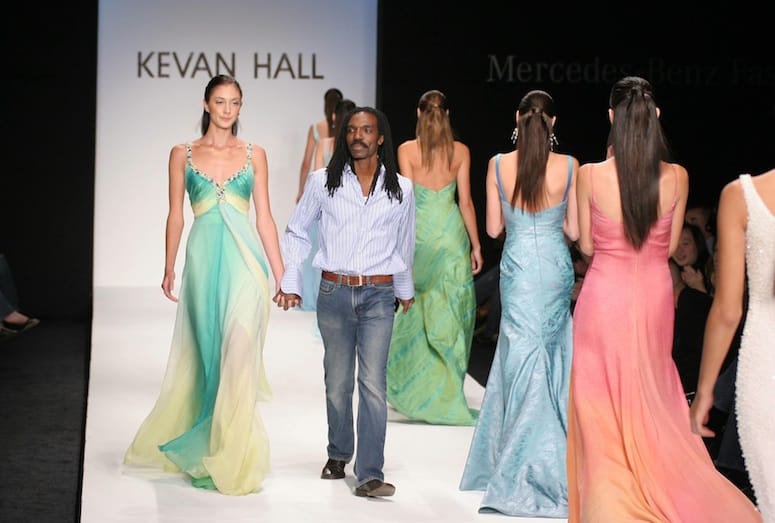 From "Kevan Hall Fashion Takes on a New Desert Perspective." Palm Springs Life, March 4, 2014.
The next ten years were a whirlwind of awards and expansion. He was nominated for the California Designer Award in 1987, and in 1989 the NAACP recognized him as one of the Great Black Designers. In 1991 he took the opportunity to branch out from his Couture line and opened Kevan Hall Studio, and Absolut Vodka commissioned him to create a one-of-a-kind gown. The following year he was feted with a ten-year retrospective exhibit at the Center of Performing Arts in Southern California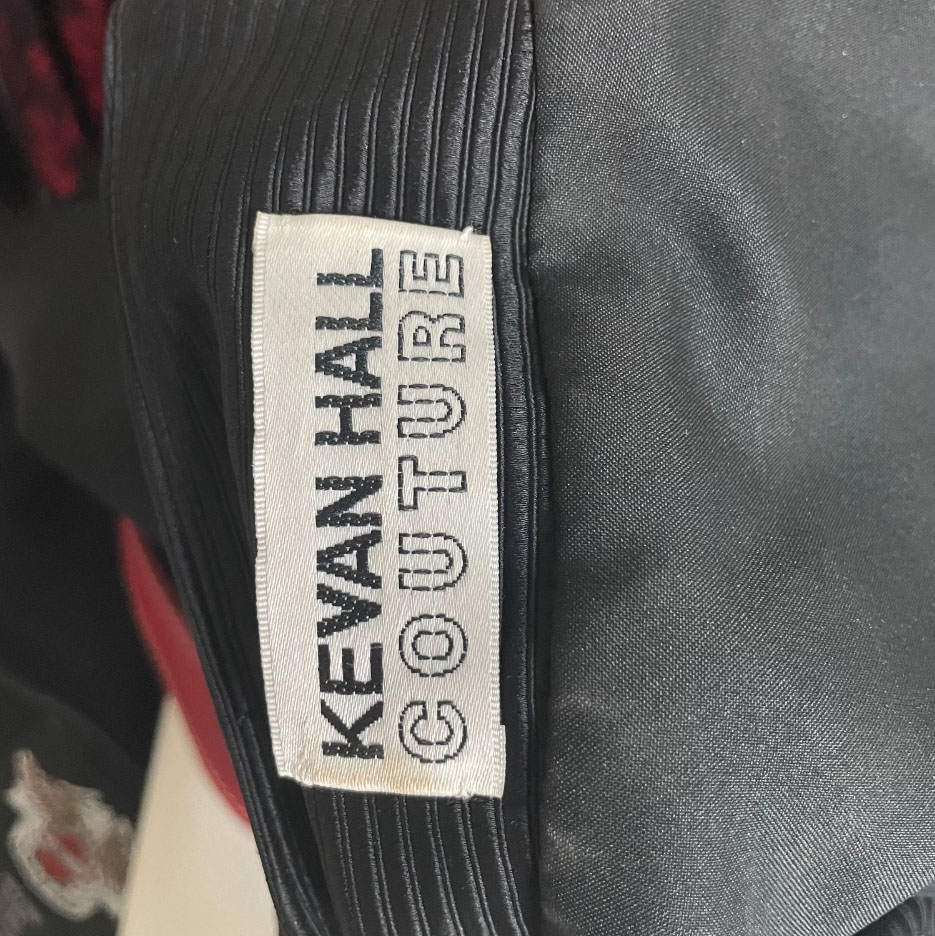 Label from Kevan Hall Couture.
But Hall wasn't immune to the fashion industry struggles of the mid-1990s. Market demand for luxury gowns stalled in the midst of economic woes, forcing him to close Kevan Hall Couture in 1995. He floated for a few years consulting for other companies before landing an enviable position which would bring him both great joy and great strife: the opportunity to head Halston's luxury line, their Signature Collection. He was only there a short while before a series of clashes with Halston's management ensued and Hall quit in early 1998, but after a shakeup in ownership and another management change, Hall was asked back to take over as Halston's Design and Creative Director.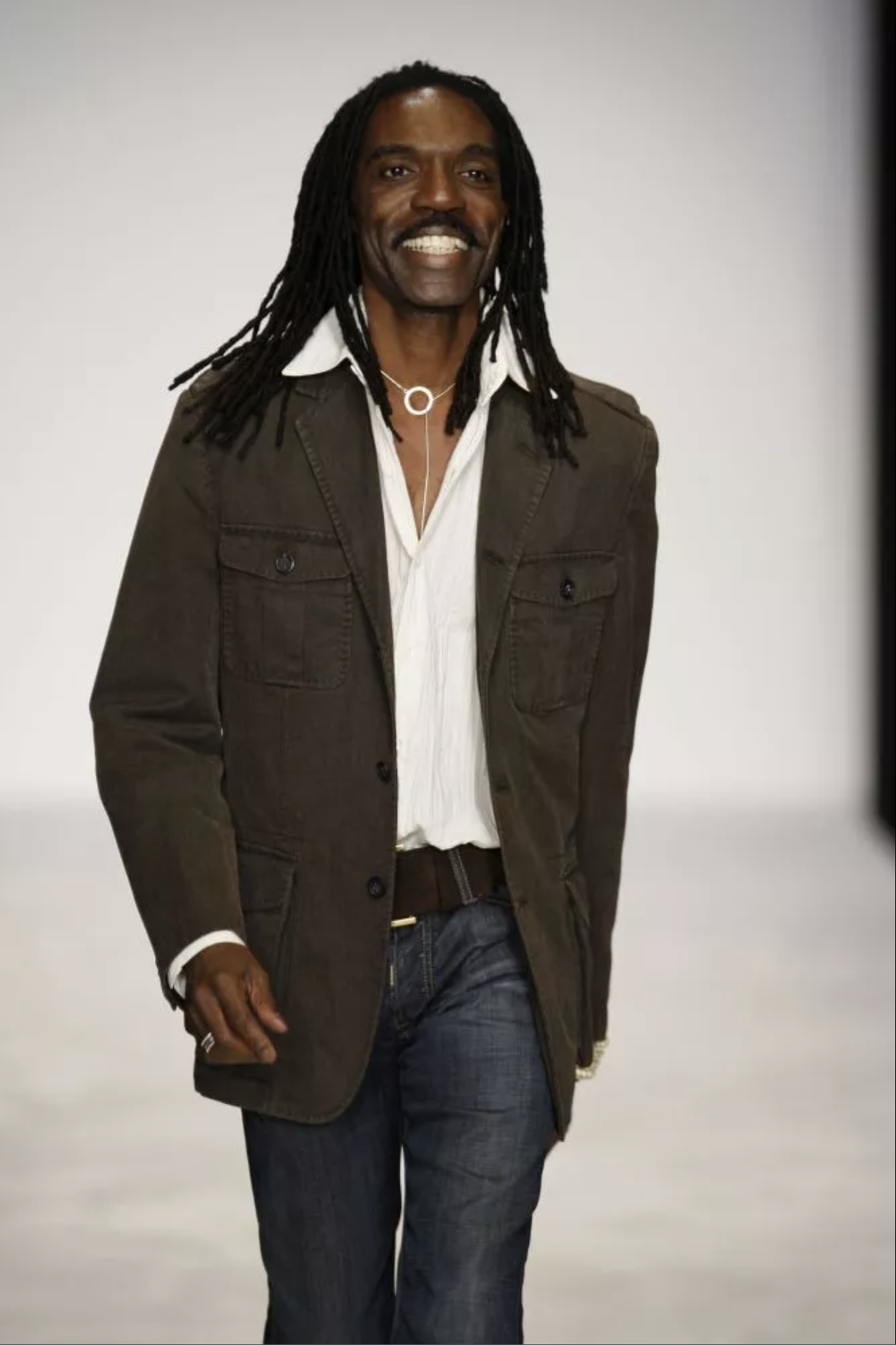 Kevan Hall by Dan Lecca, NPR.
Hall remained in that position until 2001, when he decided he was ready to return to designing for himself. He resigned from Halston, established Kevin Hall Designs to relaunch his eponymous signature, Kevan Hall Collection, and open an atelier on Beverly Boulevard in Beverly Hills.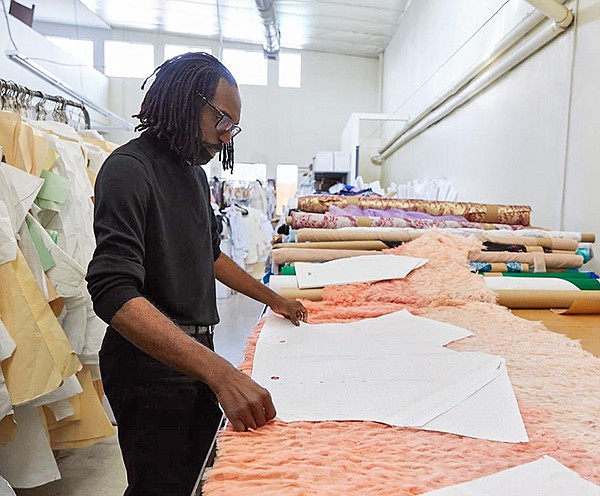 Designer Kevan Hall works on his Kevan Hall Studio collection for Saks OFF 5th. Via Apparel News.
It didn't take him long to re-establish himself as a go-to for haute couture. In 2002 he won the 47th Annual Gold Coast Fashion Award in Chicago as "Designer of the Year" and in 2005 he picked up the nod as the "Stylemaker of the Year" by Life & Style Magazine. Throughout the 2000s and into the 2010s he re-launched his Studio line, collaborated with Paul Stanley, launched Kevan Hall Bridal and Kevan Hall Sport, and debuted a White Label collection. He even began designing exclusive collections - called Kevan Hall Inspirations - for HSN in Italy and QVC in France, the UK, and Russia.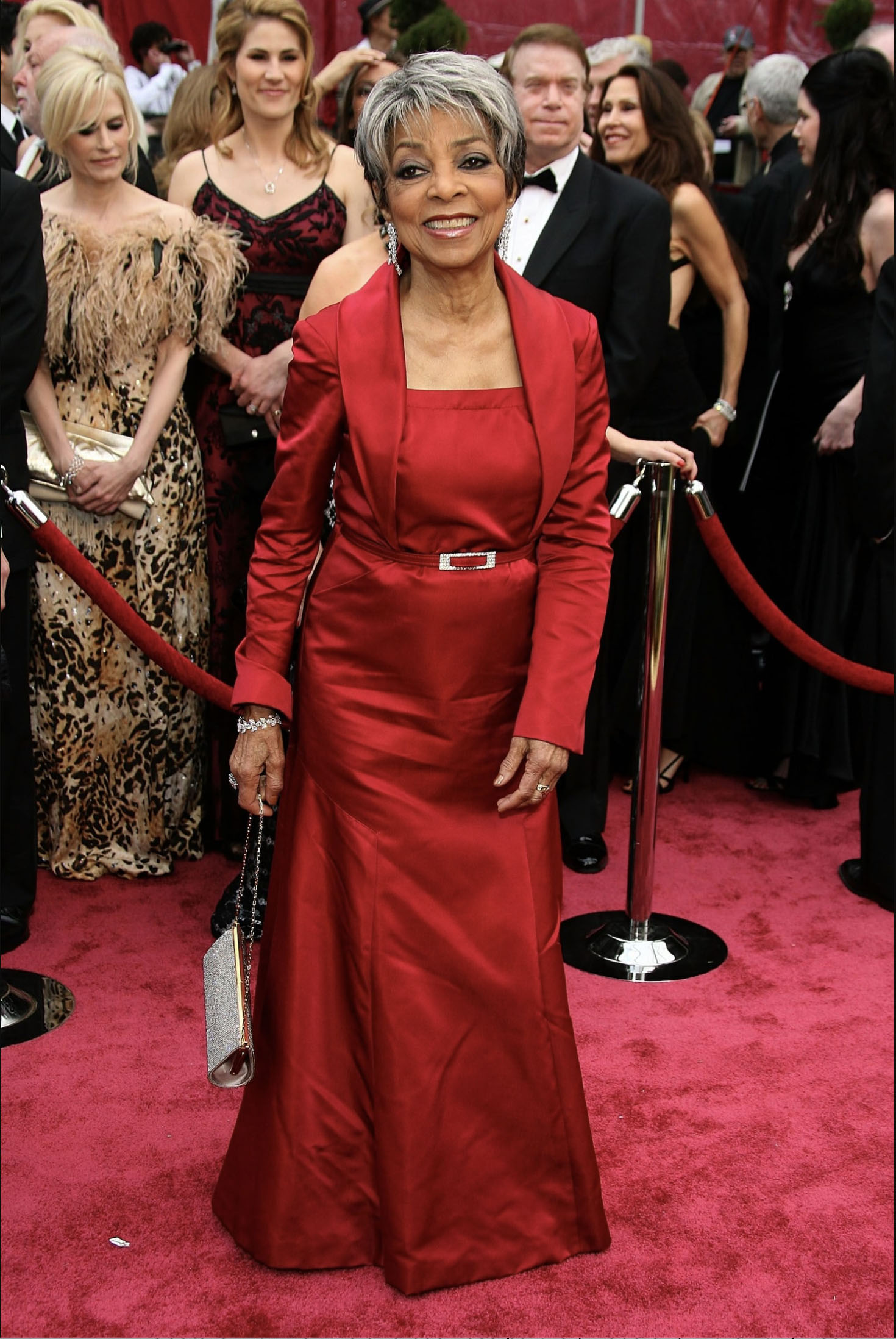 Ruby Dee arrives at the 80th Annual Academy Awards, February 24, 2008 in Hollywood, California. (Photo by Frazer Harrison/Getty Images)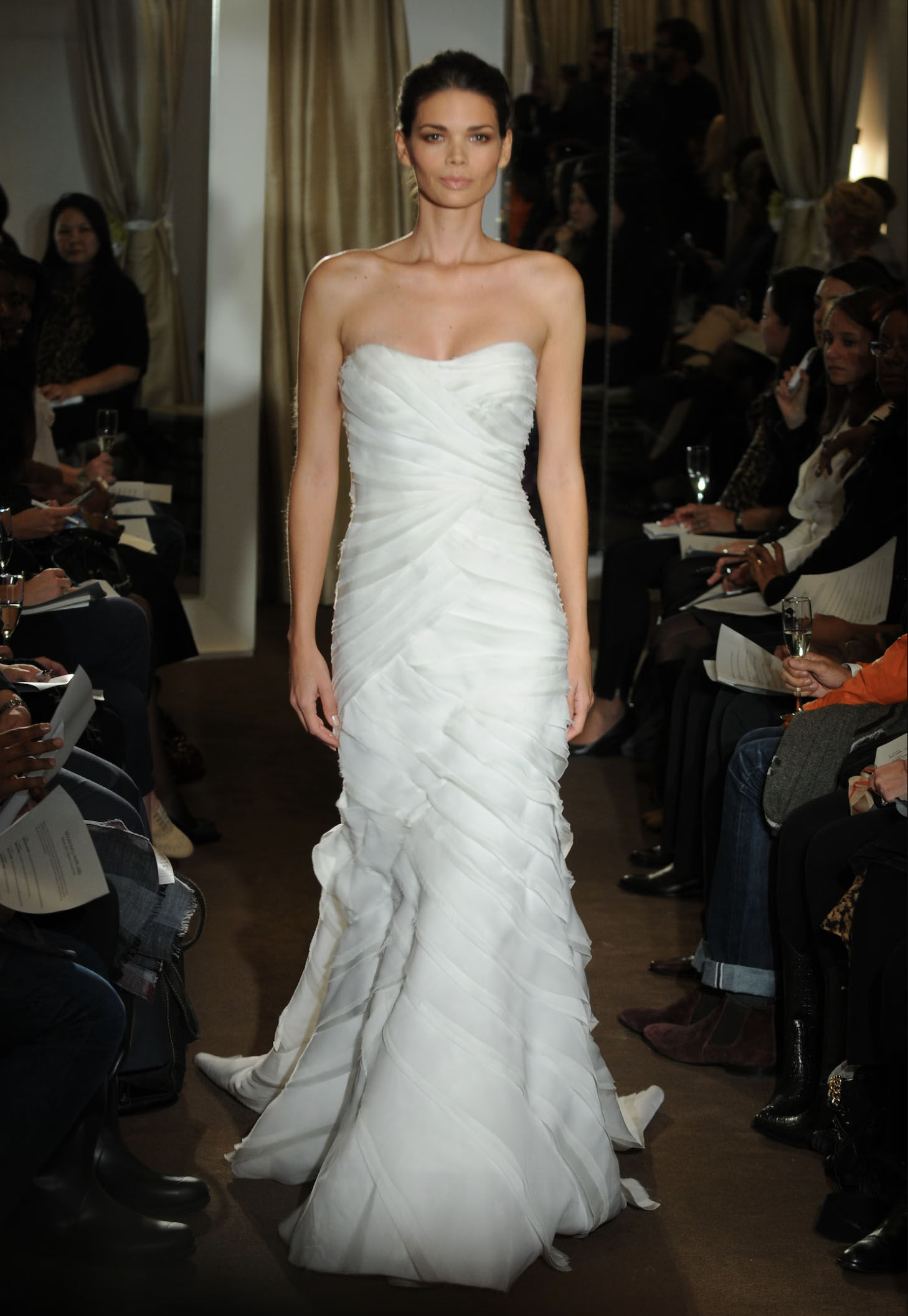 The "Grace" dress from the Kevan Hall White Label bridal collection. (Anton Oparin/Fashionstock.com)
The list of famous women who have worn Hall's designs lists like a who's who of Hollywood: Angela Bassett, Natalie Cole, Ms. Ruby Dee, Vanessa Williams, Mariah Carey, Gabourey Sidibe, Vivica A. Fox, Sandra Oh, Salma Hayek, Sharon Stone, and Charlize Theron amongst many others. But in 2010, Hall was selected to dress First Lady Michelle Obama for her appearance at the "Let's Move!" initiative in Washington, DC, during the Hispanic Heritage Month events of the Congressional Hispanic Caucus Institute (CHCI). From a selection of items, the First Lady chose a classic shirtdress style navy and bronze colored polka dot tie-front dress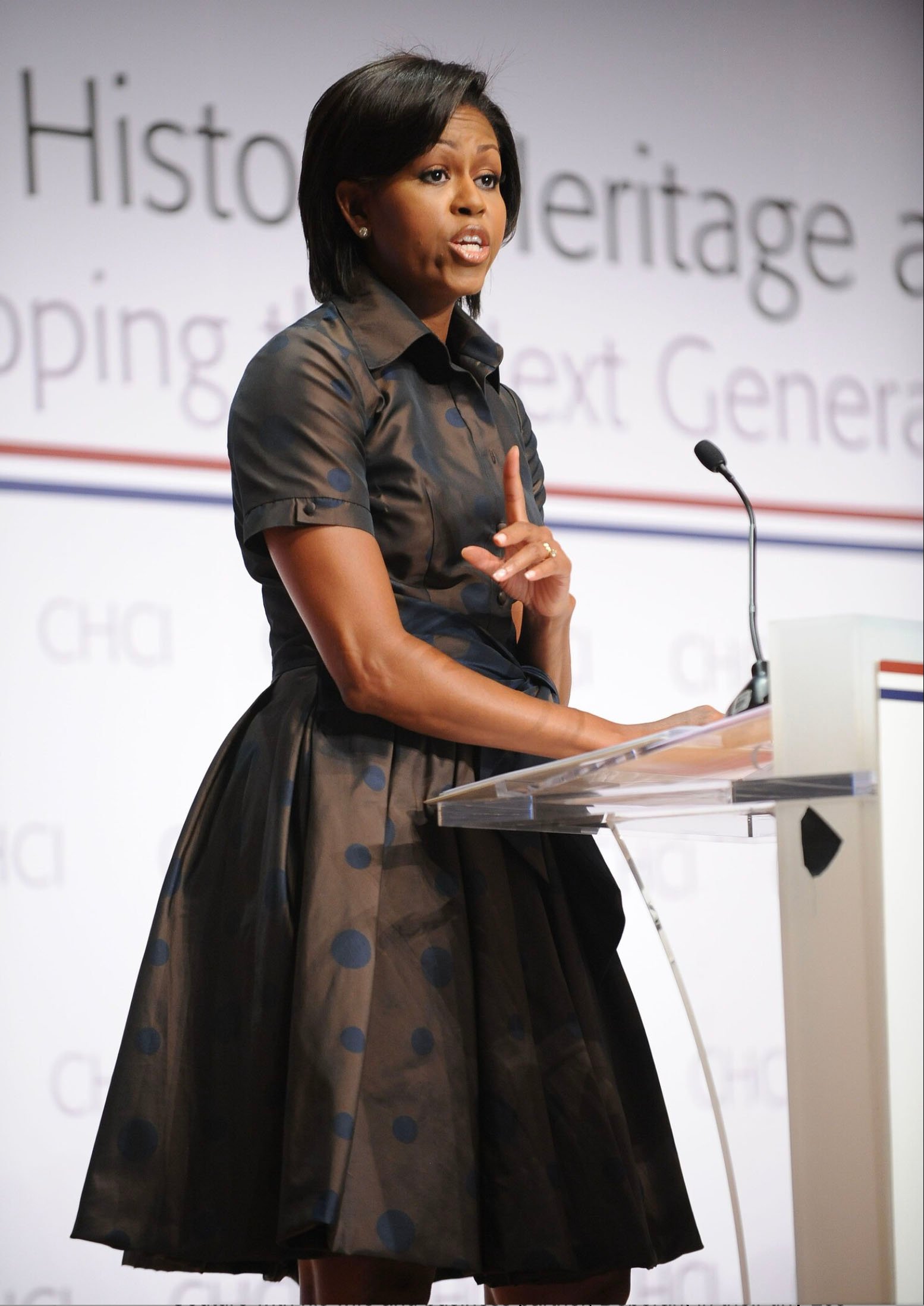 First Lady Michelle Obama wearing a Kevan Hall design, September 14, 2010. ( JEWEL SAMAD/AFP/Getty Images)
Hall also feels a need to give back, and has been active in developing new resources for the fashion community. Hall is a founder of The Novus Forum, an international collective trade show based in New York for luxury womenswear and accessory designers to help connect them with buyers. In 2018, alongside TJ Walker of Cross Colors Fame, Oscar-winning Ruth Carter, and Angela Dean, Hall helped to found the Black Design Collective, a nonprofit established to create scholarships, educational and business workshops, and mentorships for young designers to pursue a career in fashion and costume design. He also designed non-surgical fashion masks and long-sleeved hospital gowns for frontline workers during the Covid pandemic, as well as women's tops which complimented certain masks. The masks and coordinating tops were sold via his KevanCares shop on Etsy, and for each one sold, one mask was donated to frontline workers
Hall continues to design today. He has adapted his trademark sense of style and impeccable tailoring to a fashion world impacted by the pandemic. He designed tunics, pull-on pants and caftans for the changing demands of a stay-at-home working world; although he's now added back some dressier looks, he presses on to fulfill what has always been his main mission - providing women with luxurious options.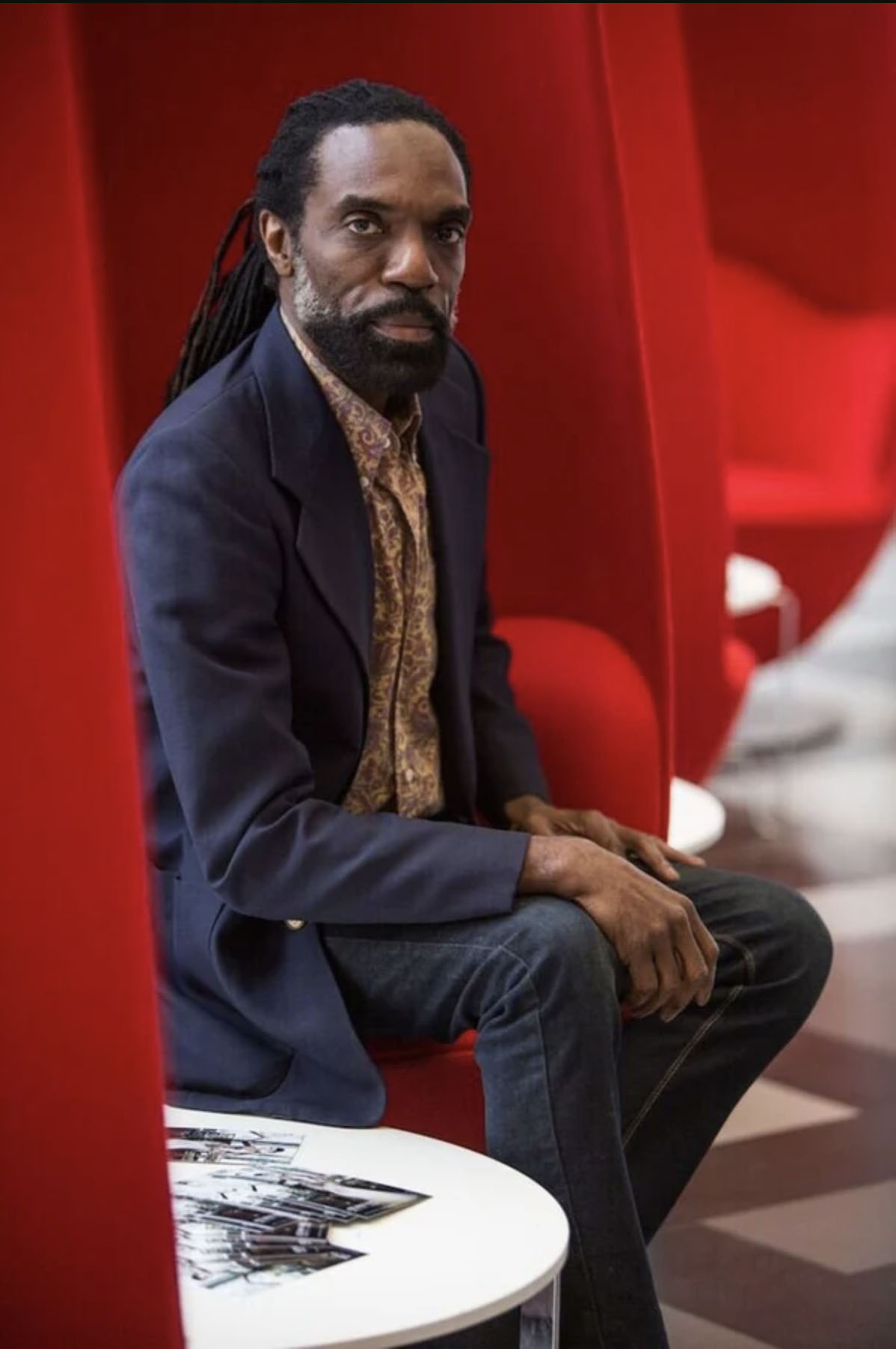 Patricia Browning received her archival postgraduate degree in Information Management & Preservation from the University of Glasgow. Her lifelong fascination with research saturates nearly every aspect of her life. These days - when she's not nose-deep researching vintage fashion labels - she can be found doing genealogy or developing a podcast about her pet project, David Tennant's early theatre career in Scotland.
SOURCES
Ayral, Nisa. "Top Fashion Designer Kevan Hall Shares His Passion for Fashion." Iconic Life, September 30, 2020.

Black Design Collective. "About BDC." 2020.

Crouch, Dorothy. "Fashioning Beauty for the Frontline, Kevan Hall and Malena Ruth Find a New Mission." (30 April 2020) Apparel News.net.

"'Couture Without The Stuffiness' For Californians." (14 October 1987). The Signal [Santa Clarita, CA], image 41. Newspapers.com.

"Fashion Matters In Tough Times, Says Top Designer." NPR, November 10, 2011.

"First Lady Michelle Obama Wears Design By FIDM Fashion School Alumnus Kevan Hall." Cision PRWeb, October 28, 2010.

Kevan Hall Designs. The Designer. Accessed February 1, 2023.
Moore, Booth. "Kevan Hall RTW Spring 2022." (20 September, 2021). Women's Wear Daily [New York City, NY], wwd.com.

Miller, Linda. "A designer for all occasions." (19 June 2014). The Daily Oklahoman [Oklahoma City, OK], images 29, 30. Newspapers.com.

Roe, Michelle. "Kevan Hall Fashion Takes on a New Desert Perspective." Palm Springs Life, March 4, 2014.

The Historymakers. "Kevan Hall." Accessed January 26, 2023.

The Novus Forum. "Info." 2022.

Turk, Rose-Marie. "Local NAACP Honors 8 'Great Black Designers'." (22 November 1989). The Los Angeles Times [Los Angeles, CA], images 52, 55. Newspapers.com.

Williams, Erin. "Designer Kevan Hall on weddings, Michelle Obama, and the women of Hollywood in his designs." The Washington Post, November 10, 2011.