Spotlight on Black Designers: Stephen Burrows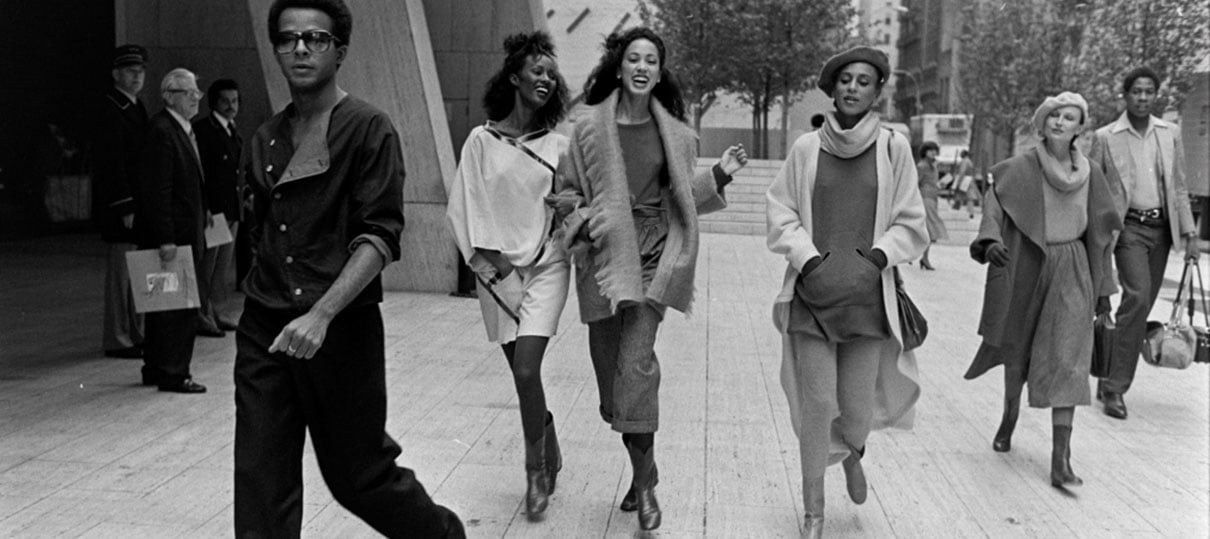 Designer Stephen Burrows, four models, and journalist André Leon Talley.
Stephen Burrows was born in 1943 in Newark, NJ. Fashion had always been in the substrata of the designer's early life; both his parents were sample makers for Hattie Carnegie and his grandmother, Beatrice Simmons, had taught him to sew at an early age. But fashion wasn't his first choice. Though he loved to sketch dresses and had sold his first at 16 while working as a window dresser at Bamberger's, he began his studies at the Philadelphia Museum College of Art in 1961 with the intent of becoming an art teacher. He switched to fashion soon afterwards, transferred to FIT, and graduated in 1966.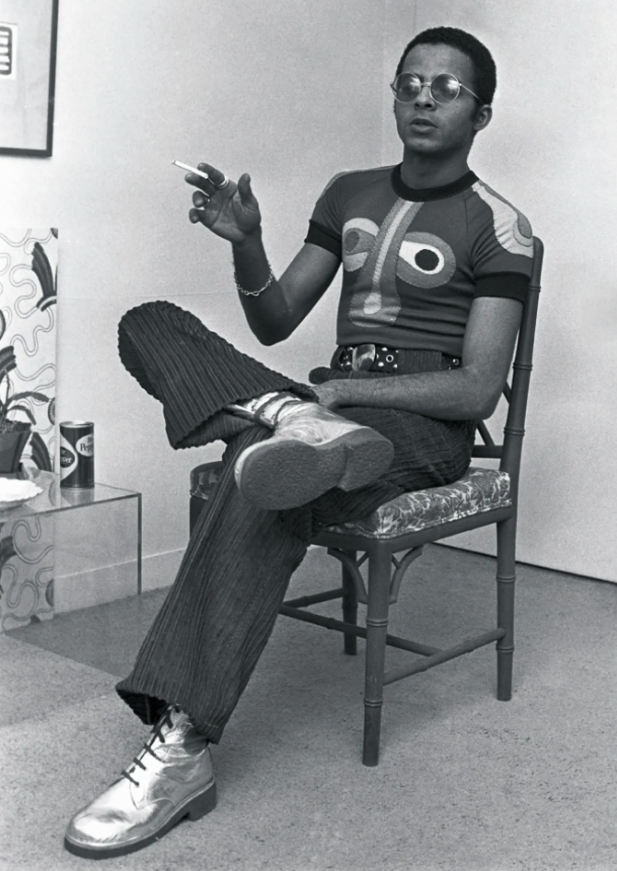 Photograph of Stephen Burrows by Nick Machalaba circa 1971 / Condé Nast Archive
After a short stint designing for Weber Originals, Burrows was co-founder and designer for the "O" Boutique at 236 Park Avenue South near 19th in NYC - across from the famed Max's Kansas City - which was headed by Jim Valkus and opened for business in April 1969. He had a few private customers at the time as well. He oversaw the making of all the clothes, which were created in a downstairs workshop. His clothes for the shop were strictly seasonal; they did not start stocking clothes ahead of each season. Most of the clothes were unisex, most of the pants had unfinished hems which Burrows altered to fit, and the tunics were shirts for men and dresses for women.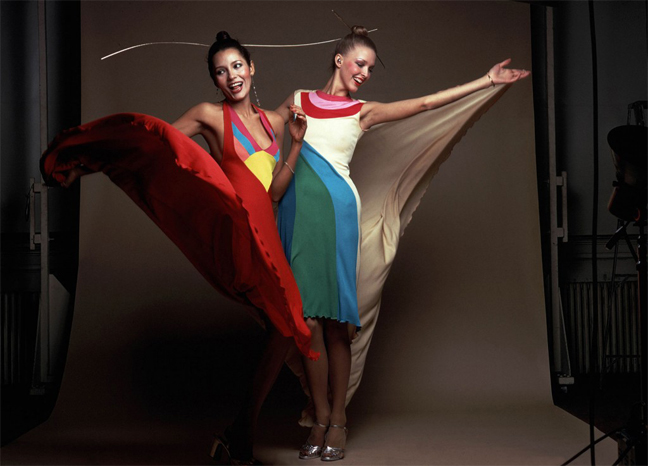 A photograph from the sxhibition guide for "Stephen Burrows: When Fashion Danced," Rizzoli, New York, 2013.
The boutique was intended to house art - painting, sculpture, music, films - and fashion was supposed to be just a part of the mix. But Burrows' clothes became hugely popular and quickly outpaced the rest of the boutique's sales. The boutique's owners hadn't contended with the high price of clothes production and its subsequent financial drain, and the boutique eventually closed under the burden.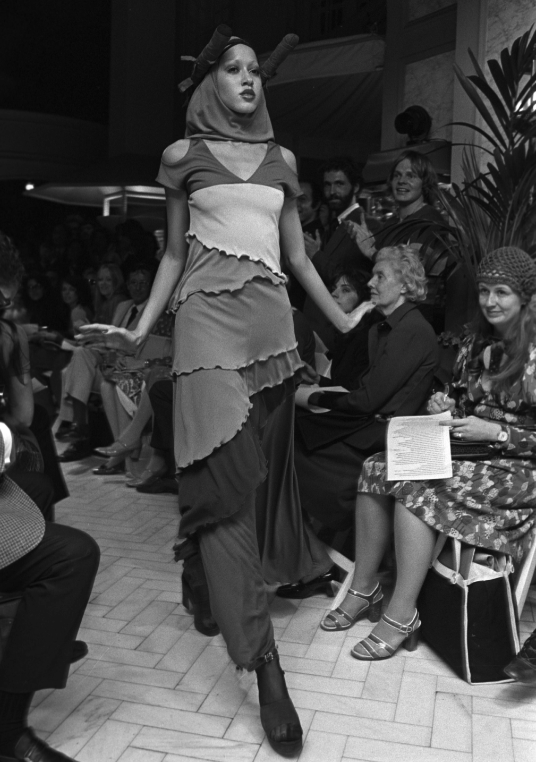 Pat Cleveland (model) poses in a lettuce-edge, color-blocked dress from the Stephen Burrows fall 1971 collection at Henri Bendel's in New York City. HARRY MORRISON/WWD
It was the summer of 1970, and Burrows had been seen in a spread in Vogue and offered a first for a black designer: a 3rd floor boutique with a studio-workroom at Henri Bendel's at their 57th St. location in Manhattan. Called Stephen Burrows World, his stylish boutique carried flexible mix-and-match nightlife fashions which appealed to young shoppers who were tapping into the burgeoning New York City disco era and were looking for something to go dancing in. His fashion shows featured revolutionary black supermodels like Bethann Hardison and Pat Cleveland and celebrities like Diana Ross, Grace Jones and Farrah Fawcett-Majors flocked to wear his designs. He was the disco designer. His boutique was a smash and his clothes flew out the doors.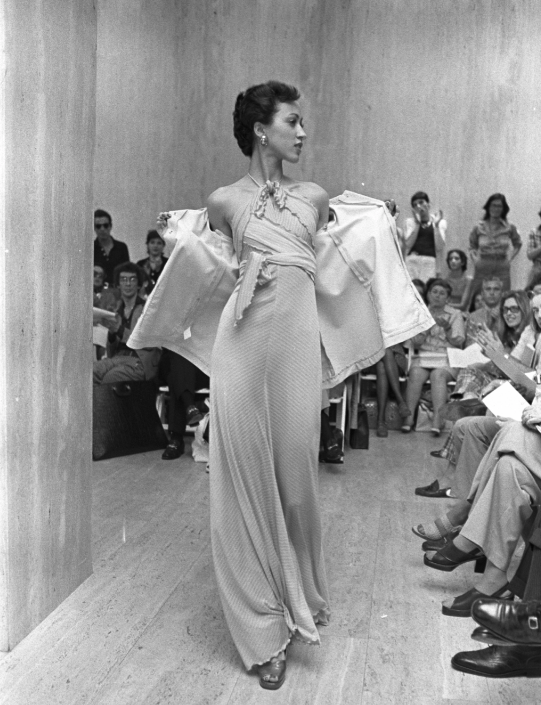 Pat Cleveland (model) poses in a dress and jacket ensemble from the Stephen Burrows fall 1973 collection. FAIRCHILD ARCHIVE/PENSKE MEDIA
Burrows' success was in large part due to his clear senses of originality, individuality and freedom. He thrived on experimenting with rules and espoused fluidity of expression in his colorful designs using inventive techniques like cutting garments in an unconventional crooked manner, choosing snaps or elastic over zippers and darts, and use of unusual materials like metal mesh and nailheads with leather. He refused to use lining in his knits because he didn't see the sense of using them; he wanted his garments to flutter, swing and flow with the wearer. One of his trademarks was to accentuate a garment by zigzag stitching in vivid hues -- usually red -- as if it were a type of embroidery, but it was his iconic lettuce hem which truly helped cement his reputation. The hem - crinkled and waved like the edges of a leaf of lettuce - worked best on the stretchy matte jerseys he preferred to use. The fabric's elastic quality helped to hold the hem's spring and keep it from lying flush to the body.
But by the end of 1973, Burrows decided he wanted to go out on his own. He parted ways with Bendel's, formed Burrow, Inc., and launched his own ready-to-wear line. He chose manufacturer Ben Shaw, known as the "Godfather of Seventh Avenue," to produce his clothes.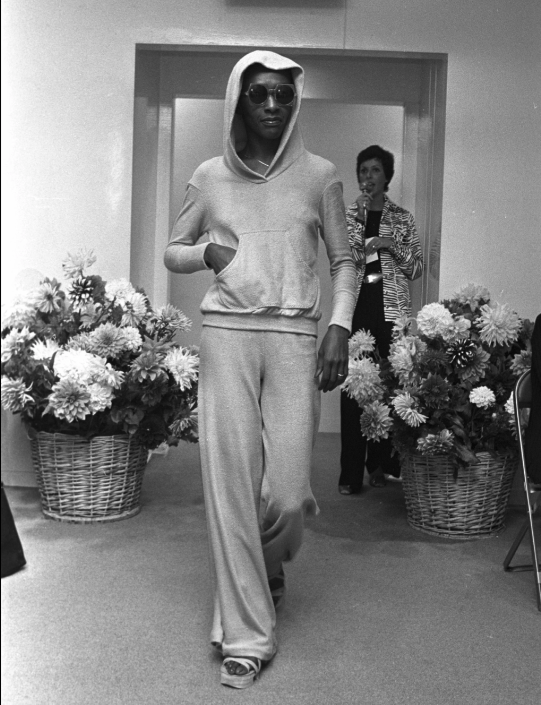 Bethann Hardison (model) in a sweatsuit and sunglasses designed by Stephen Burrows for the resort season in1973. FAIRCHILD ARCHIVE/PENSKE MEDIA
The next four years would see him make history, again and again. In 1973 he became one of only five American designers on the runways at the Palace of Versailles - a famous "Battle" which catapulted American fashion, and his fashion in particular, to international fame. He was the first black designer to win the coveted Coty - he scored the Winnie for the first time in 1973, got a Special Award for lingerie the following year, and won yet another Winnie in 1977. And other plaudits just kept coming - in 1975 alone, he was awarded both the Knitted Association's Crystal Ball Award and the CDFA Fashion Critics Award.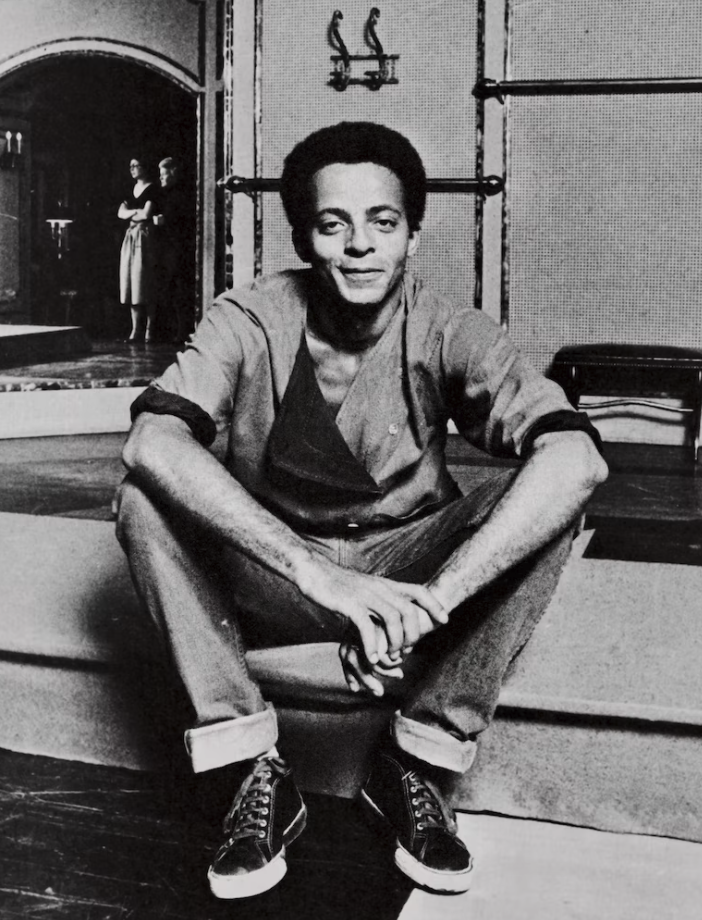 Stephen Burrows portrait from his 3rd floor boutique at Henri Bendel.
Meanwhile, his foray into the business for himself had allowed Burrows to branch out into shoes, handbags and perfume but by 1977 his collaboration with Seventh Avenue had begun to sour. He found his hands-on style of designing just didn't gel with the mechanism of commercial mass production so he closed his business and returned to Bendel's. He joined Pat Tennant Inc. and began contract designing at Bendel's studio. But Bendel's was sold in 1982 and rents skyrocketed so once again Burrows moved onto 7th Ave. Again, he disliked it, and - with both his business and his passion for design waning - Burrows closed his doors and mostly walked away from the business.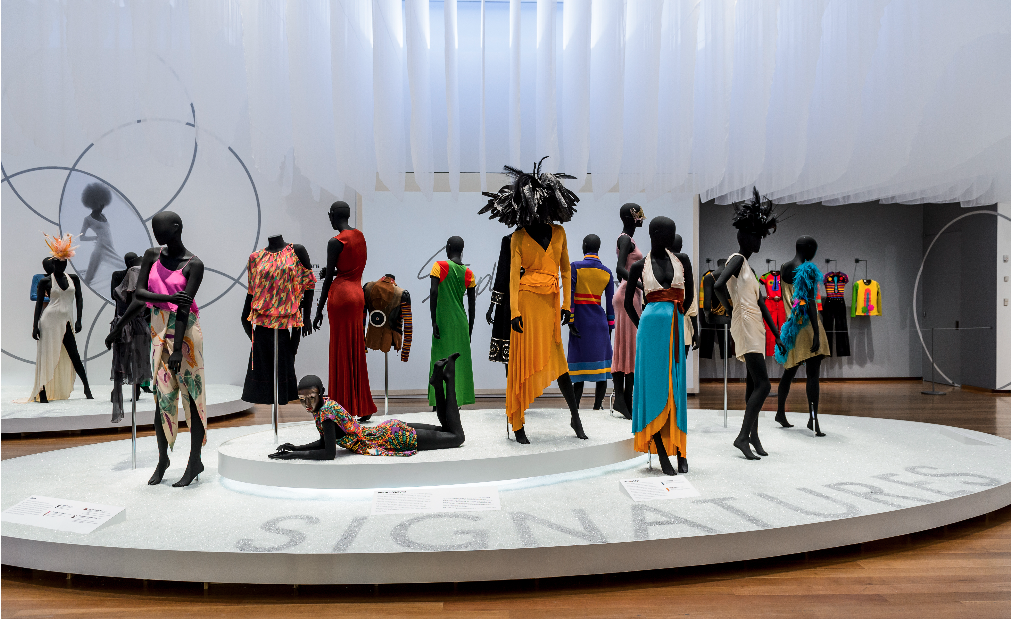 A view of the exhibition ';Stephen Burrows: When Fashion Danced' [Museum of the City of New York, March 22, 2013—July 28, 2013] by Monique Long
Here and there during the 1980s he did a bit of designing for fur designer Robert Sidney, sportswear designer Tony Lambert, and licensing divisions of Mary McFadden. He designed clothes for the theater and had his own small sportswear collection he sold at Barney's. But it wasn't until 1993 that Burrows found his passion returning; he re-entered the fashion world, opened his own factory in Harlem, and began designing a collection of evening clothes for Bendel's.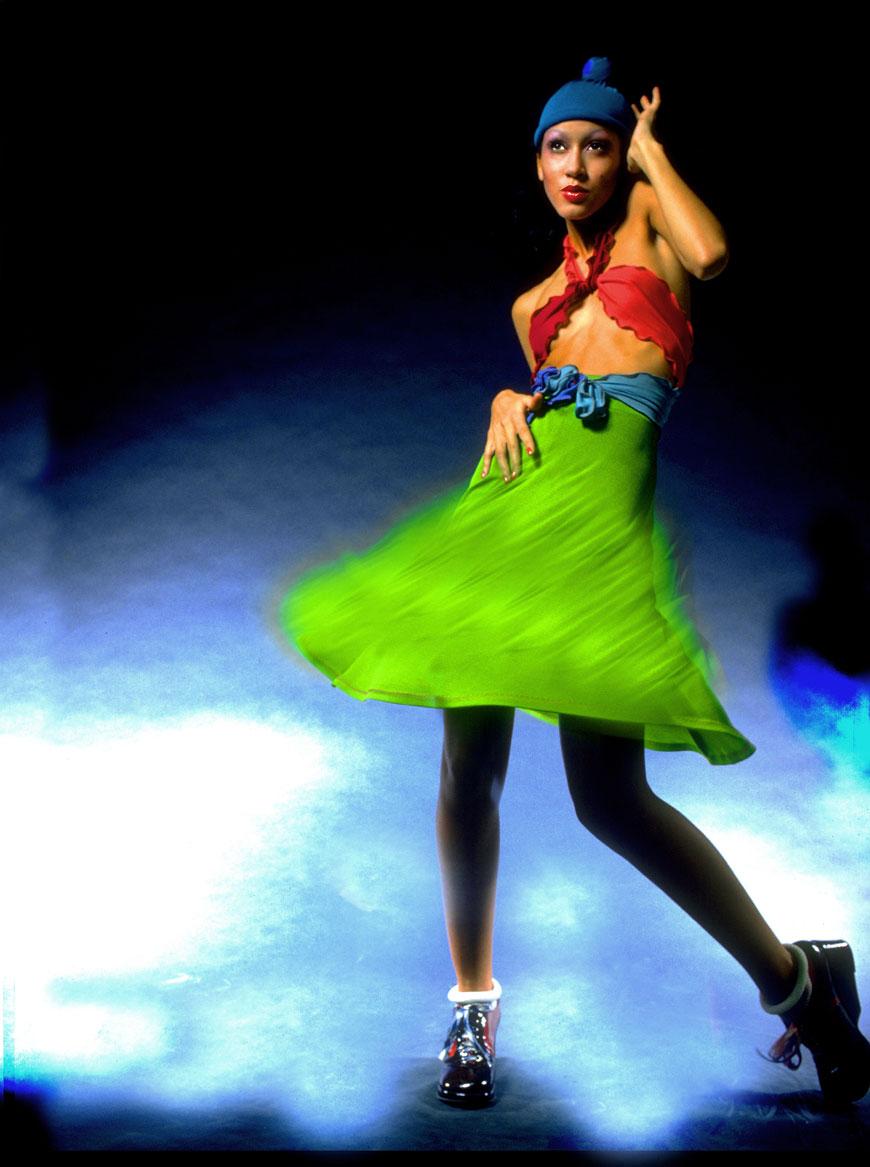 A photograph of Pat Cleveland (model and Burrows' muse) from the sxhibition guide for "Stephen Burrows: When Fashion Danced," Rizzoli, New York, 2013.
The 2000s and 2010s were a busy time for Burrows. In 2002, he reopened his Stephen Burrows World boutique at Bendel's and was inducted into the Fashion Walk of Fame in Manhattan. He was awarded the CFDA's Board of Directors Special Tribute Award in 2006, and in 2010 he designed dresses and skirts for Target's Harlem Designers collection and opened his own design studio and showroom in New York City's garment district. That year First Lady Michelle Obama wore one of Burrows' lime-green pantsuits twice - at a rehearsal of "Hairspray" by dance students from the Duke Ellington School of the Arts and the Joy of Motion Dance Center, and again during a trip to the Istiqlal Mosque in Jakarta, Indonesia. In 2013, he became designer and president of Stephen Burrows, Ltd., and had his work celebrated at the Museum of the City of New York in an exhibit entitled Stephen Burrows: When Fashion Danced. In 2014 he received lifetime achievement awards from the Savannah College of Art and Design, the Pratt Institute of design, and became the André Leon Talley Lifetime Achievement Award honoree.
Burrows is still designing and has been doing shows at Fashion Weeks ever since.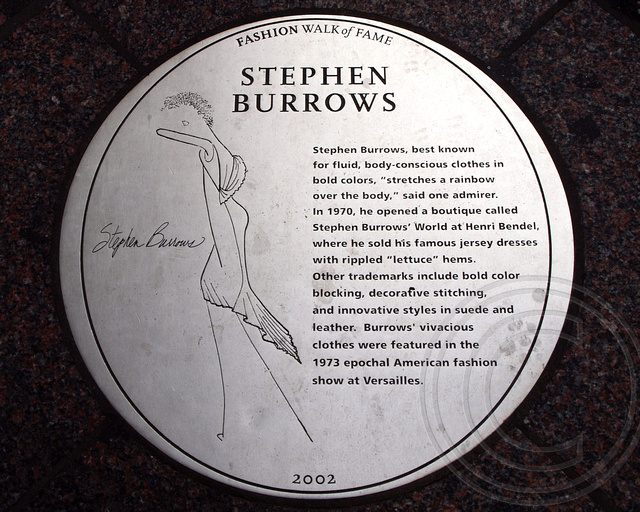 Stephen Burrows 2002 Plaque, Fashion Walk of Fame, Midtown Manhattan, New York City
Patricia Browning received her archival postgraduate degree in Information Management & Preservation from the University of Glasgow. Her lifelong fascination with research saturates nearly every aspect of her life. These days - when she's not nose-deep researching vintage fashion labels - she can be found doing genealogy or developing a podcast about her pet project, David Tennant's early theatre career in Scotland.
SOURCES
Banik, Sheila. "Cutting On The Bias." Black Enterprise, July 1981. Google Books.

"Black Designers Win Honors." (24 March 1982). The Bismarck Tribune [Bismarck, ND], image 42. Newspapers.com.

Coughenour, Sarah. "New York's O is offbeat and in." (18 June 1969). The Philadelphia Inquirer [Philadelphia, PA], image 31. Newspapers.com.

Critchell, Samantha. "Fashion Walk of Fame honors eight designers." (28 July 2002). The Times [Munster, IN], image 46. Newspapers.com.

Cunningham, Bill. "Stephen Burrows put joy back into fashion..." (19 Oct 1970). Chicago Tribune [Chicago, IL], image 42. Newspapers.com.

D'Innocenzio, Anne. "Target Takes on Manhattan." (23 July 2010). Wisconsin State Journal [Madison, WI], image 20. Newspapers.com.

Goff, Keli. "The Most Influential Black Designer?" The Root, June 22, 2013.

Hyle, Cindy. "Stephen B. perfume grandma's favorite." (14 March 1982). Press and Sun-Bulletin [Binghamton, NY], image 118. Newspapers.com.

Jelen, Greta. "Color Blocking is Back. Here's the History of the Black Designer That First Popularized It." L-Officiel, February 14, 2021.
Johnson, Eunice W. "Some Together Black Designers." Ebony, December 1972. Google Books.
McKee, Susan. "Designers Have Come A Fur Piece When Styling Once-In-Lifetime Coats." (28 September 1980). The Indianapolis Star [Indianapolis, IN], image 100.
McLaughlin, Patricia. "Burrows, 1970s designer, is back with slinky look." (20 March 2003). St. Louis Post-Dispatch [St. Louis, MO], image 111. Newspapers.com.

Morris, Bernadine. "The Return Of An American Original." (15 August 1993). The News and Observer [Raleigh, NC], image 78. Newspapers.com.

SCAD - The Savannah College of Art and Design, ""A Master of American
Invention" panel reflects on Stephen Burrows' career." YouTube, 1:00:37, May 19, 2014.

Sheppard, Eugenia. "College Girls Are On His Mind." (24 June 1972). Pacific Daily News [Agana Heights, Guam], image 26. Newspapers.com.

Sheppard, Eugenia. "This Is Stephen Burrows' Year." (24 September 1973). Austin American-Statesman [Austin, TX], image 12. Newspapers.com.

Stephen Burrows. "About". Accessed February 7, 2023.

Wilson, Eric. "Stephen Burrows Looks Back at His Life in Parties." W, September 28, 2022.