Spotlight on Black Designers: Tracy Reese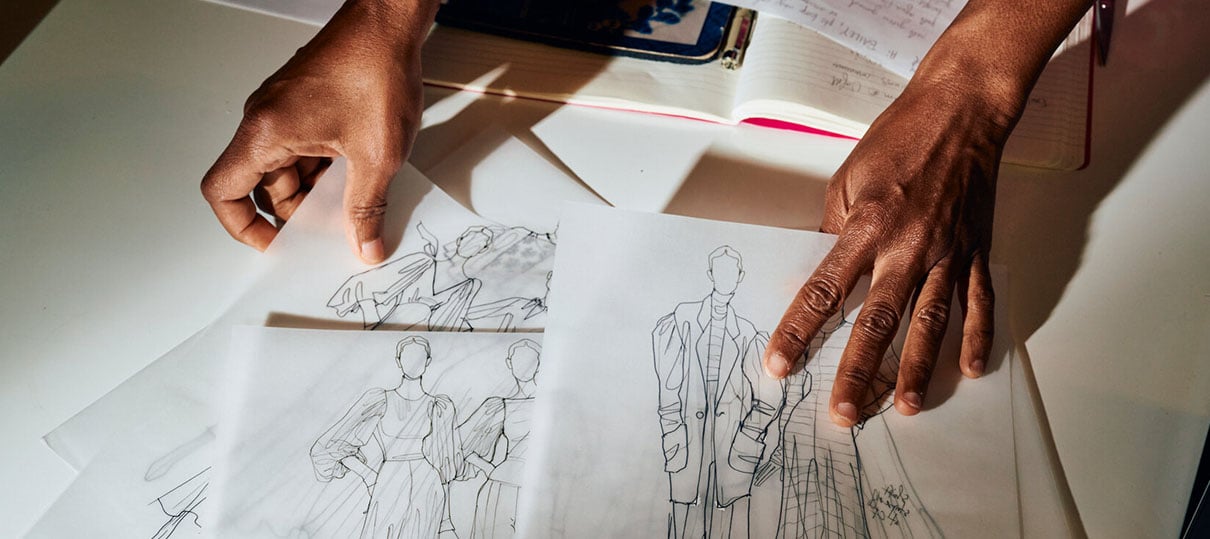 Fashion illustrations by Tracy Reese. From a photograph by Sarah Rice for The New York Times from the June 25, 2022 article "A Detroit Designer Works From Home" by Gina Cherelus.
When designer Tracy Reese was growing up in Detroit she helped her mother sew clothes for her dolls using only old socks for the material. But even so, she hadn't intended on a career in fashion design; originally, she thought she might want to pursue a career as an architect or an interior designer. It wasn't until she began attending Cass Technical School in an AP program called Science and Arts that she really considered fashion as a career path. The head of the Fashion department there was the first to encourage her to consider fashion design as a profession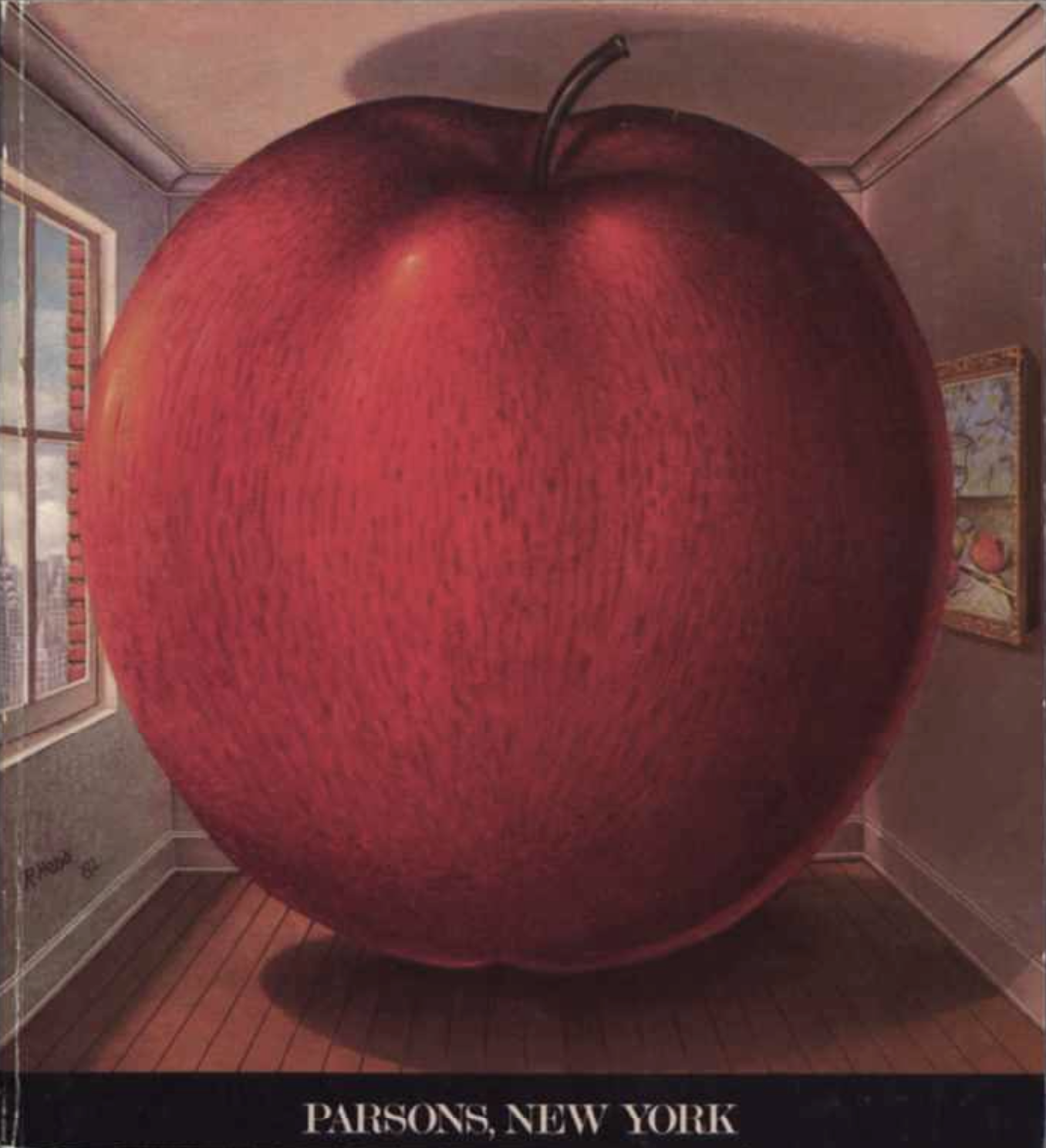 Parsons School of Design Course Catalog 1982-1983. From the Digital Collections of the New School Archives and Special Collections.
So she got a summer program at Parson's between her junior and senior years of high school. She fell in love with the prestigious school and didn't apply anywhere else upon her graduation, and was accepted on a full scholarship. She started at Arlequin, a moderately priced contemporary sportswear company, in the spring of 1984 shortly before graduating from Parsons School of Design in NY with an accelerated degree. She apprenticed under and traveled with mentor Martine Sitbon, Arlequin's head designer.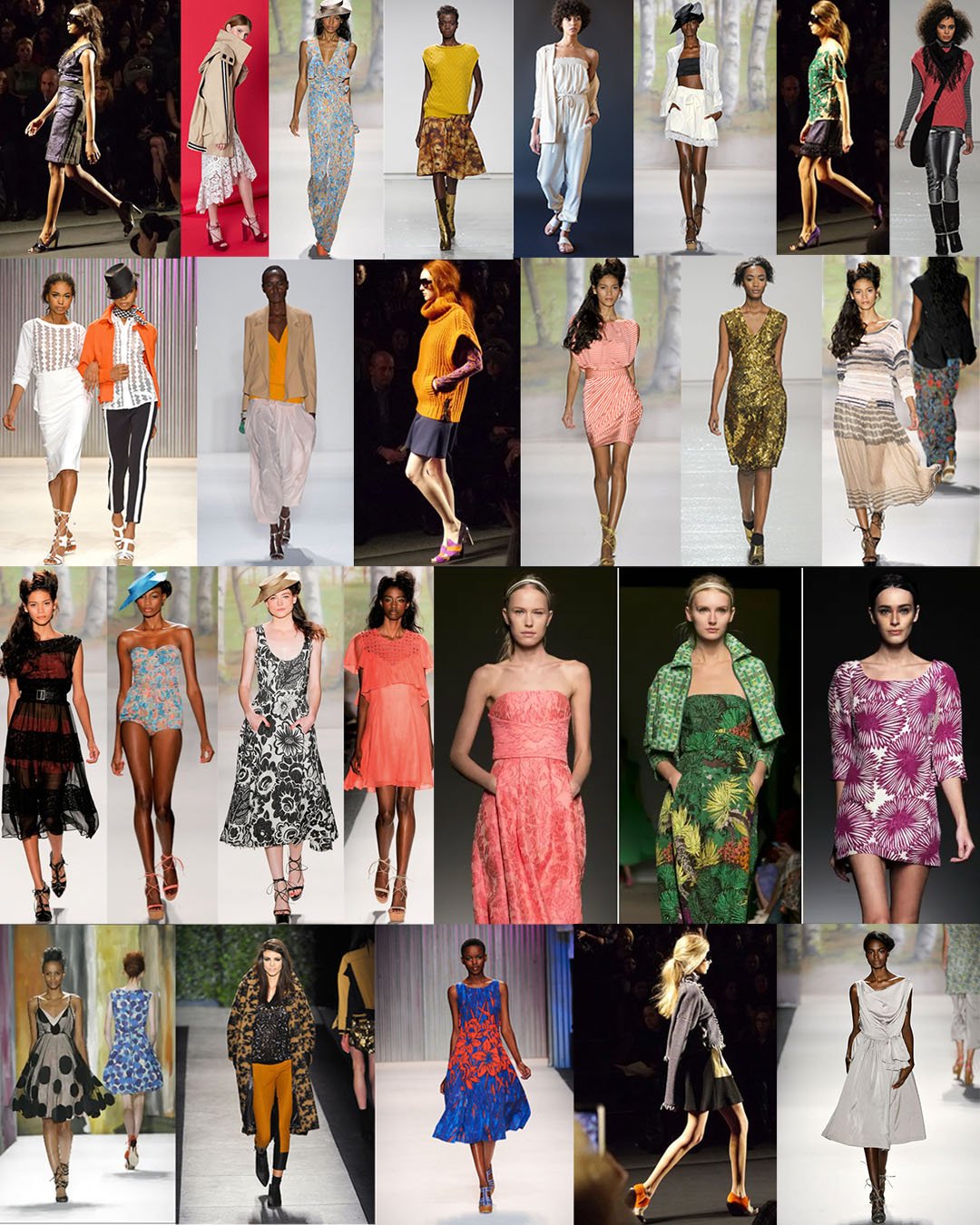 A selection of looks from Tracy Reese. RTW Collections.
She founded her namesake line of contemporary sportswear in 1987 using a $100,000 loan painstakingly scrimped together by her father, a car salesman, and backed by Ricky Sasaki, the financial arm behind designer Gordon Henderson. Her first collections were simple skirts, pants, dresses and tops in rayon crepe and wool jersey and sold well at stores like Bullock's, Barney's, Macy's and Bergdorf's. But although loved by critics and women alike, her inexperience in business meant Reese found herself struggling under the financial burden and the stress of working around the clock. It took her some time to admit she wasn't happy, but when she did, she closed the label in 1989.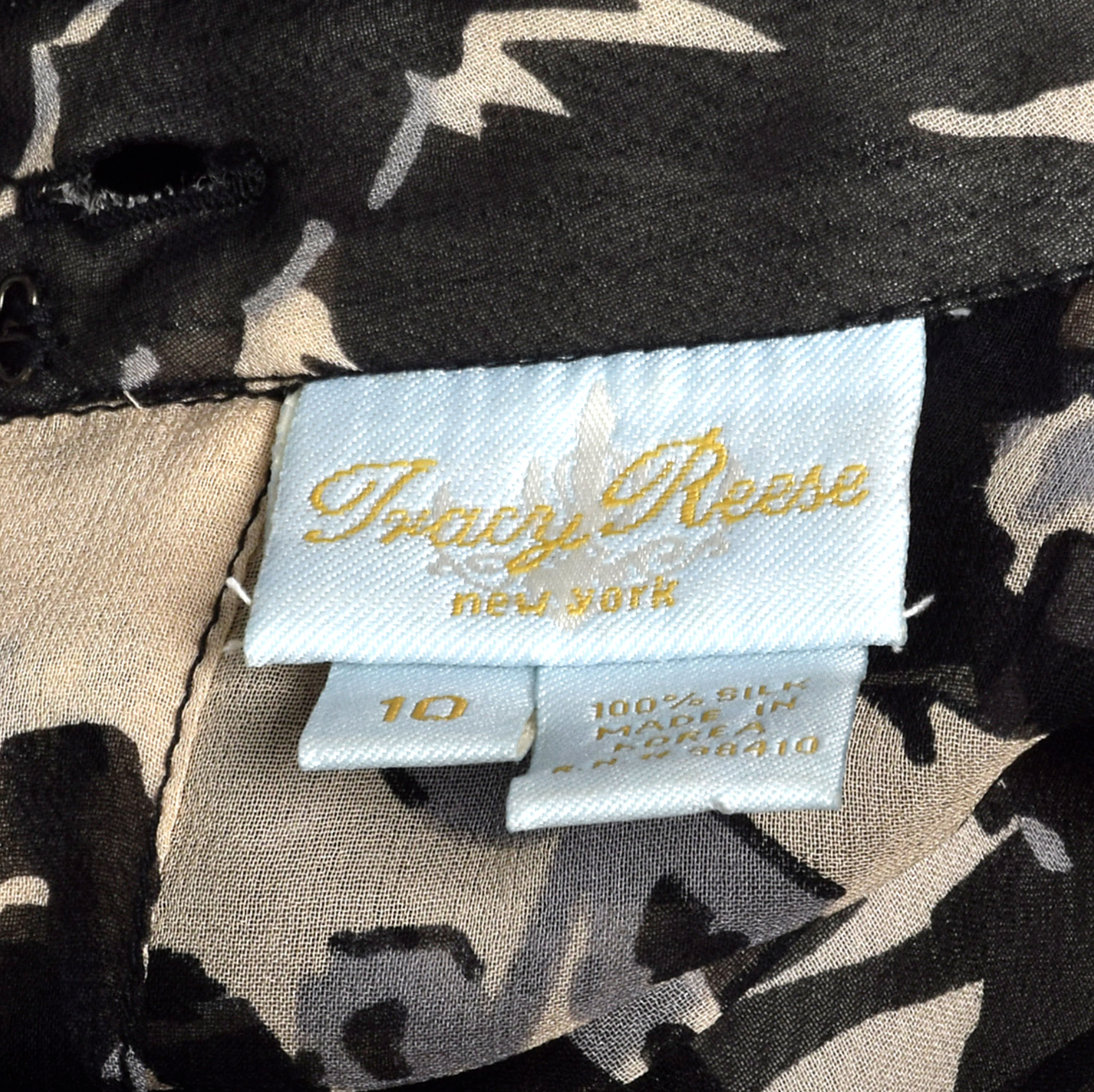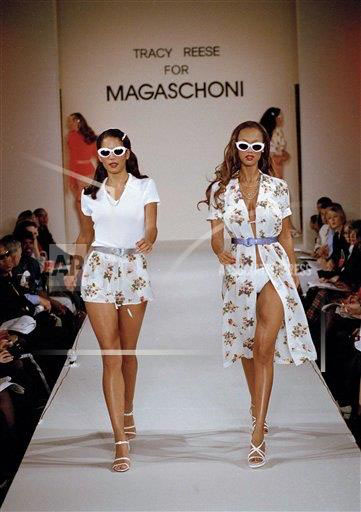 Tyra Banks and another model walking in the S/S 1995 Tracy Reese for Magaschoni runway show.
Reese did a bit of freelance design work until she was hired by her friend Marc Jacobs to take over as the design director of the Portfolio line at Perry Ellis. She only designed one collection before Portfolio was dropped. She then went to work as a design consultant for Henderson until joining Magaschoni in 1990 as their design director. Beginning with their 1990 holiday/resort collection, she went to work developing the line away from its conservative, wearable sportswear roots and into a more youthful and sunny style with added high-fashion touches. She also did a line of her own for the brand.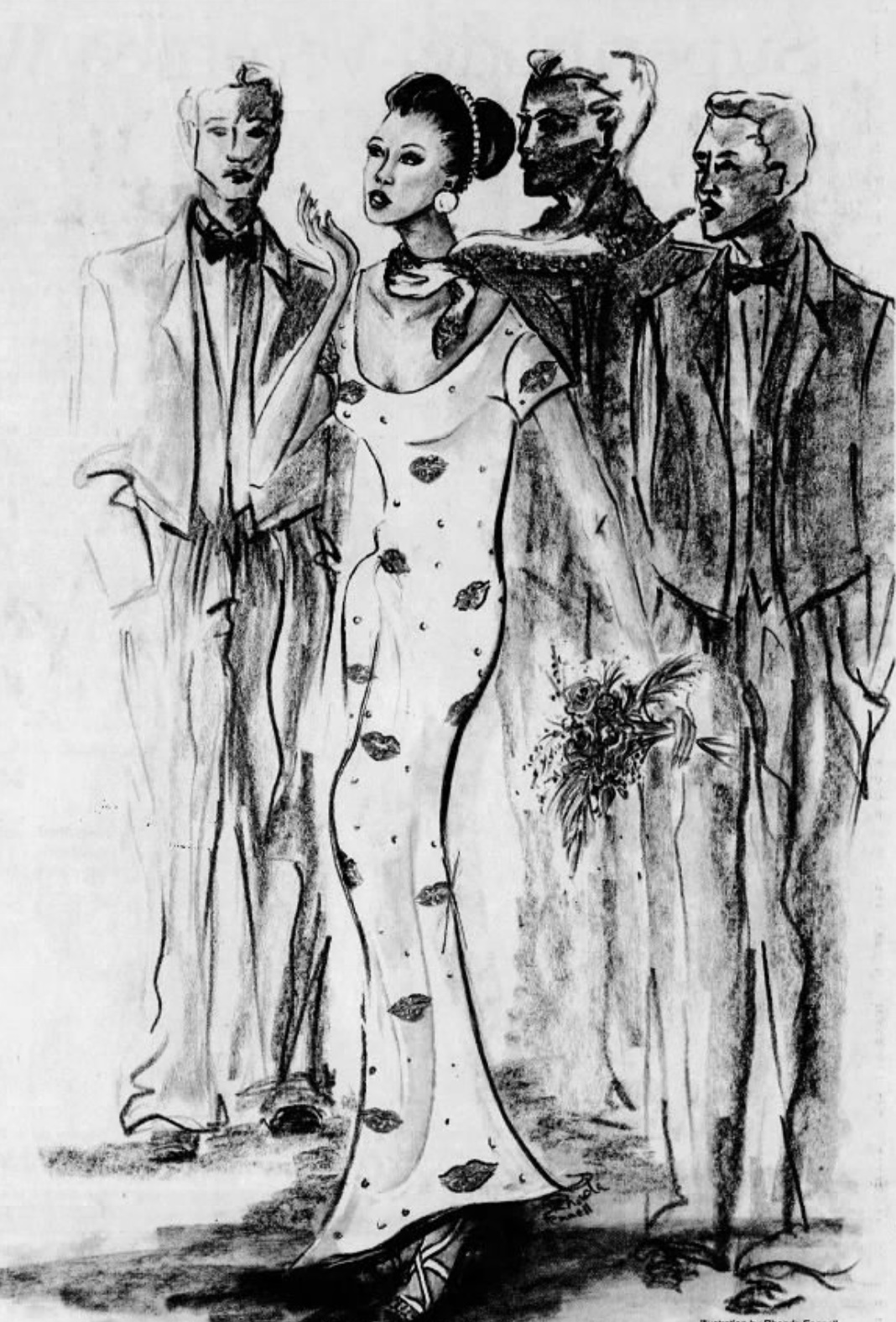 Illustration by Rhonda Fennell from "On Her Own Again." The Indianapolis Star article by Lisa Lenoir, February 23, 1995.
Reese stopped designing for Magaschoni in 1995 and did a collection for select Limited stores later that year before she began the process of reestablishing her namesake line with backing from NY-based business Apparel Winds (whose president Om Batheja was a minority partner in the original Willi Wear.) Apparel Winds produced her signature collection and a new line of sportswear designed by Reese, tentatively called Precious. Precious became Plenty, and the two labels were launched in 1998.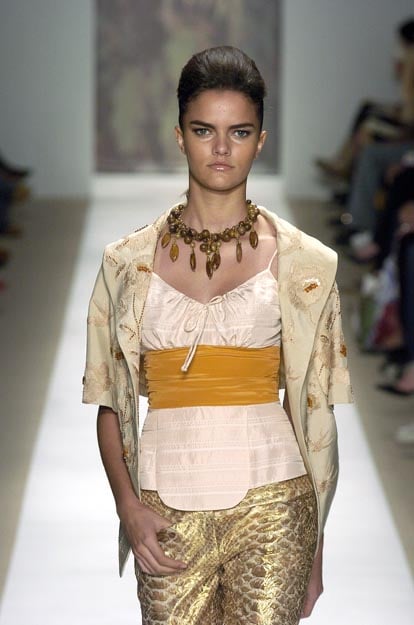 Ensemble from Tracy Reese Ready-to-Wear S/S 2005 Runway Collection.
In the mid 2000s, dresses were the core of Reese's design work. She preferred designing with an eye towards an integrated approach to wearing her clothes, allowing her customers to mix and match her older pieces with newer ones. Reese has always preferred clean and contemporary looks with classic lines and stylish edges. She found inspiration from places with unique vibes, and relished using muted yet lively colors.
In 2006 she opened a standalone store in NYC's Meatpacking District on 641 Hudson Street which celebrated its 5th anniversary in 2011, the same year she opened her second standalone store in Tokyo, Japan. She enjoyed strong partnerships with Barney's, Bergdorf Goodman, Neiman Marcus, Lord & Taylor, Nordstrom and Anthropologie.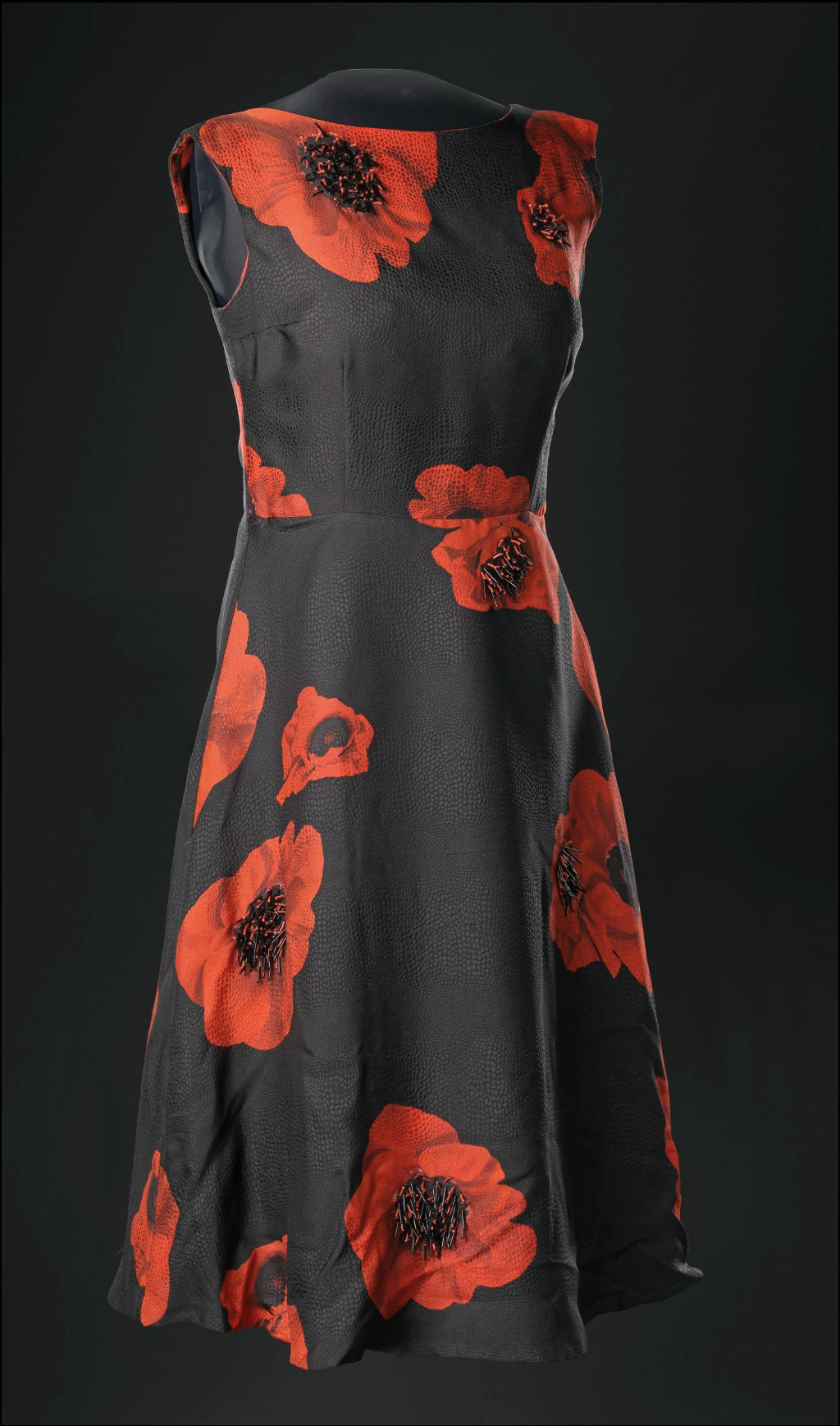 Tracy Reese dress and worn by First Lady Michelle Obama on August 28, 2013. Collection of the Smithsonian National Museum of African American History and Culture. Object Number 2015.177.
Reese had counted First Lady Michelle Obama as a client by 2007. Mrs. Obama wore Reese's designs a number of times during her years in the White House. She wore a sleeveless dress with abstract designs and black and white borders during a visit to Hawaii in 2012, a custom-made pink and gold full-skirted frock with icy blue trim for her 2012 DNC Convention speech, and a sleeveless black flared dress splashed with huge red flowers at a ceremony in 2013 commemorating the 50th anniversary of Martin Luther King Jr.'s "I Have a Dream" speech.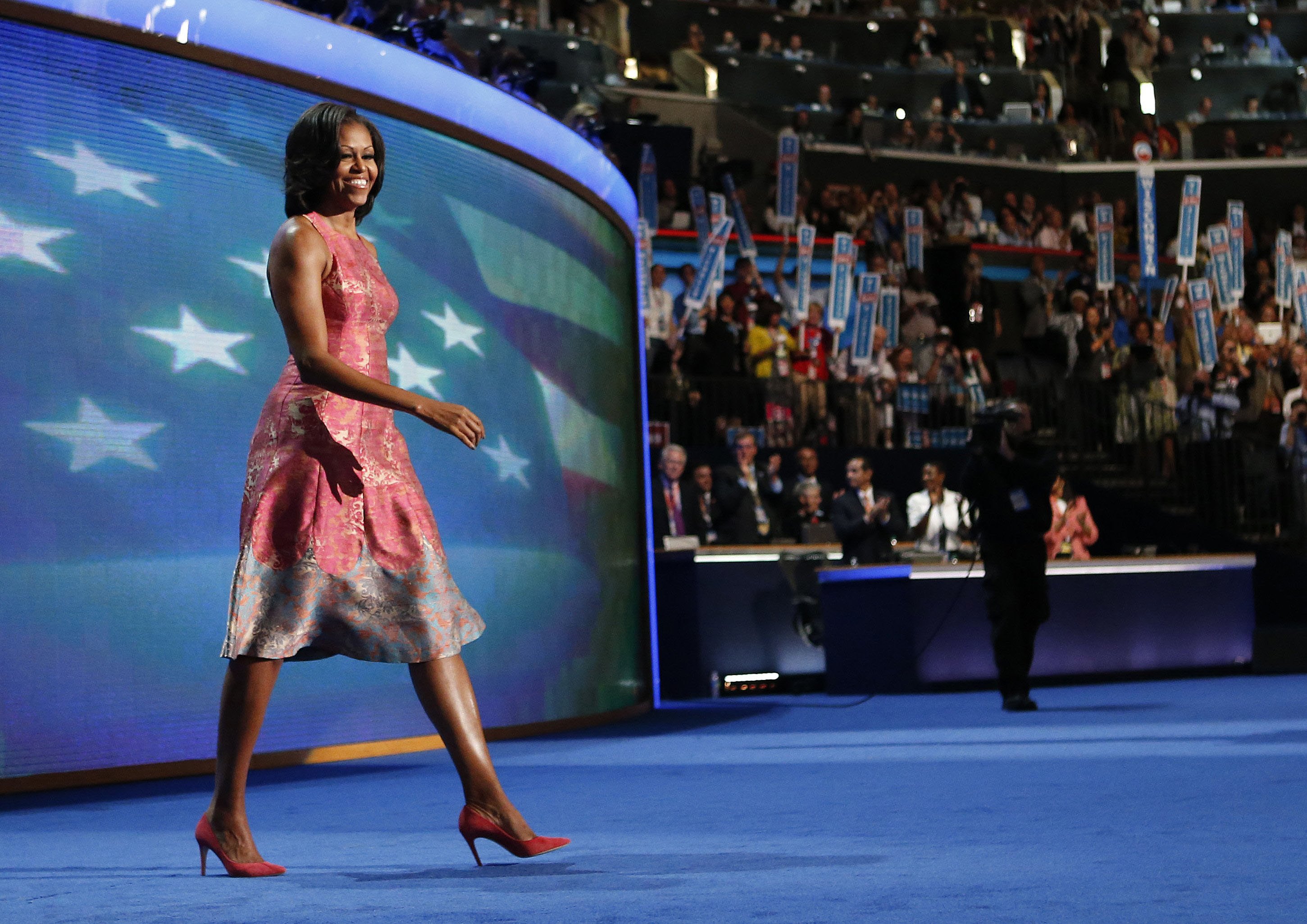 First Lady Michelle Obama dressed in a Tracy Reese dress on the stage at the Democratic National Convention in Charlotte, N.C., on Sept. 4, 2012. (Jae C. Hong/The Associated Press)
In 2018 Reese closed all her lines. In 2019 she relocated to Detroit to launch Hope for Flowers, a sustainable slow-fashion line. She works primarily with organic cotton, linen and different types of wood-sourced cellulosic fiber from sustainably forested trees.
Reese is still designing today.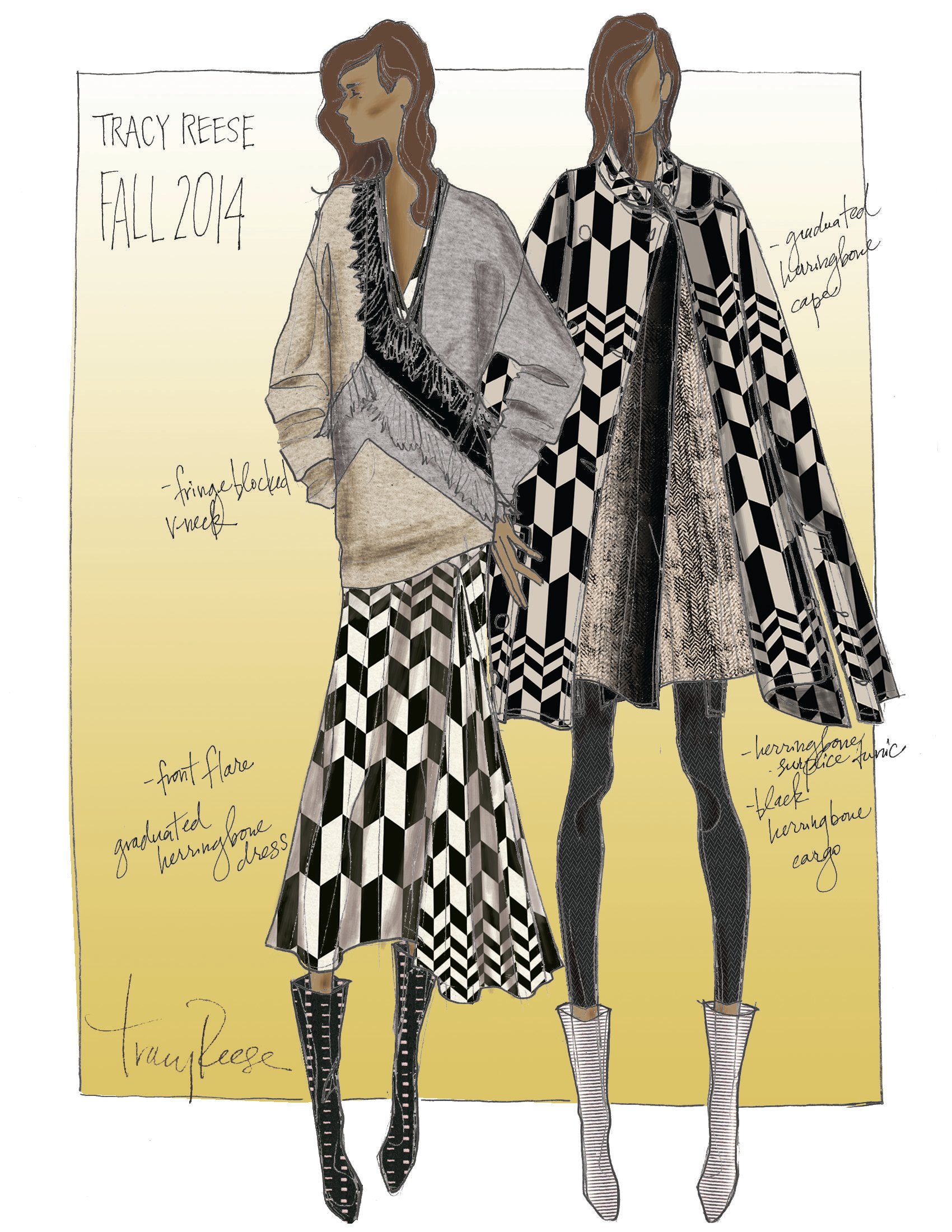 An illustration from Tracy Reese's F/W 2014 Ready To Wear Collection.
Patricia Browning received her archival postgraduate degree in Information Management & Preservation from the University of Glasgow. Her lifelong fascination with research saturates nearly every aspect of her life. These days - when she's not nose-deep researching vintage fashion labels - she can be found doing genealogy or developing a podcast about her pet project, David Tennant's early theatre career in Scotland.
SOURCES
"Behind Clothes Doors." (4 September 1997). The Indianapolis Star [Indianapolis, IN], image 66. Newspapers.com.

Bing, Bonnie. "Reese's pieces." (22 February 2007). The Wichita Eagle [Wichita, KS], image 38. Newspapers.com.

Carlson, Erin. "2012 Democratic Convention: Michelle Obama's Tracy Reese Dress Steals Spotlight." The Hollywood Reporter, September 5, 2012.

Cherelus, Gina. "A Detroit Designer Works From Home." The New York Times, June 25, 2022.

Donahue, Wendy. "Designer Tracy Reese puts refreshing spin on fashion." (18 January 2015). Hartford Courant [Hartford, CT], image F3. Newspapers.com.

Edelson, Sharon. "Tracy Reese Opens in Tokyo." WWD, February 14, 2011.
Hinds, Julie. "It's a fashionable life for some designers." (1 May 1993). El Paso Herald-Post [El Paso, TX], image 47. Newspapers.com.

Hope for Flowers by Tracy Reese. "Tracy Reese: Designer and Founder." Accessed February 10, 2023.

Italie, Leanne. "Fashioning a legacy of perseverance." (15 January 2017). Richmond-Times Dispatch [Richmond, VA], image G13. Newspapers.com.

Jepsen, Brittany Watson. "Becoming Tracy Reese." The House That Lars Built (blog), January 18, 2023.
Mary 'Mrs. T.' Tomer. "Scenes From Hawaii, Part II." Mrs. O (blog). January 3, 2012.

McKown, Loni Smith. "New Fashion Faces." (17 April 1991). The Indianapolis News [Indianapolis, IN], images 21, 25. Newspapers.com.

Miller, Linda. "Savvy Consumer Prefers Quality, Not Flashy Label." (28 January 1996). The Daily Oklahoman [Oklahoma City, OK], image 83. Newspapers.com.

Nachman, Barbara. "Fashion forward." (9 March 1998). The Journal News [White Plains, NY], images 17, 19. Newspapers.com.

Navarro, Bruno J. "Designer Tracy Reese tries, tries again--and succeeds." (17 March 2005). The Daily Spectrum [Saint George, UT], image 34. Newspapers.com.

Oliver, Simone S. "Tracy Reese Celebrates Five Years in the Meatpacking
District." The New York Times, June 9, 2011.
Puente, Maria. "Michelle Obama shines in Tracy Reese's flowers." USA Today, August 29, 2013.
"Spotlight: Tracy Reese, Hope For Flowers." Eugenie, March 2022.