You've Got A Keyloun? - Here's How To Tell Them Apart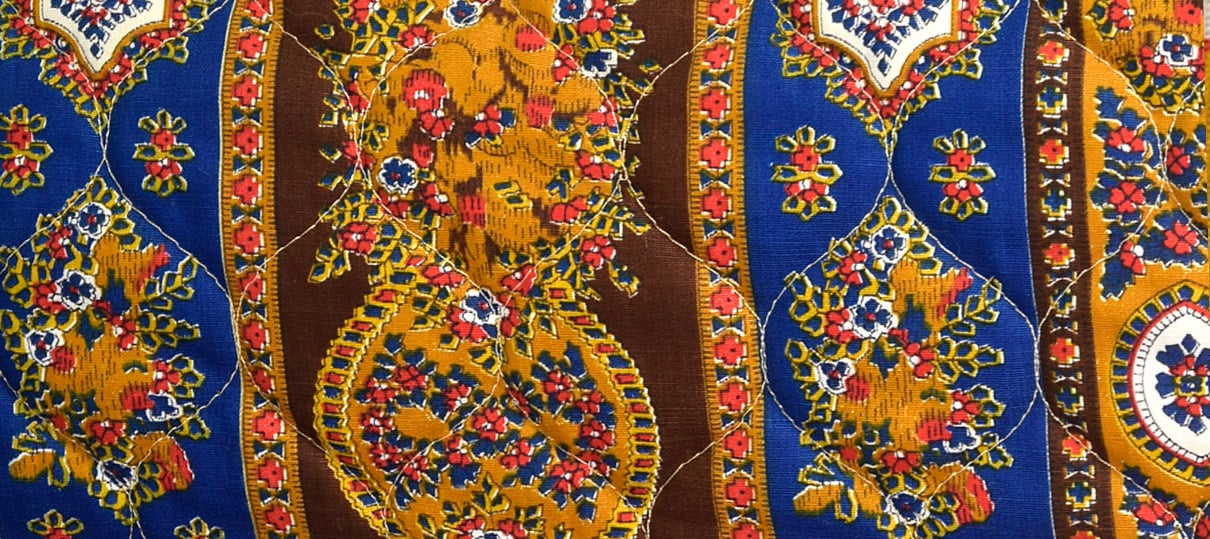 Detail of quilted fabric from a Keyloun long sleeved maxi dress - circa 1970s, Fashion Conservatory's Label Archive.
So you know your garment is a Keyloun – because it says so, right there on the label (and by the way, it's pronounced KAY-loon!) But hold up. Before you attribute it, pause a moment and ask yourself….which one?
It's a question worth your time. There's been quite a bit of confusion in the vintage fashion community when it comes to sorting out Keyloun labels. First, there's just Keyloun. But then there's Keyloun Fifth Avenue New York. And there's Georgie Keyloun, and Laurice Keyloun, and Peter Keyloun. It's enough to make anyone wonder…which is which, and who is who?
Well, if it's any comfort, we were wondering, too. So we thought we'd do you a solid and explore all the Keyloun labels, which will help you sort them out.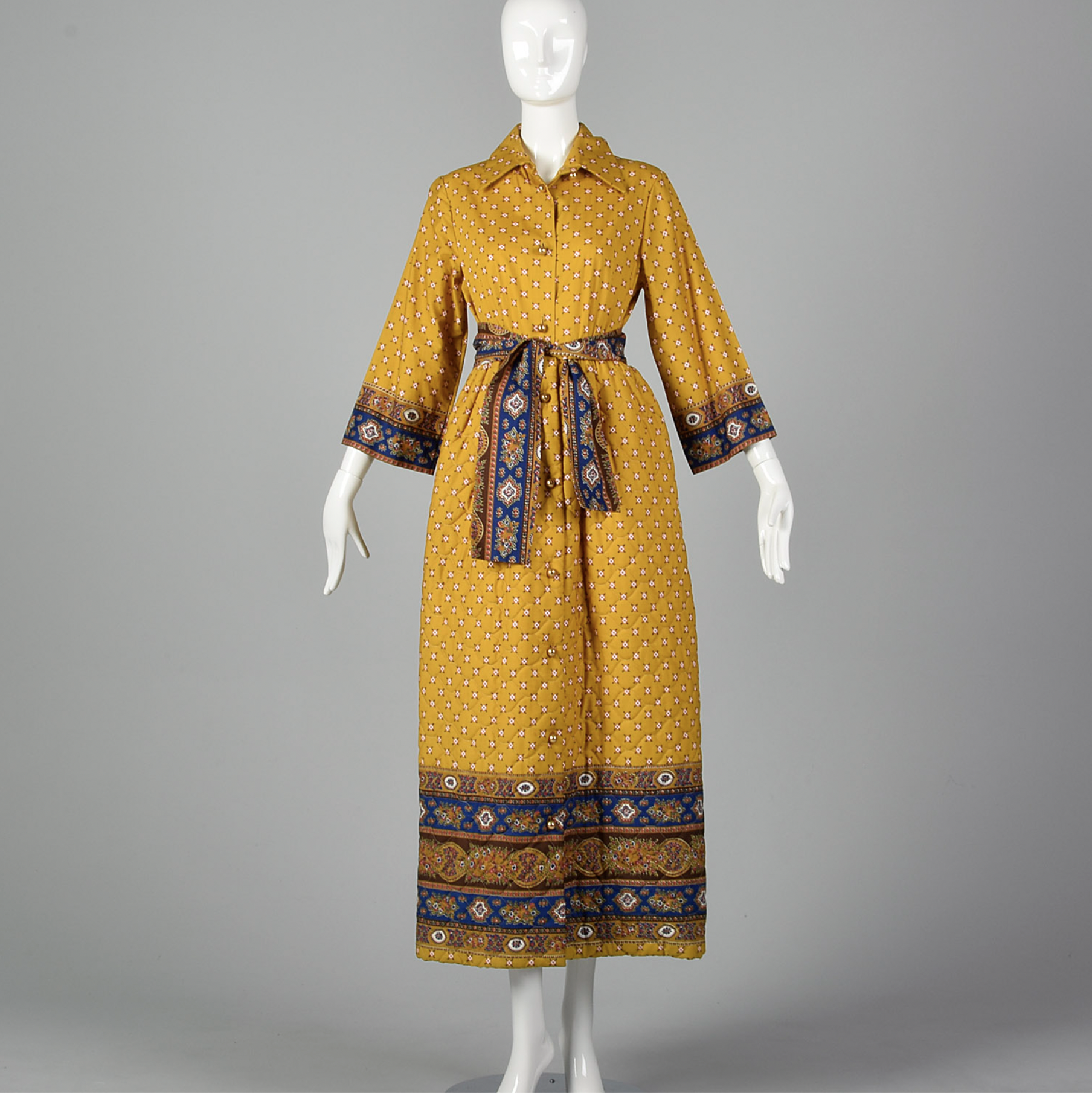 Keyloun long sleeved maxi dress - circa 1970s, Fashion Conservatory's Label Archive.
We won't be talking a lot about dating Keyloun brand labels within the scope of this article. Not really. We're here to make sure you can look at your Keyloun-labeled garment and determine which of the Keylouns it belongs to. That said, we wish we could just plunk down a list of Keyloun label styles and tell you definitively from which era they originated, but that would be too easy, wouldn't it? Of course it would! No, all the various Keylouns used many label styles, and most of them saw a few decades of use. There are a few we can safely place in the early years, and a few in the later years, but everything else is a bit of a jumbled mess. But frankly, we'd argue that's sort of par for the course in the vintage clothing world!
So let's start our Keyloun journey by dishing a little history. Because history always helps!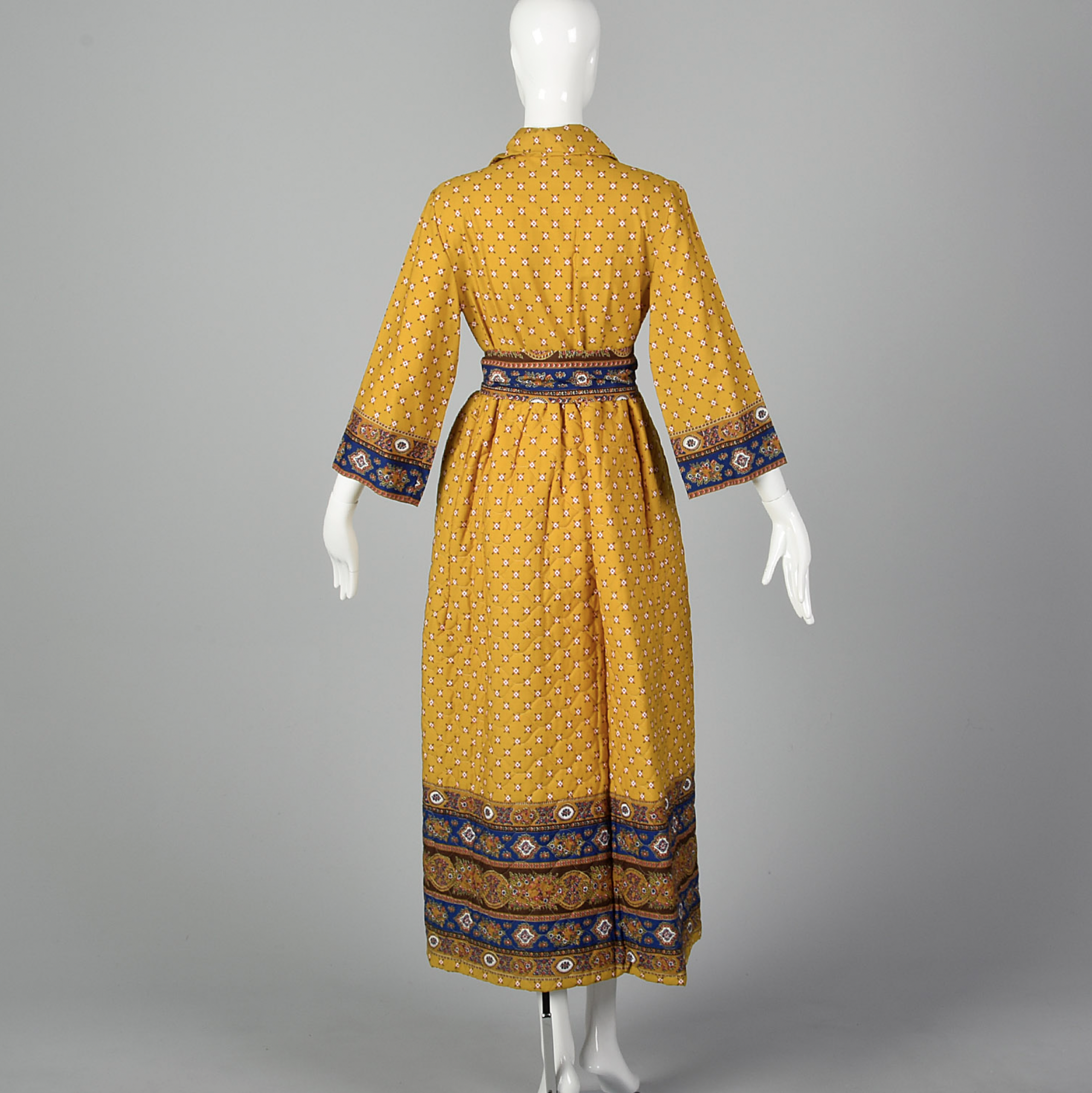 Back view of a Keyloun long sleeved maxi dress - circa 1970s, Fashion Conservatory's Label Archive.
First off, we'll tell you upfront: all the Keyloun brands are related. Not related like owned by the same company related, but related-related….like, from members of the same family. Oh, and many of the Keyloun family members were producing the same kinds of garments during the same time frames, and Keyloun labels changed as often and as dramatically as their fashions did. So it's understandable there's been confusion and misattribution throughout the vintage community.
So let's first discuss the main brand - Keyloun.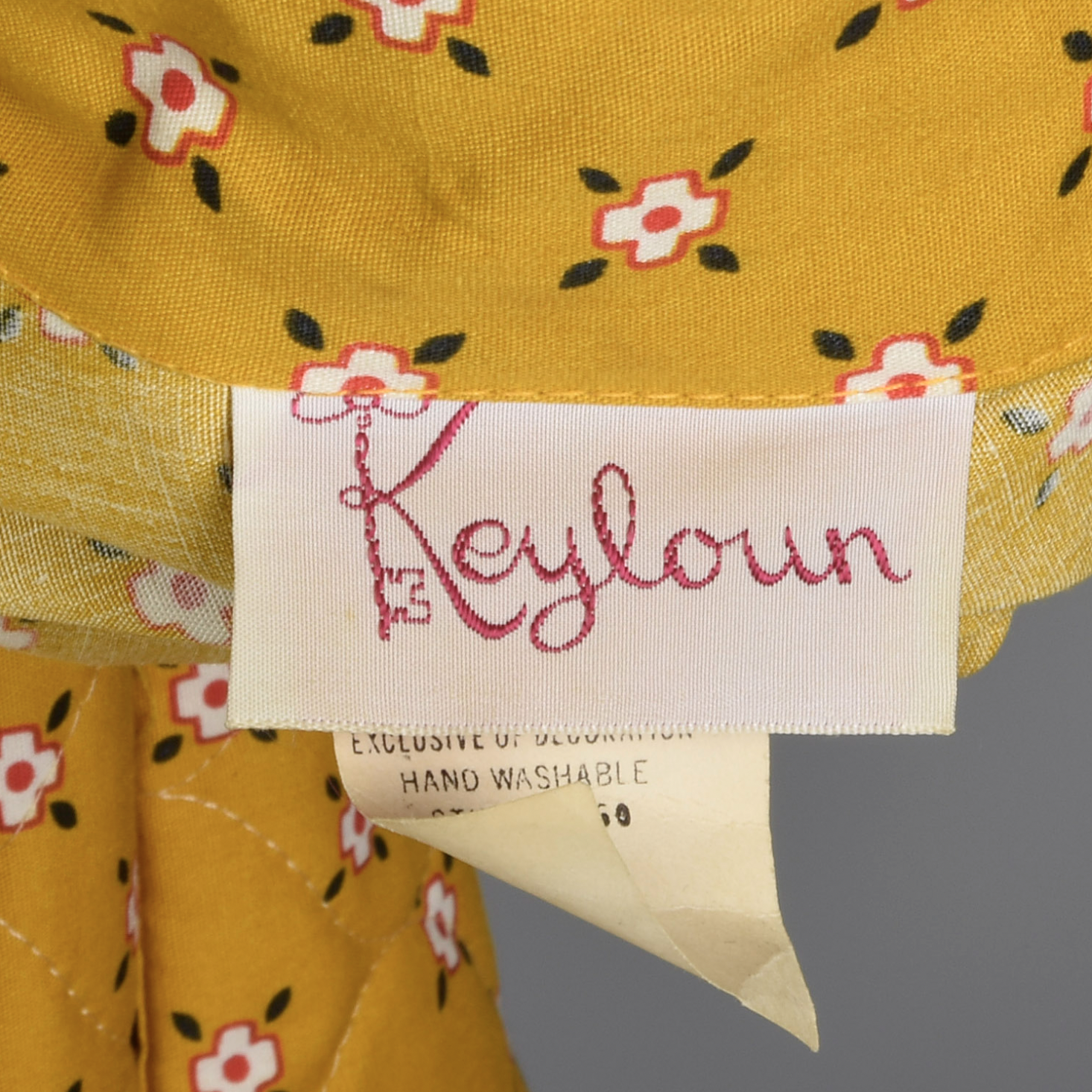 Label from a Keyloun long sleeved maxi dress - circa 1970s, Fashion Conservatory's Label Archive.
The original Keyloun brand - who specialized in women's robes, dusters, peignoirs, pajamas, and basically anything sleep- or lounge-related - got its start back in the 1940s. Founder Rizkalla Keyloun had been working in the silk industry since the mid 1910's, when he and a few friends founded a silk mill in Paterson, New Jersey. Keyloun, an immigrant from Aleppo, Syria, served as the mill's broker and salesman and traveled to New York City often to sell fabrics to buyers. But the silk industry struggled after the end of the first World War so Keyloun had to take a different tack if he wanted to succeed. He decided to go into garment manufacturing. He knew silk, so it wasn't a stretch for him to build a company on the idea of women's lingerie and sleepwear; by 1940, he'd founded the Keyloun Garment Company in New York City.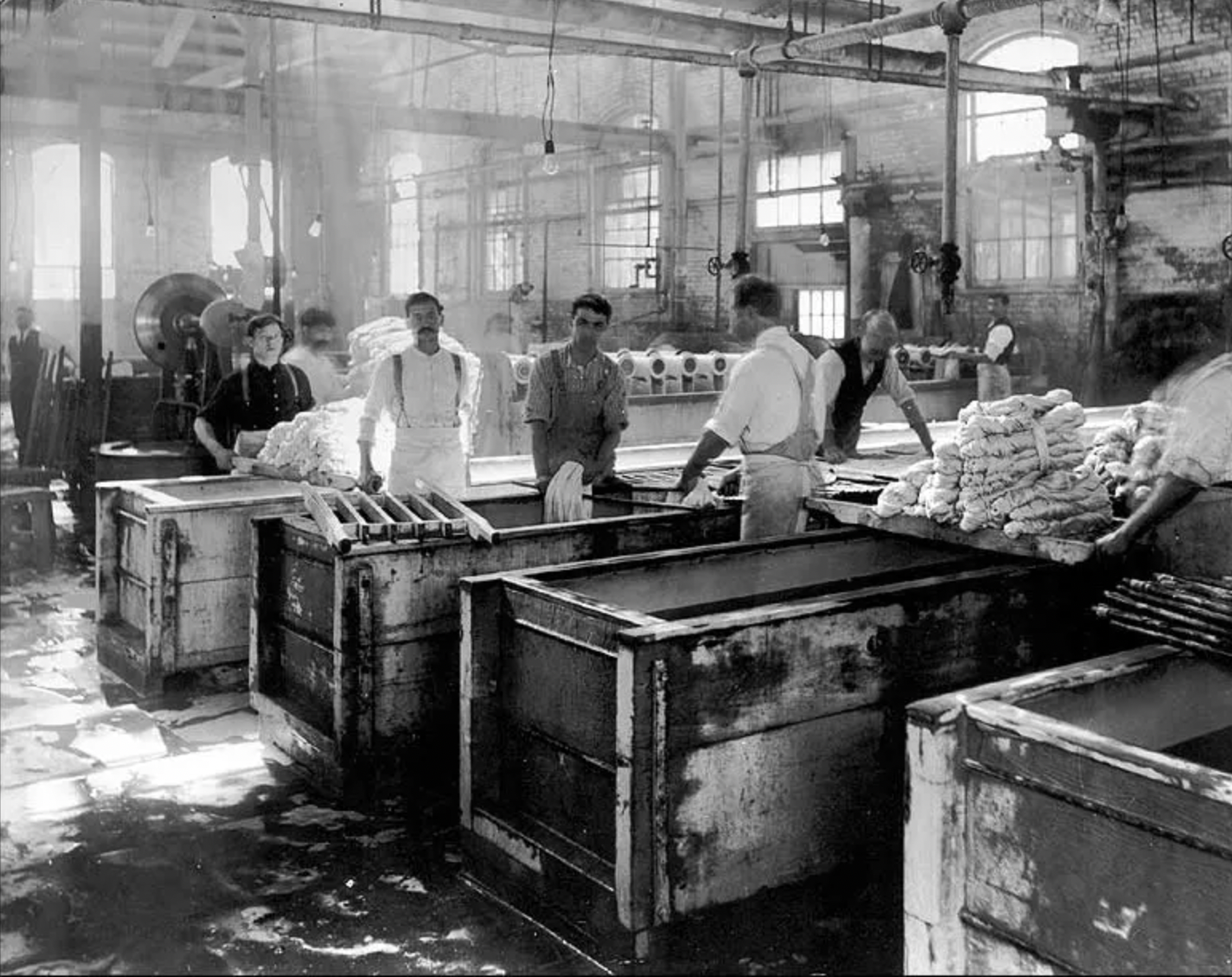 An example of a silk mill in Patterson, New Jersey circa 1910. Photo credit to the National Park Service.
Early Keyloun garments catered to this traditional women's sleepwear market, but Keyloun was about to get lucky: its market niche opened up exponentially with the rise of at-home entertaining. Entertaining of this type had been popular for a while, but women's clothing hadn't adapted much to it. That was about to change. Beginning in the mid- to late-1950s, women began demanding dual-purpose garments which were as comfortable and relaxed in fit as nightwear, but had all the drama and sophisticated style of evening wear. Keyloun moved effortlessly to fill that gap. They produced a wide array of hostess and at-home wear during the boom years of the 1960s and 1970s. Robes and pajamas, pantsuits and jumpsuits, wide culottes, harem pants and caftan-style dresses; you name it, if it was dramatic and comfortable, Keyloun sold it. And it sold like hotcakes.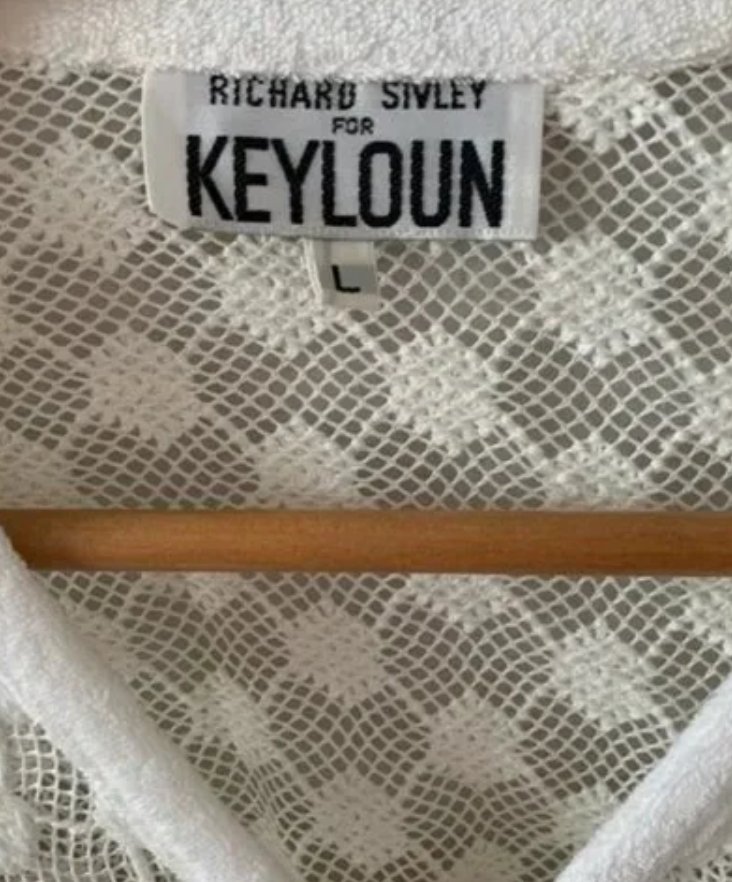 Richard Sivley for Keyloun - circa 1970s - photo credit to mthimjon.
Most of the Keyloun labels you're likely to see will in all probability fall into the 1960s/1970s boom years, but if you've got a Keyloun, keep in mind the brand was active from the 1940s. Early Keyloun labels - the ones which were in use before the brand capitalized on the at-homewear craze - were square with the brand name in an elegant cursive script and most often featured their location on Fifth Avenue in New York City. Garments bearing these labels, on the whole, tend to fall into the more traditional sleepwear styles.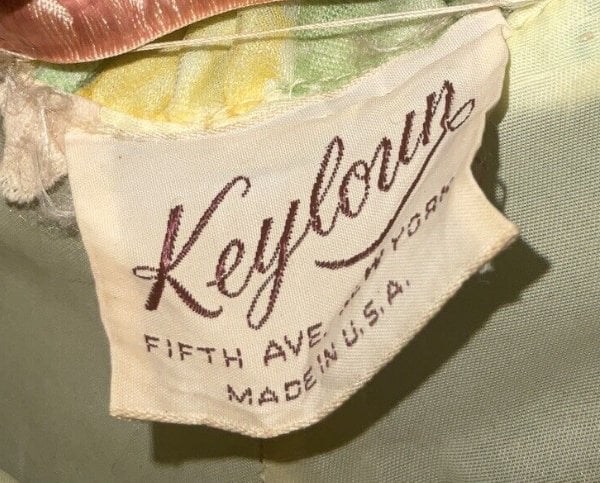 Keyloun - circa 1950s-60s - credit to albacoresattic.
Keyloun moved its headquarters from Fifth Avenue to East 32nd Street by 1955, and applied for its Registered Identification Number (RN) of #14360 in 1959. Beginning in 1952, these numbers had been issued by the Federal Trade Commission to businesses in the US which manufactured, imported, or sold textiles, furs, or wool, and were placed on the label. If you suspect you have an early Keyloun, you can use this info to get a general idea of its manufacturing date; if your garment has the RN number on its label, it definitely dates from 1959 or afterwards. And regardless of date, if your garment has an RN of #14360, it's an original Keyloun.
And while we're on the topic of dates….even though we're not doing a deep dive into dating for this particular discussion, we'd be remiss if we didn't mention ILGWU tags. Don't forget to look for any International Ladies Garment Workers Union (ILGWU) tags your Keyloun garment may have. They'll be instrumental in narrowing the manufacturing dates down for you.
Anyway, back to the labels.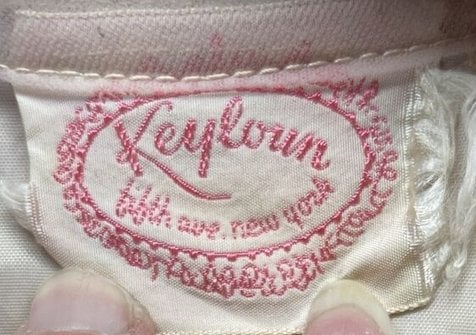 Keyloun 5th Ave Pink - circa 1950s - photo credit to buttercup.downs.
An early label for Keyloun is a square pink label with the brand name in a cursive script, and scrollwork featuring its Fifth Avenue address. This label is one of the more confusing of the brand's labels. It not only seems to appear on garments dating after their move to East 32nd, but some iterations of this label have an RN number and some do not. All this seems to suggest the label was in use even after their move, and may have been meant to highlight a boutique sort of vibe. Whatever its purpose, its use is within a fairly safe range of the late 1950s into the mid-1960s.
Labels for the original Keyloun brand began to vary widely after its move to East 32nd. The majority of these will bear RN numbers indicative of their use after 1959, and most of these will have seen their first use in the company's boom years of the 1960s and 1970s.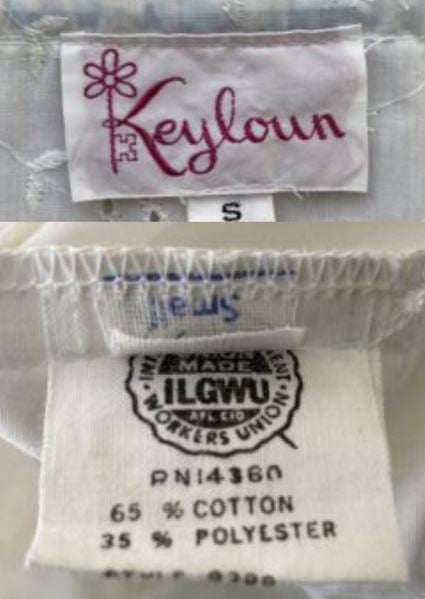 Keyloun - circa 1970s - photo credit to room6_vintage.
One of the first of these began to show up in the 1960s. It continued the label's use of its cursive script for the brand name, but changed the cursive font and style and removed both the scrollwork and the company's address. This particular style of cursive was used for the company's hang tags well into the 1970s, beyond the use of the style for actual garment labeling.
Another early label is the brand's iconic "key" label, a label which saw its heaviest rotation during the company's boom years and well beyond. The capital "K" in Keyloun was fashioned into the blade of a key, the lower part became the key's cutouts, while its top part branches into a flower with petals. If you've got a garment with this label, you can rest assured it was made by the original Keyloun.
A couple of other label styles Keyloun used from the 1960s to the 1980s stand out. Many Keyloun garments in the later 1960s and early 1970s have one of two styles of rectangular labels with "Keyloun" in block capital letters (one in a bolder typeface than the other), and others beginning in the 1970s feature a rectangular label with "Keyloun" in dark, bold slanting cursive. Both of these styles would continue to be used into the 1980s. And finally, Keyloun used another basic label in the 1980s which featured blue lettering and a "Made in the U.S.A" addition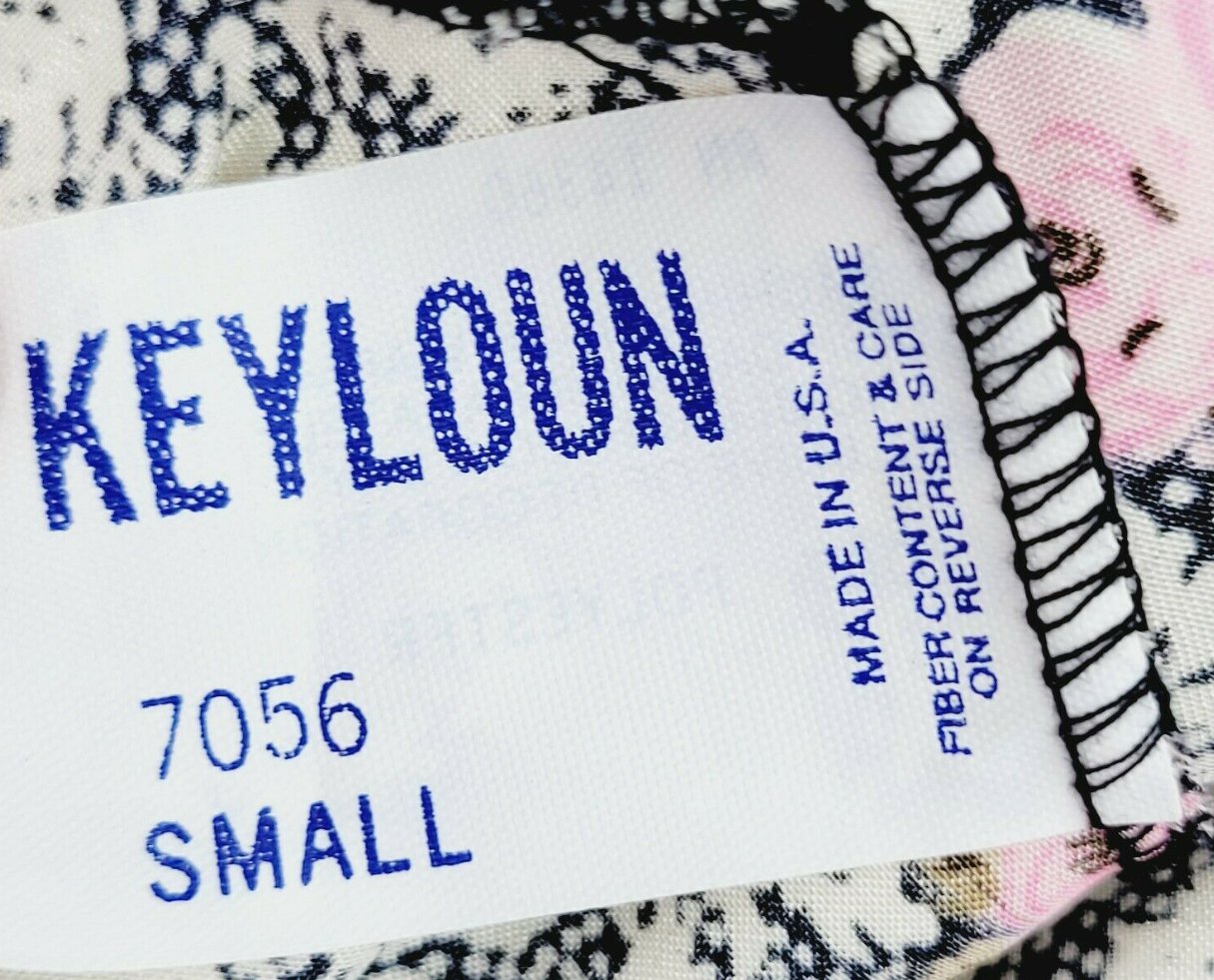 Keyloun - circa 1980s - photo credit to styleeverystory.
Before we leave the original Keyloun entirely, we shouldn't forget to address their partnerships. The brand partnered with at least three different designers in licensing agreements - Richard Sivley, Clovis Ruffin, and David Gordon - the labels of which bear Keyloun's RN (#14360). The time frame for Sivley's partnership with Keyloun isn't easy to pin down but appears to be in the 1970s. Clovis Ruffin's first collection with the brand debuted in Spring 1974. David Gordon's partnership seems to have begun in the late 1970s and continued into the late 1980s. So if your garment has labels featuring Keyloun and any of these designers, be assured you're dealing with the original Keyloun.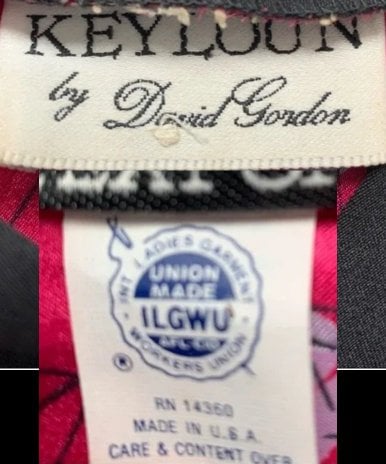 Keyloun by David Gordon - circa 1970s - photo credit to fischersfinds.
Now let's move on to the "other" Keylouns - Georgie, Laurice, and Peter.
Rizkalla Keyloun and his wife Lillian had six children. Georgie and Laurice Keyloun were two of those six, and Peter Keyloun is the son of Elias Keyloun, the eldest of Rizkalla and Lillian's children. It certainly seems being in the garment industry - and specifically in sleep and loungewear - was in the Keyloun family's DNA!
Here's where much of the misattribution of Keyloun labels in the vintage fashion community begins. With both Keyloun and Georgie Keyloun brands focused on women's loungewear, it's really no surprise there's been some confusion between the two. Most of this confusion sees Keyloun garments attributed to Georgie Keyloun, though, rather than the reverse.
Let's help to clear this up, shall we?
George Paul "Georgie" Keyloun worked for his father at Keyloun Garment Company before the outbreak of World War II and afterwards decided to make a career of designing. In the mid-1950s he briefly joined Carousel Fashions, a ladies' loungewear firm, but by 1967 he had decided to go it alone and introduced his own label of loungewear.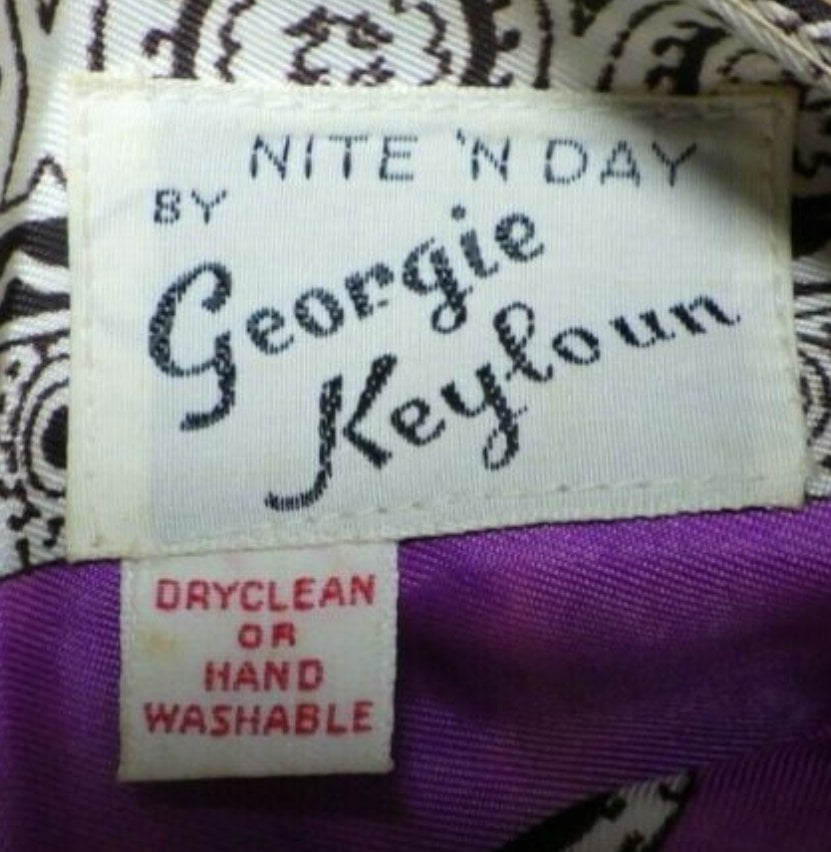 Georgie Keyloun Nite 'N Day - circa 1970s - photo credit to theantiquebrokers.
The company Georgie founded three years later in 1970, Loungewear By Georgie Keyloun, had RN #53607 and used at least three distinctive labels. Some instances of the first two - "Nite 'N Day by Georgie Keyloun" and "Loungewear by Georgie Keyloun" - can be dated to the late 1960s and predate his embroidered label by a few years, and helped to distinguish between his various collections. His Nite 'N Day collections, for example, were dressier and more sophisticated than his loungewear collections. But eventually it was Georgie's iconic embroidered label which eclipsed the others, and you can always tell a Georgie Keyloun from this style. His flowing caftans, djellabas, and culottes became world-renowned, and women such as Ethel Merman flocked to obtain his designs.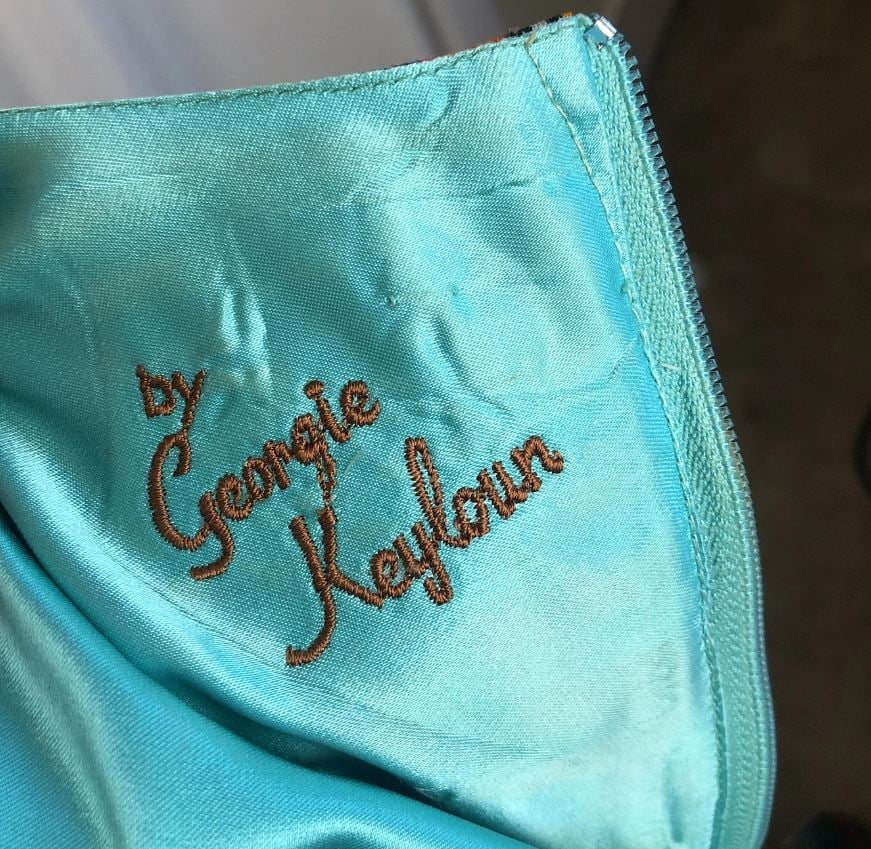 Georgie Keyloun Nite 'N Day - circa 1970s - photo credit to theantiquebrokers.
So there you have it. It's pretty simple, really. If your Keyloun garment label says Georgie Keyloun, it's a Georgie Keyloun. If it's unlabeled but has Georgie's RN number, it's a Georgie Keyloun. If it doesn't say Georgie, you've got an original Keyloun.
There is less confusion with regards to the labels of Laurice and Peter Keyloun, the other two Keyloun family members with careers in the fashion industry. Mostly this is because Laurice and Peter's labels always featured their full names (but Georgie's did, too, and yet!) But in the spirit of being completist, we'll touch on both Laurice and Peter.
Laurice began her career in the 1950s as a custom dressmaker and designer of gowns, wedding attire, dresses, coats, suits, cruisewear, and lingerie. She opened up a dress salon in White Plains, New York, specifically to cater to women who wanted designer originals. Her early labels are hard to find, but feature her full name in a graceful cursive script and the location of her boutique in smaller capitals.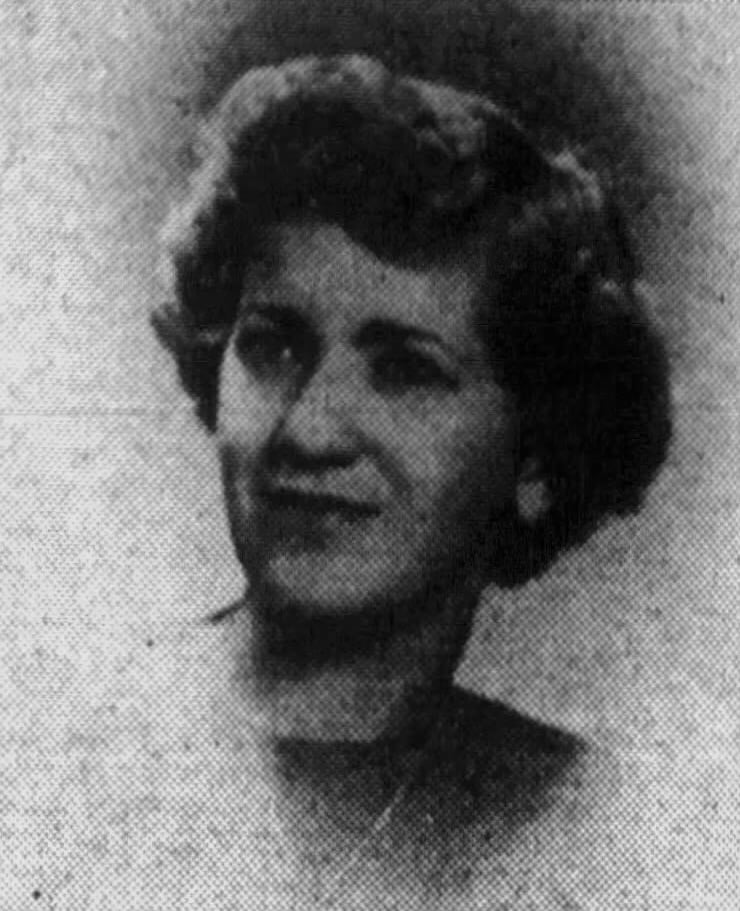 Laurice Keyloun, from 'Work on Exhibition' by Dr. Basile G. D'Ouakil. The Caravan, October 17, 1957.
But in 1967, after a life-changing visit to the San Blas Islands off the coast of Panama, she began to incorporate the designs of the native Cuna people into her work. Their clothes, called molas, were fashioned by stitching together layers of different colored cloth - usually cotton - which were then cut down through at various levels and stitched, exposing different colors to form patterns and pictures.
In 1973 she incorporated, and out of her White Plains boutique (and others in Rye Brook and Hawthorne) she created new mola-inspired color patterns. But Laurice's interest in the mola as an art form began to eclipse her custom designing, and in late 1975, Keyloun closed her boutiques. Later, she re-invented her label to create a line of ultrasuede bags and other accessories in quirky and cute designs. The labels on her bags during this period of her career don't really show too much variation in design but retain her full name in the same cursive script.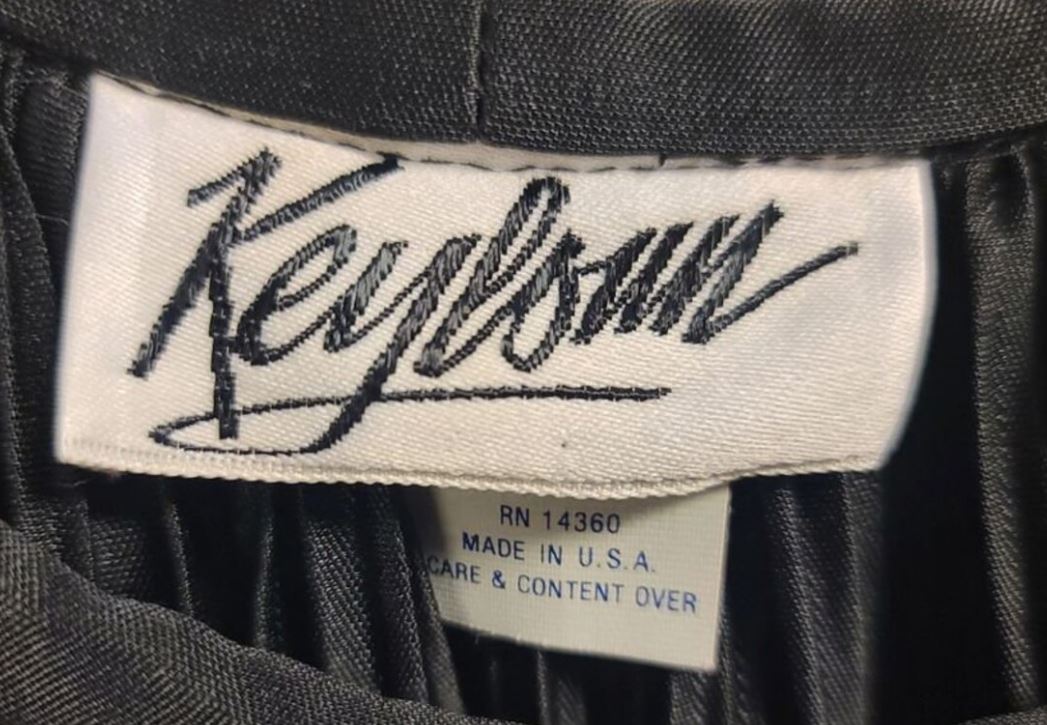 Keyloun - circa 1980s - photo credit to Matthew of FredAucCo.
Peter Keyloun's work in the fashion industry began much later than his aunt and uncle's did, but he didn't stray too far from the family's loungewear and sleepwear roots. Information on Peter isn't as abundant as it is for other members of his family. It appears he was working as early as the late 1970s for robe and at-home brand Ariel, as the bulk of his work features their label and their RN (#77833). By 1988, Peter was designing chemises in his own name under the auspices of Ariel. His affiliation with Ariel remained into the 1990s, and by the end of the decade he was Ariel's president.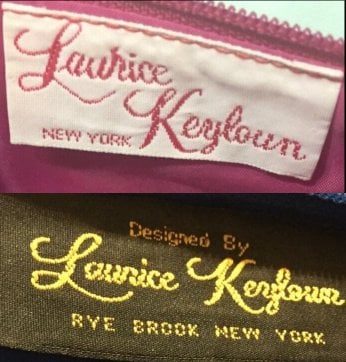 Laurice Keyloun - purse labels circa 1970s-1980s - photo credit to racefishgal.
For five decades, three generations of the Keyloun family contributed a substantial amount to the development of women's sleepwear and loungewear. Those contributions understandably created some confusion with regards to the origins of garments labeled with the Keyloun name. Hopefully we here at Fashion Conservatory have done our part to clear up that confusion. Not only can we help give each Keyloun garment its rightful attribution, but it's always a win when we can give vintage fashion sellers, collectors and buyers the information they need to make educated decisions.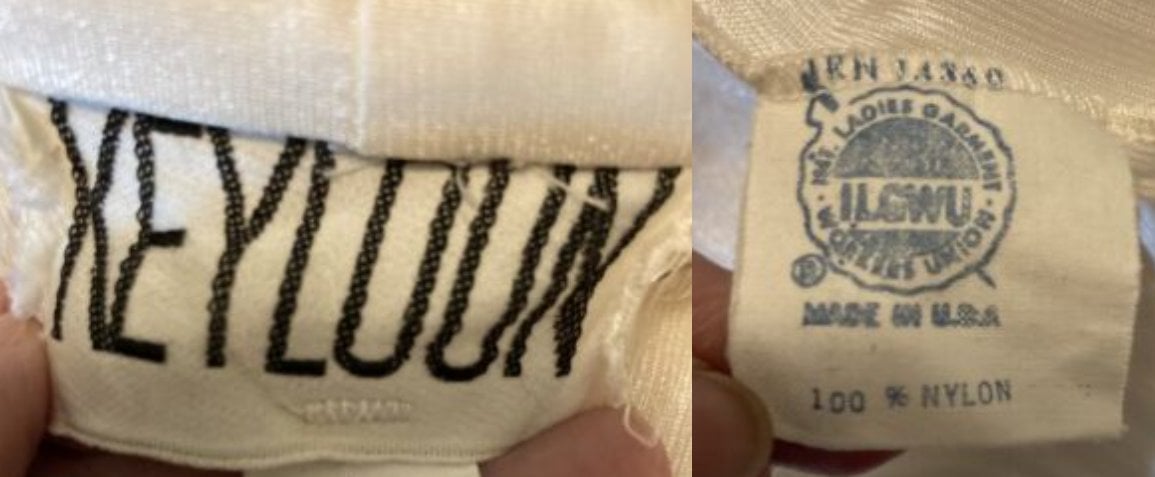 Keyloun - circa 1970s - photo credit to rhodun68.
Do you have any questions? Hit us up. Extra information to add, or corrections to any part of what we've said? Contact us and let us know! We're always eager to make sure we've got our facts straight.
Patricia Browning received her archival postgraduate degree in Information Management & Preservation from the University of Glasgow. Her lifelong fascination with research saturates nearly every aspect of her life. These days - when she's not nose-deep researching vintage fashion labels - she can be found doing genealogy or developing a podcast about her pet project, David Tennant's early theatre career in Scotland.
SOURCES
Advertisement. "Leon's." (20 December 1978). Austin American-Statesman [Austin, TX], image 27. Newspapers.com.
Aschmann, Ruth Emily. "Holiday Wear Drapes Softly." (15 September 1971). The Charlotte Observer [Charlotte, NC], image 17. Newspapers.com.
Bryant, Marvis. "Fair Marks Panama Day." (26 September 1968). San Antonio Express [San Antonio, TX], image 89. Newspapers.com.
"Custom Made Clothes Made To Flatter Figure." (19 August 1962). Patent Trader [Mount Kisco, NY], image 6. NYS Historic Newspapers.
Davis, Ruth G. "Contemporary Comment: Details of Three Social Events Reported." (25 October 1950). Brooklyn Eagle [Brooklyn, NY]. Fultonhistory.com.
De Santis, Florence. "Clothes Worn In The Home Getting A Modern Revamping." (30 August 1968). The Evening Sun [Baltimore, MD], image 18. Newspapers.com.
Death Notice. "Keyloun." (30 July 1973). The Miami Herald [Miami, FL], image 175. Newspapers.com.
Deaths. "Razkalla E. Keyloun." (30 July 1973). The New York Times [New York, NY], image 30. TimesMarchine.
Hampton, Nora. "In a Crisis Fashion Goes Home." (10 April 1974). Oakland Tribune [Oakland, CA], image 108. Newspaperarchive.com.
Helou, Mrs. Jumelia. "Out of Town News: St. Petersburg, Fla." (23 February 1956). Caravan [Brooklyn, NY], image 5. Newspapers.com.
Industrial Directory of New York State. 1949, image #431 (p. 409). Albany: State of New York Department of Commerce, 1949. Hathi Trust.
Industrial Directory of New York State. 1958, image #406 (p. M-14). Albany: State of New York Department of Commerce, 1958. Hathi Trust.
Keyloun, Victor. A House by the Park. New York: VenVic Publishing, 2005. Nook.
Lam, Chau. "A Veteran Litigator." (8 September 1994). Newsday (Nassau Edition) [Hempstead, NY], image 25. Newspapers.com.
"Laurice Keyloun fashion show set during fair week." (June 1972). Citizen Register [Ossining, NY]. Fultonhistory.com.
"Mola art premieres Monday." (12 October 1972). Patent Trader [Mount Kisco, NY], image 6. NYS Historic Newspapers.
"Work On Exhibition." (17 October 1957). The Caravan [Brooklyn, NY]. Newspapers.com (accessed 18 October 2022.)
Monget, Karyn. "A Small But Potent Market." (8 November 1999). Women's Wear Daily.
"More design goes into clothes to loll in." (10 April 1974). Pottstown Mercury [Pottstown, PA], image 26. Newspaperarchive.com.
New York Department of State, Division of Corporations. "Laurice Keyloun Boutique Inc." Entity #260534. Accessed September 12, 2022.
New York Department of State, Division of Corporations. "Loungewear by Georgie Keyloun, Inc." Entity #291885. Accessed September 14, 2022.
Obituary. "Clovis Ruffin, 46, A Fashion Designer For Women, Is Dead." (9 April 1992). The New York Times [New York, NY], image 95. TimesMachine.
Obituary. "Laurice Keyloun." (30 November 2013). The Journal News [White Plains, NY], image 14. Newspapers.com.
"On The Cover." (17 January 1988). The Springfield News-Leader [Springfield, MO], image 64. Newspapers.com.
"Soft, Spongy terry cloth..." (11 March 1974). Chicago Tribune [Chicago, IL], image 43. Newspapers.com.
"Two Firms Enjoined Under Wage-Hour Law." (15 August 1943). The Brooklyn Daily Eagle [Brooklyn, NY], image 7. Newspapers.com.